Rowlett Concrete Truck Accident Lawyer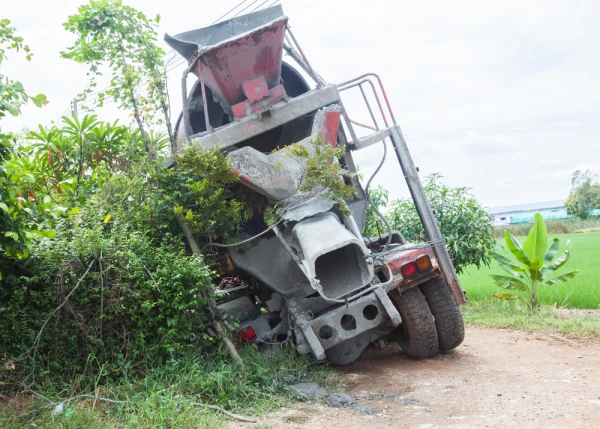 Are you dealing with the aftermath of a concrete truck collision in Rowlett? If so, you don't have to try to secure compensation for your losses on your own. You can easily reach out to a concrete truck accident lawyer in Rowlett to get legal assistance.
Members of our team understand how to build a legal claim for you. We'll take steps to settle your claim or help you file a lawsuit. This can allow us to help you get damages to cover your medical bills and other expenses. Get help on your side by calling (469) 998-4069.
Get Information About Concrete Truck Collisions
Concrete trucks are large vehicles. These vehicles carry concrete to various sites, usually construction zones. Concrete trucks have drums that turn constantly while carrying concrete. This turning motion keeps the concrete from hardening into place inside the drum.
The movement of the concrete in the drum can also cause the truck to become unbalanced. Truck drivers have to pay attention to the movement in order to make sure they do not overbalance, especially when they are going around turns.
Concrete truck drivers also have to be careful with regards to their speed. These trucks are very heavy. This means it takes them longer to slow down and stop. Speeding is a very dangerous behavior for concrete truck drivers.
These factors and others contribute to many concrete truck accidents every year, according to the Federal Motor Carrier Safety Administration (FMCSA). There were around 1,400 concrete truck accidents in 2017. We're here to help if you were hurt in a concrete truck collision.
Take Charge After a Rowlett Concrete Truck Accident
There are steps you can take immediately after a concrete truck collision in Rowlett. Many of these steps should be taken before you leave the scene of the collision. For example, make sure that you:
Call the police and report your accident
Take pictures of the damage to your vehicle and any injuries you sustained
Talk to witnesses and the truck driver to get their contact information
It's generally recommended that you report the accident to your insurance company, as well. However, it's a good idea to contact a Rowlett concrete truck accident lawyer before you take this step. A lawyer can actually step in and handle all communication with insurance agents on your behalf.
You should know that insurance agents are primarily concerned with protecting their bottom line after a concrete truck accident. This means that they could try to deny you compensation. They could even try to blame you for the accident.
Allow us to stand up to insurance agents for you. Just call us at (469) 998-4069. We'll focus on building a claim for you right now.
Losses for Rowlett Concrete Truck Accidents
You can end up sustaining major losses after a concrete truck accident in Rowlett. These accidents can, for example, leave you dealing with major injuries. These injuries can require medical treatment. You can end up spending time off work while you recover, as well.
Additionally, a concrete truck accident could leave you with vehicle damage. Your vehicle could get totaled in a collision with a concrete truck. Finally, we know that you can sustain non-economic losses after a wreck. These losses include things like your pain and suffering.
Members of our team can step in to help you secure compensation for all of your losses. We'll help with all aspects of your case.
Your Options After a Concrete Truck Accident in Rowlett
Not all concrete truck accident claims are resolved in the same way here in Rowlett. However, the majority of claims are handled with a settlement. A settlement is an agreement made with insurance agents in Texas. Settlements allow you to get damages for your:
Healthcare expenses
Wages lost at work
Vehicle repair expenses
Pain and suffering
Insurance agents can try to deny you compensation in Rowlett. In this situation, you can decide to file a lawsuit against the driver who hit you. We know how to build a court case for drivers in your situation. You don't have to wait, contact us now to get help in your corner.
Discuss Your Case with a Rowlett Concrete Truck Accident Lawyer
Find out how to get compensation after a concrete truck collision in Rowlett by reaching out to us. You can reach us if you call (469) 998-4069. We also have an online contact form available for you. Allow our concrete truck accident lawyers in Rowlett to begin helping you right now.
You can discuss your situation with a free consultation. We're ready to take on all your legal challenges.
Frequently Asked Questions