Rowlett Garbage Truck Accident Lawyer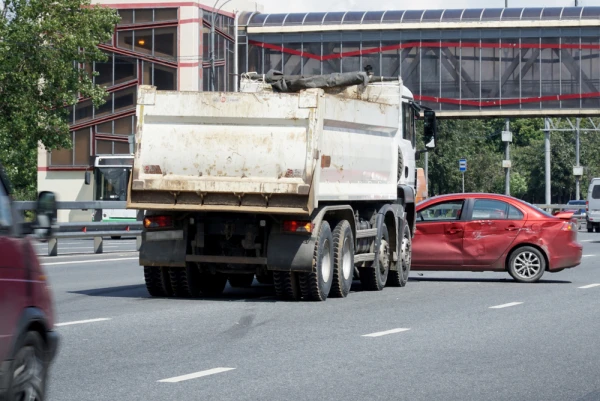 You have options to get compensation if you were hit but a garbage truck in Rowlett, Texas. In fact, you can file a claim with the driver's insurance company to get damages. You can even file a lawsuit against the driver in some cases.
A Rowlett garbage truck accident lawyer can help you review all your options after a collision. Members of our team are standing by to assist you today. Take proactive steps to secure damages for all of your losses by calling us at (469) 998-4069.
Review the Facts About Garbage Truck Collisions
Garbage truck accidents take place all across the country. These vehicles often drive through different areas, collecting refuse. Some garbage trucks even collect large dumpsters from businesses here in Rowlett.
According to the Federal Motor Carrier Safety Administration (FMCSA), there were almost 3,000 garbage truck accidents in the year 2017. These accidents occurred around the U.S. Some of these accidents were caused by other vehicles. Others were caused by garbage truck drivers.
In some cases, garbage truck accidents occur when refuse workers step around the vehicle. They could end up in the path of oncoming traffic. This could lead to a serious and even fatal accident in Rowlett. We are here to help after any collision involving a garbage truck.
Factors Associated with Rowlett Garbage Truck Accidents
There are a number of factors that are tied to collisions involving garbage trucks in Rowlett. These trucks are large commercial vehicles. They are often very hard to operate in a safe way. For example, drivers can have difficulty controlling a garbage truck because they:
Are very heavy and hard to stop
Have multiple blind spots that make it hard to see other vehicles
Are top-heavy, which can lead to rollover accidents
Garbage trucks can also be difficult to maneuver because of their size. Additionally, these trucks have to start and stop frequently in order to collect refuse. Sometimes, the roads around Rowlett do not have enough space for a garbage truck to pull fully off of the road.
Other vehicles could end up striking a garbage truck if it is partially in the road. Vehicles could also end up in the path of on-coming traffic if they try to swing out around a garbage truck. A garbage truck accident lawyer in Rowlett can help you in any of these situations. Find out how to get legal assistance by calling us at (469) 998-4069.
Rowlett Garbage Trucks Accidents and Compensation
We're here to help if you want compensation after a garbage truck accident in Rowlett, Texas. We understand the legal system in our area and we can help you navigate your legal hurdles. Our team is ready to assess all of the damages you sustained in the accident. We know you may want compensation for your:
Economic Losses in a Garbage Truck Accident
Many drivers think automatically of economic losses after a garbage truck accident. These losses cover things like your medical expenses. Vehicle repairs are also an economic loss. Even wages lost at work can count as economic losses in Rowlett.
Non-Economic Losses in a Garbage Truck Accident
Individuals can also face non-economic losses after a garbage truck collision. For example, you may experience pain and suffering as a result of the collision. We're here to help you seek compensation to cover these losses, starting right now.
Exemplary Losses in a Garbage Truck Accident
Finally, in some cases, you can get exemplary compensation. This kind of compensation is designed to penalize the driver who caused your accident. Let us work to see who was at-fault for a garbage truck accident.
Resolve a Claim for a Garbage Truck Accident
A lawyer can help you seek compensation after your accident. In many cases, this involves filing a claim with insurance agents. You have the option to settle your claim after a garbage truck accident. You can settle out of court, avoiding expensive fees.
However, we understand that some drivers want to file a lawsuit after a garbage truck accident. We'll help you decide on the best way to handle your claim after a collision.
Talk to a Garbage Truck Accident Lawyer in Rowlett Now
Get help immediately if you were hit by a garbage truck in Rowlett. Members of our team are here to take your call at (469) 998-4069. You can also fill out our online contact form. Our Rowlett garbage truck accident lawyers are standing by to help you right now.
Find out more about your legal options. We offer drivers in your situation a free consultation.
Frequently Asked Questions