Garland Garbage Truck Accident Lawyer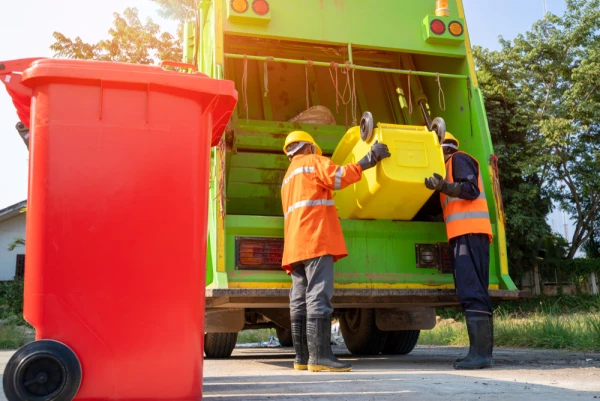 We're standing by to help if you were hit by a garbage truck here in Garland, Texas. Reach out to us immediately after a collision by calling (469) 998-4069. Let us focus on building your claim and securing you compensation for your:
Healthcare costs
Vehicle repair expenses
Pain, suffering, and mental anguish
Getting help from a Garland garbage truck accident lawyer may help you get back your peace of mind after an accident. We're ready to work tirelessly to bring you a settlement or verdict in your favor. Learn more by contacting us today.
Garbage Truck Accident Facts in the U.S.
Garbage trucks are a common sight on the roads around Garland. These large vehicles often move slowly and do not appear as much of a hazard. However, these vehicles are involved in accidents every year, according to the Federal Motor Carrier Safety Administration (FMCSA). According to the FMCSA, in 2017 there were:
2,430 towaway crashes with garbage trucks
1,427 injury crashes with garbage trucks
107 fatal crashes with garbage trucks
You may get help quickly if you or a family member sustained injuries in a garbage truck accident in Garland. We're ready to assess the specifics of your unique situation. We know that no two garbage truck accidents are exactly the same. That's why our team provides personalized legal assistance.
Steps After a Garland Garbage Truck Accident
It's normal to feel unsure about the steps you should take immediately after a garbage truck accident in Garland. We're here to help you each step of the way. In fact, you may reach out to us right away after a collision if you call (469) 998-4069. We may also want to:
Take pictures of your injuries and the scene of the accident
Get contact information from the garbage truck driver and witnesses
Contact the police and report the accident
Seek medical care for all of your injuries
Note that you should also notify your insurance company about the accident. However, it's a good idea to speak with a garbage truck accident lawyer in Garland before you talk to an insurance agent. Insurance representatives sometimes try to deny you compensation. We may handle all contact with insurance agents on your behalf to protect your claim.
Liability and Garbage Truck Accidents in Garland
Getting compensation after a garbage truck accident in Garland may require a lawyer to demonstrate that someone else caused your accident. These accidents often occur if drivers are not properly trained to operate a garbage truck. These vehicles:
Are very heavy
Have multiple blind spots
May need more time to stop
Require extra room to turn
Drivers who are not prepared to operate a garbage truck could end up striking other vehicles. Accidents also occur when drivers break the rules of the road. For example, some garbage truck drivers pull out into traffic without looking, causing a collision.
The garbage truck company may also hold responsibility for an accident in some cases. For example, the company may fail to maintain the brake system on the garbage truck. This could lead directly to a collision. We're ready to investigate the specific causes of your accident. Let us determine who caused the collision so you may get compensation for your losses.
Types of Compensation in Garland Garbage Truck Accidents
A garbage truck accident in Garland may leave you facing a rising tide of expenses. Depending upon the severity of your accident, you could sustain serious injuries. We're standing by to help you build a claim to get damages for your:
Emergency medical treatment
Time in the hospital or recovery facility
Medical tests and procedures
Medications and physical therapy
We know that your vehicle may also sustain damage in a garbage truck collision. That's why we're ready to help you get compensation for your vehicle repairs. You may also receive damages to cover your pain, suffering, and mental anguish.
In many cases, an insurance agency may settle your case in Garland. This allows you to get compensation outside of court. You may also work with a lawyer to file a lawsuit against the driver who caused your accident.
Work with a Garland Garbage Truck Accident Lawyer
We're here to step in and help you after an accident with a garbage truck driver. Just contact our garbage truck accident lawyers in Garland for prompt assistance. You may get answers to your legal questions if you reach out to us for a free consultation. Let us take charge while working to bring you compensation for all of your losses.
You may reach us if you call (469) 998-4069 or complete our online contact form.
Frequently Asked Questions