Rowlett Fatigued Driver Accident Lawyer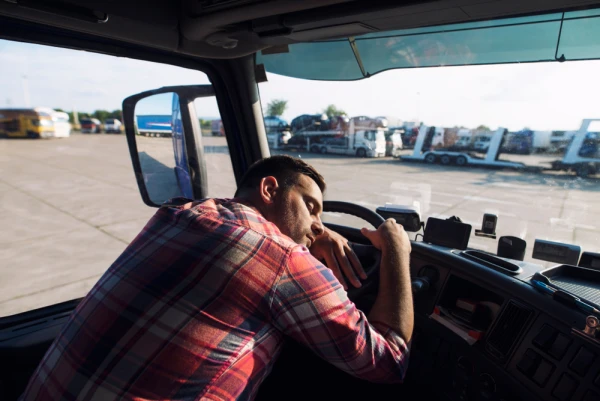 Some drivers in Rowlett operate a vehicle while they are fatigued. This is a dangerous activity. Driving while fatigued is very similar to driving under the influence of alcohol. Fatigued drivers can end up causing major accidents in our area, leaving you with serious injuries and high expenses.
Fortunately, you can get legal help in this situation. A Rowlett fatigued driver accident lawyer can take charge of your claim right now. Call us at (469) 998-4069. Take steps to get damages to cover your losses after a collision in Rowlett.
Information About Fatigued Drivers and Collisions
Many agencies are currently studying the effects of fatigue on drivers around the country. According to the National Highway Traffic Safety Administration (NHTSA), many fatigued driver accidents occur between midnight and six in the morning. However, these accidents are also common in the late afternoon.
Fatigued driver accidents can occur on highways and rural roads. Any driver can become affected by fatigue. This even applies to commercial drivers. Commercial drivers operate large trucks, like semi-trucks and tractor-trailers.
Commercial drivers often experience fatigue because they have to drive for lengthy periods of time. They may feel like they have to stay on the road to make a delivery on time. Some commercial drivers have to spend the night in their trucks, which could prevent them from getting enough sleep.
Challenges Identifying Fatigued Drivers in Rowlett
Fatigued drivers cause a lot of accidents every year. However, it is difficult to identify every driver who is operating a vehicle while fatigued. There are no specific tests that measure driver fatigue. However, a police officer may ask drivers questions to determine if they are fatigued or not.
Note that it's very important that you contact the police after you are in an accident in Rowlett. This allows the police to investigate the causes of your accident. They can also file an official report to show that the accident occurred.
A Rowlett fatigued driver accident lawyer can also dig into the causes of your case. We know that fatigue is not a direct action that causes an accident. Instead, we'll focus on showing that the driver took a specific action to lead to your accident. Fatigued drivers may:
Run off the road because they fell asleep
Drive too quickly and tailgate other drivers
Pass in an unsafe manner
Back up improperly
These are only examples of actions that can cause accidents in Rowlett. Let us deal with your specific situation by calling (469) 998-4069.
Your Losses and a Rowlett Fatigued Driver Accident
Collisions involving fatigued drivers in Rowlett can leave you with numerous losses and injuries. You may want to get compensation to cover your:
Medical expenses
Wages lost during your recovery
Diminished earning potential
Vehicle repairs
Pain and suffering
We are prepared to help you get compensation for all of your losses. We'll go over the expenses associated with your accident. Allow us to make sure that all of your expenses are appropriately covered if you were struck by a fatigued driver.
Our team understands the strategies that work to resolve a claim after a fatigued driver accident. We can help you both in and out of the courtroom here in Rowlett.
Construct Your Claim After a Fatigued Driver Accident
You do not have to wait to get legal help if you were struck by a fatigued driver. You can contact members of our team for assistance today. We know that you only have a set amount of time to seek compensation after your accident. After a period of time, the statute of limitations in Texas expires. You cannot seek damages if the statute of limitations runs out.
We deal with insurance agents on your behalf after a truck accident in Rowlett. We know that the majority of truck accident claims in Texas end with a settlement. This can let you get compensation without paying court fees. However, we're also here to help if you want to file a lawsuit against the driver who hit you. Discuss your options in detail by contacting us right now.
Allow a Fatigued Driver Accident Lawyer in Rowlett to Help
A fatigued driver accident lawyer in Rowlett can step up to help you after a collision. Members of our team can provide you with legal advice, gained through our years of experience. We'll keep you in the loop about the state of your claim. You can easily reach us if you call (469) 998-4069. We also offer you an online contact form.
Begin getting legal support now with a free consultation from our team.
Frequently Asked Questions