What Causes Death in Motorcycle Accidents?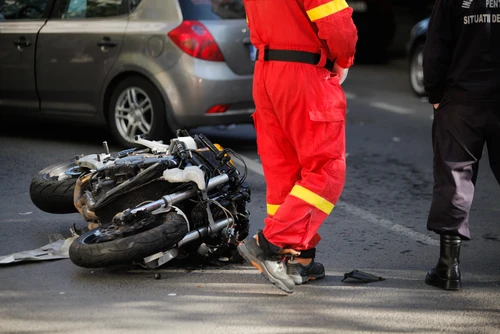 Almost 5,000 motorcycle riders died in motorcycle accidents in 2018, according to the National Highway Traffic Safety Administration (NHTSA). Motorcyclists are also about 28 times more likely to die in accidents than passenger vehicle occupants. Why is this? What is causing motorcycle accident deaths at such a high rate?
Top Causes of Motorcycle Accident Deaths
There are many reasons for deaths in motorcycle accidents throughout the country. It's a common misconception that motorcycle riders cause most fatal motorcycle accidents. In reality, driver negligence is responsible for around three-fourths of serious motorcycle crashes.
Both motorcycle riders and other motorists must drive carefully and responsibly to prevent accidents. Here are some of the main reasons motorcycle accident deaths happen.
Reckless Driving
Reckless and aggressive driving is negligent behavior, and it's responsible for many severe motorcycle accidents. Examples of reckless driving include:
Excessive speeding
Failure to yield the right of way
Weaving in and out of lanes
Tailgating
Not signaling before merging
A reckless driver puts everyone around them on the road at risk. Motorcyclists can undoubtedly engage in reckless driving behaviors, but so can other motorists.
Some drivers also don't realize that motorcycles have a right to be on the road, just like other vehicles. A driver might engage in reckless or aggressive behavior around a bike and cause an accident.
Drunk Driving
Driving while intoxicated remains a serious issue everywhere. A motorist who has been drinking or taking drugs can make any number of mistakes while driving, and just one mishap can cause a fatal motorcycle accident.
Left Turn Accidents
A large number of motorcycle accidents happen when the other driver is turning left. The turning driver might fail to see a passing or overtaking motorcycle traveling straight behind them, and a collision can happen.
Motorcycle accidents can also happen when a motorist fails to check their blind spot before merging. Motorcycles are smaller vehicles than cars or trucks, so a driver might not see the motorcyclist in their lane before moving over. This can cause a severe motorcycle accident that knocks the biker off the roadway or into another lane of traffic, which can be fatal.
Lack of Protective Gear
Motorcycles lack the same degree of protection as other vehicles. Motorcyclists should wear helmets and other protective gear when riding, but that doesn't necessarily protect them from life-threatening injuries during a crash.
An accident can throw a motorcyclist from their bike and cause severe injuries that would not happen to a car or truck occupant. The design of a motorcycle increases the risk of deadly injuries during a collision.
Road Hazards
Motorcycle riders are more easily affected by poor road conditions like:
Construction debris
Potholes
Uneven pavement
Excessive gravel
Fallen vehicle parts or cargo
Hazardous road conditions can throw a biker onto the road or cause them to lose control of their bike, resulting in fatal situations.
Defective Motorcycle Parts
Sometimes, defective motorcycles or motorcycle parts can lead to accidents. If a defect causes injuries or death, it might be grounds for a product liability claim.
Other Factors Related to Motorcycle Accidents
Besides the technical causes of severe motorcycle accidents, here are some of the top contributing factors to motorcycle deaths.
Distracted Driving
Texting while driving and other types of distracted driving has become a massive problem with all drivers. Texting while driving increases the risk of a severe accident because it requires a driver's visual, physical, and cognitive abilities.
A distracted driver cannot keep their attention on the road ahead and drive safely. Even a moment of distraction can lead to a deadly collision. If a motorcycle rider is involved, they are all-the-more likely to be killed.
Older Driver Age
Over half of the motorcyclists killed in crashes are over the age of 40. Older bikers have become more prevalent in recent years, and their bodies are less likely to bounce back after a severe crash.
Afternoon and Night Riding
According to the Insurance Information Institute (III), the most significant percentages of motorcyclists killed in 2017 happened during the following ranges of time:
Noon to 3 pm
3 pm to 6 pm
6 pm to 9 pm
9 pm to midnight
Why Motorcycle Accidents Are Deadlier Than Other Accidents
Motorcycle riders are more likely to die in crashes because:
They have less protection than other vehicle occupants.
Motorcycle brakes are not as strong or resilient compared to other motor vehicles.
Two-wheel vehicles like motorcycles have less control to avoid harm when presented with a hazard or dangerous situation.
When a motorcycle and a car or truck gets into an accident, the motorcyclist has a much higher chance of being severely hurt or killed than the other vehicle's occupants. However, if the motorcycle rider did not cause the accident, they should not have to cover the damages.
If another party was at-fault for your motorcycle accident, talk to a motorcycle accident lawyer as soon as possible. A lawyer can let you know your legal rights and help you seek the compensation you deserve for your accident damages.
To get a FREE consultation and get matched with the best attorney for your case, call (469) 998-4069 or fill out one of our online contact forms. We don't get paid unless we win your case, so there is no risk to you.
Wrongful Death Damages from a Fatal Motorcycle Accident
If a loved one died in a motorcycle accident, you might be able to bring a wrongful death case. Damages you can include in a wrongful death claim include:
Medical costs from the loved one's last injuries
Lost income and other benefits
Loss of consortium
Legal fees
Funeral and burial costs
A motorcycle accident lawyer can let you know your options. While we know that money can never reverse what happened, we find it helps surviving families pay for costs from the accident as they work on healing.
Talk to a Motorcycle Accident Lawyer During a Free, No-Risk Consultation Today
Motorcycle accidents are often severe and fatal. Don't get stuck paying for the costs if someone else caused your accident or killed a loved one. Our motorcycle accident lawyers can help.
To get a FREE consultation to go over the details of your case and your legal options, call us at (469) 998-4069 or contact us online today.
Frequently Asked Questions