When Should You Get a Lawyer for a Motorcycle Accident?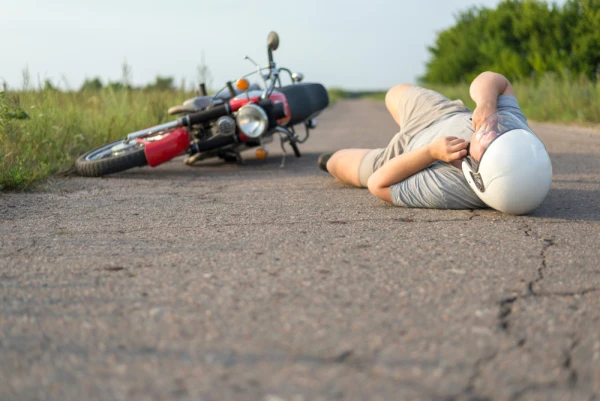 Some drivers want to work with a lawyer after a motorcycle accident in Dallas. However, working with a lawyer may not be necessary in all cases. When should you get a lawyer for a motorcycle accident?
You may want to get a lawyer if you were hurt. You could also work with a legal professional if there is a dispute about the cause of your accident. It may be a good idea to get a lawyer even for relatively minor accidents. Find out more about when to get a lawyer right here.
When you're ready and able to speak with a Dallas motorcycle accident lawyer, call us today at (469) 998-4069.
Get a Motorcycle Accident Lawyer if You Were Hurt in the Collision
A Dallas motorcycle accident lawyer could help if you were hurt in a motorcycle accident. Injuries are common in motorcycle collisions. There were an estimated 1,927 serious injuries caused by motorcycle accidents in Texas in 2018. The Texas Department of Transportation (DOT) provided this information.
You could get compensation for your medical expenses and other losses after a motorcycle accident. A lawyer could help you get compensation by:
Demonstrating that the accident caused your injuries
Keeping track of all expenses caused by your accident
Handling your legal needs while you recover
Note that you should not settle immediately after a motorcycle accident if you were hurt. Insurance companies sometimes offer a settlement right away. You should wait to settle your claim until you have reached your point of maximum recovery. This allows you to be sure that all of your expenses may be addressed.
Work with a Lawyer to Dispute Liability for a Motorcycle Accident
You may only get compensation for your losses if another driver caused your motorcycle accident. Most drivers will not readily admit their responsibility for a collision. This means that a lawyer may need to investigate your case. Investigating what happened could require a lawyer to:
Visit the scene of your accident
Work with accident reconstruction specialists
Access your police report
Speak to any eyewitnesses
A lawyer could work to gather proof that another driver caused the collision. Your lawyer could then present this information to insurance representatives. A strong case showing the other driver's liability could encourage insurance agents to settle your claim. A settlement means your case does not have to go to court. Your settlement could provide you with damages for your:
Medical expenses after an accident
Costs to repair or replace your motorcycle
Lost wages and lost earning potential
Pain, suffering, and mental anguish
Your lawyer may also use the results of their investigation if your case goes to court. You may want to file a lawsuit against the driver who hit you in some cases in Dallas.
A Lawyer Could Help with Even a Minor Motorcycle Accident
Some motorcyclists consider handling minor accidents on their own. You have this right. However, a lawyer could help even with minor collisions. Your lawyer could assess any settlement offers may by insurance agents to make sure they're fair to you.
Your lawyer could ensure your rights are protected after a motorcycle accident. A lawyer could help you understand the laws that Dallas uses to handle motorcycle accident claims. You'd also get legal help if your case turned out to be more complicated than you thought.
Start Getting Help From a Lawyer Quickly After a Motorcycle Accident
You may want to get help from a lawyer right away after a collision while on your motorcycle. Some experts recommend contacting a lawyer immediately following an accident. Your lawyer may then begin building a claim for you right away.
Some drivers wait to get help from a lawyer. You may wait for a period of time. However, Texas has a statute of limitations on motorcycle accident cases. You only have two years to file a claim with insurance agents or file a lawsuit. You cannot get compensation if you wait longer than two years.
You may only have six months to seek compensation in some situations. Start getting legal help in your corner right now by contacting a lawyer in Dallas.
Find Out When You Should Get a Lawyer for a Motorcycle Accident
You may want to get a lawyer for a motorcycle accident if you were hurt. A lawyer could also help if you are accused of causing the collision. Get a lawyer quickly after your collision by contacting a Dallas car accident lawyer. Review the specific ways a lawyer could help with a free consultation from our team.
Reach us by filling out our online contact form. You may also call us at (469) 998-4069.
Frequently Asked Questions