Rowlett Tow Truck Accident Lawyer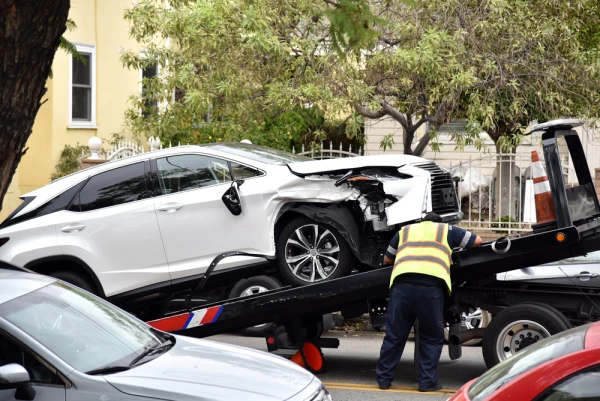 You can get help on your side if a tow truck hit you in Rowlett, Texas. Members of our team are ready to handle your claim. We can work to bring you compensation for your medical expenses and other losses, starting right now. Count on us to:
Review the causes of your accident
Go over all the losses you sustained
Focus on bringing you a settlement
Taking your claim to court
Don't wait to get help on your side. Reach out to a Rowlett tow truck accident lawyer right now. You can contact us if you call (469) 998-4069.
Consider the Facts About Tow Truck Accidents
Vehicles tow other vehicles for a number of reasons around the country. In many cases, tow trucks work when one vehicle is damaged and needs to be moved to another location. However, some tow trucks will deliver new vehicles to dealerships or other locations.
Tow trucks may carry many vehicles or only one. Some tow trucks haul large vehicles, like 18-wheelers and semi-trucks. Any kind of tow truck can end up involved in a collision. The Federal Motor Carrier Safety Administration (FMCSA) tracks these accidents.
According to the FMCSA, there were over 1,000 tow truck accidents in the year 2017. Many of these accidents led to injuries and property damage. Some of them led to fatalities. We're here to help if you lost a family member in a tow truck accident. Contact us at (469) 998-4069 to find out more.
Risks Associated with Rowlett Tow Truck Accidents
Tow truck accidents occur for a number of different reasons. In some cases, these accidents occur while the tow truck driver is not even in their vehicle. Sometimes, these individuals have to get out along the side of the road to hook up a vehicle. They could end up stepping into traffic and being struck in this situation.
Vehicles in tow also come loose in some situations. This allows vehicles to roll back into oncoming traffic. This could result in a major collision. Tow truck drivers also operate their vehicles in reckless or dangerous ways in some situations. They may:
Make a turn without signaling
Back up improperly
Change lanes without looking
Drive too quickly
Run red lights or stop signs
We can review the causes of your accident here in Rowlett. It's important to go over the causes of an accident. You can receive damages if someone else caused your accident. Allow us to begin an investigation right now. Our tow truck accident lawyers in Rowlett are here to help you.
Losses for Rowlett Tow Truck Accidents
A tow truck accident can lead to serious losses here in Rowlett. As we mentioned, these accidents sometimes result in a fatality. We are here to offer you compassionate care in this situation. However, some of these accidents only lead to injuries. These injuries can include:
Broken bones or fractures
Internal injuries or organ damage
Burns, cuts, or abrasions
Head, back, or neck damage
Your vehicle could also sustain serious damage in a Rowlett tow truck accident. You could find yourself unable to return to work. Members of our team are ready to help you get compensation for all of your losses after a collision.
We'll go over your specific case and provide you with answers to your legal questions. You can draw on our legal know-how and experience. We'll keep you up-to-date about what's going on with your claim while dealing with your legal needs. This can allow you to focus on recovering.
Your Options After a Tow Truck Accident in Rowlett
After a tow truck accident, you can file a claim with the insurance company. This can allow you to settle with the insurance company. A settlement allows you to get compensation without going to court. If the settlement is sufficient for your damages, it can help you save time and money.
Insurance companies sometimes try to deny you compensation after a collision. In this situation, you have the opportunity to file a lawsuit. We can take your claim to court for you. We know what it takes to handle a lawsuit here in Rowlett.
Speak to a Rowlett Tow Truck Accident Lawyer Today
Focus on getting compensation after a tow truck accident in Rowlett by speaking with one of our experienced tow truck accident lawyers. We'll start handling your legal needs after you call (469) 998-4069. You can also complete our online contact form. Our Rowlett tow truck accident lawyers are prepared to handle all of your legal needs. We'll work to settle your claims or help you get a verdict in your favor.
Discuss your unique situation with a free consultation. We know what clients in your situation need.
Frequently Asked Questions