Grapevine Tow Truck Accident Lawyer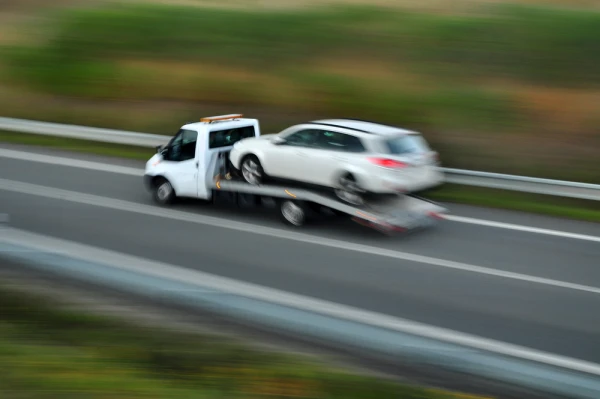 Tow trucks are common sights after a car accident in Grapevine. These large vehicles are often used to haul away damaged vehicles so they can get repaired. Unfortunately, sometimes tow trucks end up causing accidents on their own. These accidents could result in major property damage and injuries.
We're here to help if you were hit by a tow truck. You can easily contact us today by calling (469) 998-4069. A Grapevine tow truck accident lawyer could help you get compensation for all of your losses. Contact us now to learn more.
Learn More About Tow Truck Accidents in the U.S.
There are many different types of tow trucks. Some of these trucks have another vehicle drive fully onto the bed of the truck. In other cases, the tow truck pulls another vehicle that drives behind it on the road. Any kind of tow truck could get involved in an accident here in Grapevine.
There were over 1,000 total tow truck accidents in the U.S. in the year 2017. This information came from the Federal Motor Carrier Safety Administration (FMCSA). These accidents can occur regardless of whether or not a tow truck has a vehicle in tow.
In some cases, these accidents occur when a tow truck loses control of the vehicle it has in tow. Vehicles can slip free if they are not adequately secured. They may then hit other vehicles, leading to an accident here in Grapevine.
Your Options After a Grapevine Tow Truck Accident
It's important to handle a tow truck accident in Grapevine the right way. There are a number of steps you should take right away after a collision. Make sure that you:
Contact the Police
You should inform the police of most accidents in Grapevine. The police can then come out to the scene of the accident. Note that you should not leave the scene of an accident, especially if an injury or property damage occurred. This could result in hit and run charges in Grapevine.
Get Medical Care
If you were hurt in a tow truck accident, it's important that you get healthcare treatment. Getting medical treatment quickly helps show that the accident caused your injuries. It may also help you get back your peace of mind after a collision.
Gather Evidence
You can take direct steps to build a truck accident claim after your collision. You can gather evidence before you leave the scene of the accident. Take pictures of your injuries and any hazards that led to the accident. You should also get contact information from the tow truck driver and eyewitnesses.
Speak to a Lawyer
It's important to get legal help on your side after a tow truck accident. A lawyer can begin helping you right away. Let us handle your legal challenges so you can focus on recovering from your injuries. Reach out to us for help by calling (469) 998-4069. A Grapevine tow truck accident lawyer can put your legal needs first.
Tow Truck Accidents in Grapevine and Compensation
Tow trucks are very large vehicles. When they are involved in an accident, they may cause significant amounts of damage. We can step in to help you get compensation to cover your losses after an accident. You may get damages for medical care if you experienced:
Head or brain injuries
Back or neck injuries
Internal injuries
Burns, cuts, or abrasions
Broken bones
You can also receive compensation for the costs to repair your vehicle. We know that your vehicle could get totaled in a tow truck accident, as well. Finally, you can receive compensation for your pain and suffering.
In many cases, you could receive compensation directly from the insurance company. Insurance agents often offer settlements after tow truck accidents in Grapevine. A lawyer can assess the settlement for you to make sure it covers all of your losses.
However, insurance agents do not always treat drivers fairly after a tow truck collision. They may attempt to deny you compensation. In this situation, a lawyer can advise you to file a lawsuit. This allows you to seek compensation through the court system in Grapevine.
Get Help from a Grapevine Tow Truck Accident Lawyer Now
Our team is ready to help if you were hit by a tow truck in Grapevine. Allow us to focus on handling all of your legal needs starting right now. You can reach out to our tow truck accident lawyers in Grapevine for help immediately. Just call (469) 998-4069. You can also complete our online contact form.
We'll review your specific needs with a free consultation.
Frequently Asked Questions