Rowlett Fatigue Accident Lawyer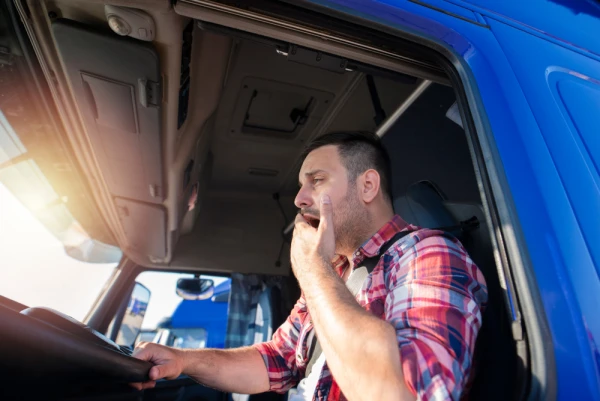 Drivers who operate a vehicle while fatigued are more likely to cause accidents here in Rowlett. We understand the effects of fatigue on drivers. We can work to show that a fatigued driver caused your accident if you were struck by a truck or another commercial vehicle.
Find out more about how we could help by contacting us right now. It's easy to reach a Rowlett fatigue accident lawyer when you want help. Just call (469) 998-4069. We can focus on building a claim and bringing you compensation for all of your losses.
Learn About the Impact of Fatigue on Drivers
According to the National Safety Council (NSC), driving while fatigued is very dangerous. Drivers who operate a vehicle while experiencing fatigue have:
Slower reaction times
Lower awareness of hazards
A harder time paying attention to the road
In fact, drivers are three times more likely to end up in an accident if they drive while they are fatigued. There are reports that compare driving while fatigued to driving under the influence of alcohol. Both of these actions can have serious impacts on a driver's ability to safely operate a vehicle.
Our team is familiar with the risks of driving while fatigued. We'll take your situation seriously if you were hit by a driver who was drowsy or tired. Allow us to get started right now.
Commercial Drivers and Fatigue in Rowlett
Fatigue can affect any driver in the U.S. In fact, around 40% of drivers admit that they have fallen asleep behind the wheel at least once. However, this behavior is often especially concerning when it involves commercial drivers.
Commercial drivers operate large trucks. They are often expected to make very long trips to deliver their goods. Some drivers end up driving for many hours at a time. This can lead to high levels of fatigue. Truck drivers can also experience fatigue if they have to overnight on the road.
We are ready to help if you were hit by a commercial driver who was fatigued. We can review the facts of your case starting right now. Just call (469) 998-4069. Get in touch with a Rowlett fatigue accident lawyer to get personalized help seeking compensation.
Direct Causes of a Fatigue Accident in Rowlett
It's important to discuss the direct causes of a fatigue accident. Driving while fatigued can lead a driver to taking an action to cause an accident. For example, a driver who is fatigued may:
Not look before changing lanes
Run a red light or a stop sign
Speed or tailgate another driver
Fall asleep at the wheel
Any of the above actions could directly cause an accident. Our team can investigate your case to determine what the direct causes of the accident were. We can also work to show that the other driver was fatigued.
However, there are no special tests to measure drowsiness for a driver. This means that driver fatigue can be difficult to prove here in Rowlett. Allow us to review the causes of your accident right now. We'll work to show that someone else caused your collision, whether or not they were fully rested.
Seek Compensation After a Rowlett Fatigue Accident
We're ready to take your side if you were involved in a fatigue accident in Rowlett. Contact us if you are interested in getting compensation to cover your:
Healthcare costs
Vehicle repairs
Lost wages at work
Diminished earning potential
Pain, suffering, and mental anguish
We can review the causes of your accident and gather evidence. Members of our team can then help you file a claim with insurance agents. We also know what it takes to negotiate with insurance agents here in Rowlett. These negotiations can lead to a settlement.
Settlements are agreements made with insurance companies. The insurance company agrees to cover your losses and you agree not to seek additional compensation. We know that insurance agents sometimes refuse to treat you fairly after a collision.
In this situation, you can file a lawsuit against the driver who struck you. We'll take your claim to court here in Rowlett. Allow us to handle your unique needs starting today.
A Rowlett Fatigue Accident Lawyer Can Help You
Talk to a fatigue accident lawyer in Rowlett if you were struck by a tired truck driver. We'll take immediate steps to show that the other driver was at-fault for the accident. Count on us to bring you compensation for your losses. Get started now by calling (469) 998-4069. You can also complete our online contact form.
Members of our team can start to focus on your case with a free consultation. Call today!
Frequently Asked Questions