Rowlett Tractor-Trailer Accident Lawyer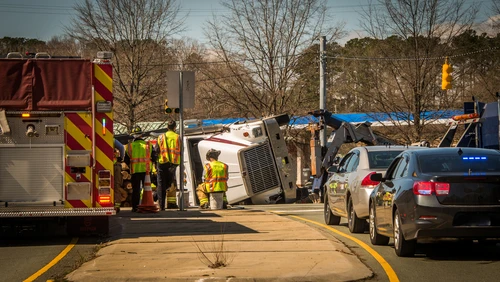 We're ready to help if you were hit by a tractor-trailer in Rowlett, Texas. We know that these large vehicles can leave you facing serious injuries. That's why we'll focus on helping you get compensation for your healthcare expenses and other losses.
You can easily reach us for help by calling (469) 998-4069. We know how to dig into the causes of a tractor-trailer accident. Let us work to build a claim for you so you can focus on recovering from all of your injuries.
Get the Facts About Tractor-Trailer Accidents
You should know that you are far from alone if you were struck by a tractor-trailer here in Rowlett. Tractor-trailers are an example of a commercial vehicle. There were almost 40,000 commercial vehicle accidents in Texas in the year 2019 alone. These accidents were reported to the Texas Department of Transportation (TxDOT).
Tractor-trailer accidents are often dangerous because these vehicles are very large. Their weight makes it hard for them to stop quickly. It also makes it more likely that they will crush smaller vehicles, like cars or vans.
We understand that tractor-trailer accidents can result in injuries or even fatal collisions. We'll put your family first if you lost a loved one in a tractor-trailer collision. We know how to handle a wrongful death claim in the court system in Texas, so reach out to us now.
Kinds of Rowlett Tractor-Trailer Accidents
Not all tractor-trailer accidents in Rowlett occur in the same way. Some of the most common kinds of tractor-trailer accidents include:
Head-on collisions
Rear-end collisions
Side-impact (or T-bone) collisions
Additionally, tractor-trailers are sometimes involved in rollover accidents. Rollover accidents occur when a vehicle falls to one side or the other. Large trucks, like tractor-trailers, are often more likely to rollover than smaller vehicles.
Many rollover accidents are single-vehicle collisions. However, this is not always the case. A tractor-trailer could end up rolling across several lanes of traffic. Other vehicles could then run into the truck or the trailer that it pulls.
We believe that you deserve legal help regardless of the kind of accident you experienced. Just contact a tractor-trailer accident lawyer in Rowlett to start getting help on your side. Allow us to dig into your specific needs. Just call (469) 998-4069.
Parts of a Tractor-Trailer Accident Claim in Rowlett
Insurance companies do not simply provide compensation after a tractor-trailer accident in Rowlett. Instead, a lawyer can take steps to file a claim to help you get damages to cover your losses. In order to get compensation a lawyer has to show that:
Someone Else Caused the Accident
Our team can work to establish liability for your accident right away. We know how to investigate the causes of a tractor-trailer accident. We can:
Speak to witnesses
Go over the police report
Work with accident reconstruction teams
Taking these steps allows us to determine who was at-fault for the collision. This can help us bring you full compensation for all of your losses.
The Accident Caused Your Injuries
It's also important to establish that your losses were caused directly by the accident. You can help with this part of your claim. Make sure that you get medical care quickly if you were hurt. Getting care quickly works to connect your injuries to the accident.
Your Compensation for a Rowlett Tractor-Trailer Accident
A lawyer can step in to help you get damages to cover your losses after a tractor-trailer collision. We are ready to work with insurance agents for you. This often allows us to settle a claim for clients in your situation. You can also take your claim to court here in Rowlett. Taking these steps can help you get damages for your:
Healthcare expenses
Wages lost at work
Repairs for your vehicle
Pain and suffering
Allow us to get to work right away. We'll focus on keeping you up-to-date about the state of your claim. We handle all of your legal needs from the time of your accident until your case is resolved.
Talk to a Rowlett Tractor-Trailer Accident Lawyer Now
Take immediate action after a tractor-trailer accident in Rowlett. Allow us to focus on your needs as you work to get compensation for your losses. You can contact us if you call (469) 998-4069. We also have an online contact form. Discuss your situation with a Rowlett tractor-trailer accident lawyer.
Allow us to discuss your case today with a free consultation.
Frequently Asked Questions