Mansfield Rollover Accident Lawyer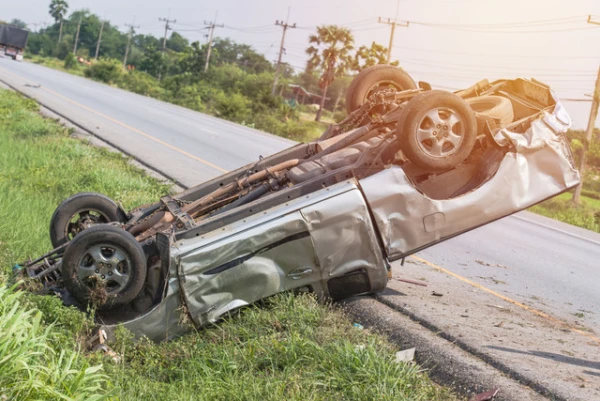 You can get legal help on your side if you were hurt in a rollover accident in Mansfield, Texas. Members of our team are prepared to help if a large truck rolled over and struck your vehicle. We'll work to bring you compensation for your medical expenses, vehicle repairs, and lost wages at work.
You can easily get in contact with a Mansfield rollover accident lawyer. We'll focus on all of your unique needs as soon as you contact us. Just call (469) 998-4069. Let us put you first as we work to build a truck accident claim for you.
Review the Causes of a Rollover Accident in Mansfield
Rollover accidents are very complex and can be difficult to understand. There are a number of different factors that lead to rollover accidents, according to the National Highway Traffic Safety Administration (NHTSA). The NHTSA reports that these accidents are often tied to:
Operating a vehicle at high speed
The consumption of alcohol by a driver
Driver behavior, such as operating a vehicle while distracted
Additionally, some vehicles are just more likely to get in rollover accidents. Vehicles that are tall and narrow are more likely to end up rolling over. This means that commercial vehicles – like semi-trucks – are at a higher risk of rolling over here in Texas.
Finally, these accidents are more likely to occur in some areas than others. Around the country, most rollover accidents occur on rural roads that do not have barriers. These accidents also occur most frequently in areas with a speed limit that is higher than 55 mph.
We're ready to help you learn more about rollover collisions. We know that no two of these accidents are the same. That's why we're standing by to help you by providing you with personalized attention.
Do This After a Mansfield Rollover Accident
Our team knows that most rollover accidents in Mansfield involve only a single-vehicle. However, these accidents can end up involving other vehicles if a large truck rolls across one or more lanes. If you were hit by a vehicle that tipped over, there are a number of steps that you should take. Make sure that you:
Contact the police and tell them what happened
Get pictures of your injuries and vehicle damage
Speak with the truck driver to get contact information
Seek medical treatment for your injuries
Reach out to a truck accident lawyer in Mansfield
Taking these steps can put you on track to getting compensation after a rollover accident. Many drivers do not realize that they should seek medical care right away after a crash. Getting medical treatment right away can work to show that the accident was the cause of your injuries.
Furthermore, we know that you need to reach out to your insurance company after a rollover accident. However, it's advisable that you wait to contact insurance agents until after you speak with a Mansfield rollover accident lawyer. We'll help you deal with insurance agents if you call (469) 998-4069.
Let a Rollover Accident Lawyer Advise You in Mansfield
We mentioned that it's a good idea to reach out to a lawyer before talking to insurance agents in Mansfield. This is because insurance agents are primarily concerned with protecting their bottom line in Texas. They can try to:
Blame you for the accident
Claim that you weren't hurt in the crash
Our team is ready to step in and stand up for you. We'll provide you with the guidance that you need to handle insurance representatives. We can stand with you during interviews with insurance agents. Additionally, we recommend that you do not provide these representatives with a recorded statement in most cases.
You can also count on us to keep you up-to-date about what you need to do as your case progresses. We'll make sure all forms are filed properly and on-time. Find out more about how we could help you by contacting us right away.
Your Compensation for a Mansfield Rollover Accident
Many people want to get compensation if they were hurt in a rollover accident. We're ready to help you seek the damages that you want to cover your:
Healthcare expenses
Lost wages
Reduced earning potential
Pain and suffering
Vehicle repairs
A large truck can total your vehicle in a rollover accident. You could receive the funds you need to replace your vehicle in this situation. We'll review all the losses you sustained to make sure they are appropriately compensated.
You can also count on us to review any settlement offers made by insurance agents after your crash. These agents often try to get you to accept a settlement right away. However, this can cause you to lose full compensation for your medical expenses.
Handle a Rollover Accident Claim in Mansfield
As we mentioned, you can settle with the insurance company after a rollover accident in Mansfield. In fact, most drivers will choose to settle their claims. We know how to negotiate for people in your situation, and settling can help you avoid high court fees.
However, many drivers want to know about their other options after a rollover accident. You can choose to file a lawsuit against the driver who struck you. We understand the legal system here in Texas and we're ready to put our experience to work for you, starting right now.
We'll discuss the best way to handle your unique situation when you contact us. We're also prepared to move quickly on your behalf. We know you only have a limited amount of time to seek compensation for your losses.
Don't delay, reach out to us right now.
Speak to a Mansfield Rollover Accident Lawyer Now
Our Mansfield rollover accident lawyers are standing by to offer you the legal help you want. We'll start working on your claim today when you call (469) 998-4069. You can also fill out our online contact form. Take these steps to begin working to get compensation for all of your losses. We believe in putting you first after a collision here in Texas.
Find out more about your situation with a free consultation.
Frequently Asked Questions