Mansfield Texting While Driving Accident Lawyer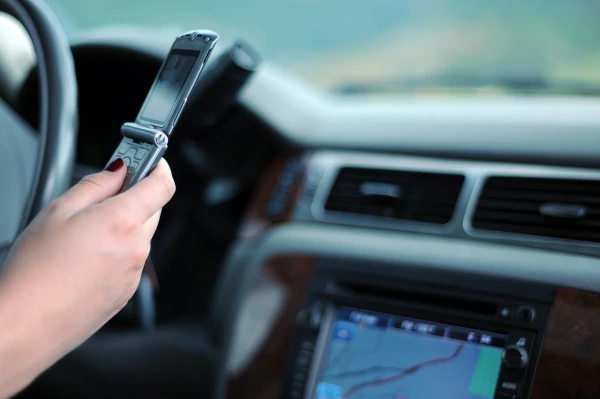 Texting while driving causes a major distraction for drivers here in Mansfield, Texas. For this reason, texting while driving is prohibited throughout the state of Texas. In fact, our state generally only allows for the hands-free usage of mobile devices.
However, some drivers ignore these regulations. They continue to text and drive. This can lead to a collision. Fortunately, you can get help after a wreck from a Mansfield texting while driving accident lawyer. Start working to get compensation for your losses by calling (469) 998-4069.
Texting While Driving and Distraction on the Road
Distracted driving is a major problem around the country, according to the Centers for Disease Control and Prevention (CDC). The CDC has identified three major types of distraction that can impact drivers around the U.S.
These forms of distraction include:
Visual Distraction
Visual distraction occurs if a driver looks away from the road. Even looking away from the road for a few seconds can be very dangerous. Reading or writing a text message requires a driver to look down at their phone, causing a visual distraction.
Manual Distraction
Drivers also experience manual distraction when they take their hands off of the steering wheel. Texting requires the use of at least one hand. This means that the driver cannot safely keep both hands on the wheel while texting someone.
Cognitive Distraction
The last kind of distraction is cognitive distraction. This kind of distraction involves taking your mind off of the road. Many drivers take their minds off the road when they think about what they want to say in a text. This can allow a major crash to occur.
Texas's Laws on Texting and Driving
As we mentioned, it is against the law in Texas to text and operate a vehicle. You should also make sure that you report a texting and driving crash to the police. The police can charge the driver who hit you with a driving violation and look for proof that they were texting and driving.
A driver can get convicted of texting and driving. Note that a conviction does not prove that the other driver hit you. However, your texting and driving accident lawyer in Mansfield could use the conviction to build your claim.
Therefore, it's very important that you contact the police after any crash involving texting and driving. This is especially important if you were hurt in the collision.
You should also reach out to a car accident lawyer in Mansfield. Start getting additional legal advice by calling our team at (469) 998-4069.
Liability for Texting and Driving Accidents in Mansfield
It is against the law to text and drive in Texas. However, texting does not automatically make another driver at-fault for your accident. Members of our team must show that another driver took a direct action that led to your accident. Drivers cause accidents while texting if they:
Swerve into another lane of traffic
Ignore traffic signals like red lights
Speed or tailgate other drivers
Back up without looking
Pass improperly
We know how to investigate the specific causes of a texting and driving collision here in Mansfield. Our team works with accident reconstruction specialists in some circumstances. We also take other steps to gather evidence by:
Speaking with all eyewitnesses
Reviewing your police report
Going out to the scene of the accident
Taking these steps allows us to build a strong claim for you. We'll personalize your car accident claim based on the exact causes of your collision here in Texas.
Losses for a Mansfield Texting and Driving Collision
Car accidents in Mansfield often lead to a lot of expenses. Many of these expenses are tied to medical treatment after a collision involving another vehicle. You can reach out to us if you are interested in securing compensation for your:
Emergency medical treatment
Hospitalization and medical procedures
Rehabilitation and physical therapy
However, our team knows that medical expenses are not the only costs you can face after an accident with a texting driver. For example, your vehicle could sustain serious damage in an accident. It could even get totaled.
We can help you get compensation for these losses, too.
Our team also works to bring you compensation for non-economic losses. These are losses that do not have a set dollar value. Your pain and suffering are examples of non-economic losses here in Texas.
Allow us to focus on your specific losses during your free consultation.
Your Claim for a Mansfield Texting While Driving Accident
You can get to work on a legal claim right away after a texting while driving collision. We'll take control of all of your legal challenges so you can focus on recovering from your injuries. Our team is ready to help you:
File a claim with the insurance company
Take your case to court with a lawsuit
You should know that many insurance companies will settle a claim after a texting while driving accident. However, agreeing on a fair settlement generally requires a period of negotiations with insurance representatives. We'll handle these negotiations for you. We know the strategies employed by insurance agents and we're ready to counter any claims that:
You caused the accident
Your injuries weren't a result of the collision
We are also prepared to assist you if you want to take your claim to court. However, be aware that you can face court fees if you file a lawsuit in Texas. It can also take longer to get compensation if you take your claim to court. Review all your available options with us right now.
Contact a Mansfield Texting While Driving Accident Lawyer
Find out how to get compensation after a texting while driving collision by reaching out to our team right now. We'll start working on your case if you call us at (469) 998-4069. You can also complete our online contact form. Take these steps to reach a Mansfield texting while driving accident lawyer.
Don't wait to get legal assistance. Start working on a claim with a free consultation.
Frequently Asked Questions