Mansfield Negligent Motorcycle Rider Accident Lawyer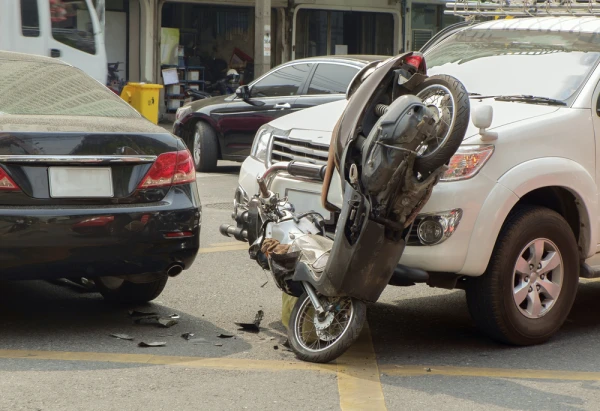 Want compensation after you got hit by a negligent motorcycle rider in Mansfield, Texas? Reach out to members of our team so we can begin working on your claim right away. We'll focus on bringing you the compensation to cover all of your losses.
You can easily get in touch with a Mansfield negligent motorcycle rider accident lawyer. Contact our team by calling (469) 998-4069. We'll work to settle your claim outside of court in many situations. We can also support you if you want to file a lawsuit here in Mansfield.
Facts About Motorcycle Accidents in Texas
Motorcycle accidents are very common throughout our state. In fact, the Texas Department of Transportation (TxDOT) reported that around 1,800 motorcyclists were hurt in crashes in the year 2019 alone. Motorcycle riders are more likely to get hurt in a collision because their vehicles offer less protection.
However, just because a motorcyclist got hurt in an accident does not mean that the collision was your fault. Motorcycle riders in our area often display negligence before an accident. Motorcyclists that drive in a dangerous or reckless way can end up causing a collision. These drivers sometimes:
Speed or race other drivers
Try to "share" a lane with another vehicle
Pass erratically or without signally
Tailgate other drivers
Perform "stunts" while driving
Note that these are only examples of reckless behaviors associated with motorcycle riders in Mansfield. Other activities can also lead to an accident. We're ready to assess the specific causes of your collision right now. This can help us get to work on your claim.
Document Your Negligent Motorcycle Accident in Mansfield
We know that the time after a motorcycle collision in Mansfield can feel very stressful. However, it is important that you try to document as much about the accident as you can. If you have your phone with you, it can help with the documentation process. After a collision, make sure that you take pictures of:
Your injuries
The damage to your vehicle
The position of the vehicles in the accident
Any hazards that led to the accident
You should also speak to any witnesses and the motorcycle rider. Get contact information from everyone at the scene of the accident. Furthermore, it's important that you contact the police and tell them about the accident.
Seek medical care if you were hurt in a motorcycle accident. You may even call emergency services to start getting healthcare quickly. While what happened is fresh in your mind, make sure you write down everything you remember about the collision.
Finally, it's generally recommended that you contact a negligent motorcycle rider accident lawyer in Mansfield. A lawyer can provide you with specific information about the steps you should take next. We'll also advise you about what to do when it's time to contact your insurance company. Find out more by calling our team at (469) 998-4069.
Your Injuries in a Motorcycle Accident in Mansfield
You could end up with major injuries after a negligent motorcycle driver collision in Mansfield. Motorcycle riders often sustain more severe injuries, but that does not change the fact that your injuries are important. You should seek medical treatment if you are dealing with:
Head injuries like concussions
Neck injuries like whiplash
Internal injuries or organ damage
Some drivers face broken bones, burns, or abrasions after motorcycle crashes.
You should also get treatment for these kinds of injuries. Getting medical care quickly helps to show that the accident caused your injuries. This can help your lawyer bring you compensation for your healthcare expenses.
You could also get compensation for your:
Vehicle repairs
Lost wages at work
Pain, suffering, and mental anguish
Discuss the specific kinds of compensation available to you right now. We're ready to review all of the expenses generated by your motorcycle accident in Mansfield.
Liability for Motorcycle Rider Accidents in Texas
Our team will work to show that your losses were caused by your motorcycle accident in Mansfield. We'll also take steps to show that a negligent motorcycle rider caused your accident. You can only receive compensation if another driver was predominantly at-fault for the collision.
We'll focus on reviewing the causes of your collision right away. Our team can speak to the witnesses who saw your accident. We'll also visit the scene of the accident and review and pictures that you took. We're even prepared to work with accident reconstruction teams.
Allow us to focus on all aspects of building your legal claim. Put your case in our hands and direct your energy to recovering from your injuries.
Options to Handle a Motorcycle Accident Claim in Mansfield
Drivers hit by a negligent motorcyclist in Mansfield can seek compensation from the driver's insurance company. Members of our team know how to deal with insurance agents on your behalf. We'll gather evidence and submit a claim for you when the time is right.
Many drivers prefer to settle their claims out of court after a Mansfield motorcycle accident. Staying out of the court system can:
Allow you to get compensation more quickly
Help you avoid high court fees in Mansfield
We understand that insurance agents in Texas are primarily concerned with protecting their bottom line. This means they sometimes deny drivers in your situation fair compensation. They can even try to blame you for the accident.
We'll stand up for you and work to disprove the claims of insurance agents.
We can also take your claim to court if insurance agents won't settle with you. This can allow you to get compensation through a jury verdict in Texas.
Contact a Mansfield Negligent Motorcycle Rider Accident Lawyer
Reach out to a Mansfield negligent motorcycle rider accident lawyer if you were hurt in a collision. Take immediate steps to get the compensation you want to aid in your recovery by connecting with our team. We'll start working on your claim with a risk-free consultation that allows you to get answers to your legal questions.
Reach us by calling (469) 998-4069 or filling out our online contact form.
Frequently Asked Questions