Richardson Truck Accident Lawyer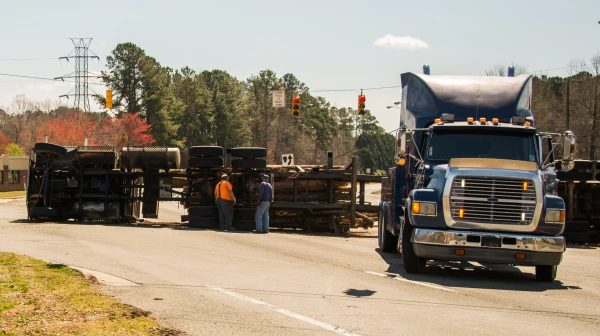 Truck accidents are some of the most dangerous events to occur on the roads in Richardson, TX. Because of their size, 18-wheelers and semi-trucks can destroy other vehicles and leave drivers with serious injuries.
These accidents are also common. According to the Federal Motor Carrier Safety Association (FMCSA), large trucks were involved in more than 100,000 injury crashes just in 2016.
Getting the compensation you need after a truck accident can be very difficult. Most trucking companies get full insurance coverage from insurance agents that will fight to deny you the payments you need.
You can get help standing up to trucking companies and insurance agents by working with a Richardson truck accident lawyer. Make sure you have a skilled legal professional on your side to improve your chances of getting the damages you deserve.
Handle a Truck Accident the Right Way
It can be hard to know exactly what to do after you're injured in a truck accident. Hopefully you received medical care and reported the accident to emergency services. You should also take steps to protect yourself by contacting a truck accident lawyer in Richardson as soon as possible.
You need professional help quickly after a truck accident. Often, the insurance agents working for the trucking company will approach you while you are still healing. They may offer you a settlement and try to convince you that you should take it.
These initial settlements are often too small to cover your medical bills. You can ensure you don't accept an unfair settlement by having a truck accident lawyer look over any deal you are offered before you agree to anything.
Build Your Case with a Truck Accident Lawyer
Fighting with a high-powered insurance company for the compensation you need can be exhausting. You can count on your truck accident lawyer to step in and support you. Winning a truck accident case will require your lawyer to prove that the driver or trucking company was at fault for the wreck.
Truck drivers can be at fault for the accident if they were:
Driving while tired
Driving while drunk
Disobeying traffic laws
In some cases, the trucking company itself is to blame for the accident, often because they:
Gave the driver a load that was unsafe
Did not perform proper maintenance
Your truck accident lawyer will work with professional investigators to establish fault for the accident. A legal professional can strengthen your case by questioning eye-witnesses, gathering evidence, and even reconstructing the accident in some situations.
You Can Get Compensation after a Truck Accident
Once your truck accident lawyer has established that the truck driver or trucking company was at fault for your accident, he or she can focus on getting you compensation for your injuries. You can prove that your injuries were caused by the accident by keeping official records of your treatment.
Note that in many situations you can be entitled to compensation for:
Medical bills
Repair bills
Pain and suffering
Your compensation may depend on how severe your injuries are. You could also receive additional funds if your injuries are permanent or will take a long time to heal.
A Truck Accident Lawyer Can Fight to Settle or Win Your Case
Not all truck accident suits go to court. In fact, in many cases the insurance company will agree to a settlement after a period of negotiation. You can increase your odds of getting a settlement in your favor by working with a truck accident lawyer that has experience with cases like yours.
In other circumstances, your case may go before a judge. A skilled truck accident lawyer will plead your case and protect you from any disreputable accusations made by the trucking company or their insurance agents.
Regardless of whether your case is settled or handled in court, you shouldn't have to pay legal fees unless you win. Look for a law firm that utilizes a "no win, no fee" payment policy to make sure you aren't taken advantage of during this difficult time.
Get Help Right Now from a Truck Accident Lawyer in Richardson
Waiting too long can worsen your chances of winning a truck accident case. You can take steps today to get the compensation you need by calling a Richardson truck accident lawyer. Make sure you have professional help from a law team with the resources and experience to win your case.
We can provide you with legal advice right away with one of our FREE consultations. We've helped clients involved in truck accident cases and we know how to counter the strategies used by insurance agents.
Take action now by completing our online contact form or calling (469) 998-4069.
Frequently Asked Questions