What Is Failure to Yield?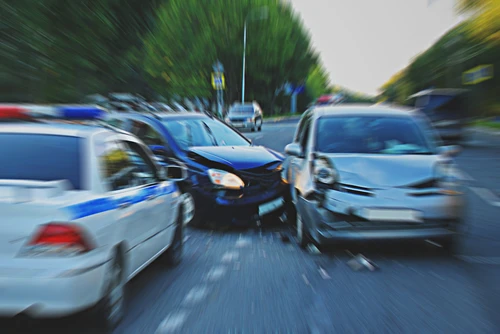 Most people understand where and when to yield while driving. However, some drivers treat yield signs as a suggestion rather than the law. Let's look at what "failure to yield" means, how it can cause accidents, and what to do if another driver's failure to yield injures you.
If someone injured you in a car accident because they didn't yield, don't wait to get legal assistance. You might be entitled to damages, but you have limited time.
Our car accident law firm can connect you with the best attorney for your case. Call (469) 998-4069 or contact us online to get a FREE consultation today.
What "Failure to Yield" Means
When a driver is guilty of failure to yield, it means they didn't allow other traffic to go when they had the right-of-way. Failing to yield often causes some of the most severe or fatal types of car accidents.
Here are some of the most common examples of failure to yield.
Failure to Yield at Four-Way Stops
When a four-way intersection does not have traffic signals, reckless drivers tend to rush through them. At this type of four-way stop, the rules are as follows:
The first car that arrives at the intersection has the right-of-way.
If two vehicles come to the intersection simultaneously, the driver on the right has the right-of-way.
Failure to yield at a signal-free intersection often leads to accidents. If another driver hits you at a four-way stop, you will need to show that they failed to yield to you.
An experienced car accident lawyer can help gather evidence to show how the accident happened, compile proof of your damages, and fight for compensation from the at-fault driver's insurance company.
Failure to Yield at Lighted Intersections
Even when an intersection contains traffic signals, it can be dangerous if drivers fail to yield. A driver might fail to yield if they are distracted, drunk, in a hurry, or disregarding the right-of-way for other motorists.
Many accidents at intersections happen when one driver fails to yield while turning left at a green light. The driver might not realize that the oncoming car traveling straight has the right-of-way. Or, the at-fault driver might think they have enough time to make it through the intersection without causing a collision.
All drivers should be careful to follow the signs and lights at an intersection. Drivers should also stay alert when other motorists fail to follow the rules and cause a failure to yield accident.
Failure to Yield at Left Turns
Many left-turn lights are hazardous if drivers don't yield the right-of-way. Most green left-turn lights allow a driver to turn if there aren't other motorists approaching straight from the other side. If a driver fails to yield correctly, they can cause a terrible accident.
Failure to Yield at a Three-Way Intersection
T-intersections, also known as three-way intersections, can be confusing about who yields when. At this type of intersection:
The motorist on the through street has the right-of-way.
The driver on the road that's ending has to yield.
Unlike four-way intersections, it doesn't matter who gets to a three-way intersection first.
Failure to Follow Stop or Yield Signs
Unless directed differently by an official traffic-control device or a police offer, drivers must always completely stop at stop signs and slow down and wait for right-of-way traffic at yield signs.
According to Texas Transportation Code Section 545.153, a driver approaching an intersection on a road with a yield sign should:
Slow down to a reasonable speed based on the current conditions
Yield the right-of-way to a car that is either in the intersection or approaching from another highway close enough to be dangerous
Even if a driver completely stops at a stop sign, they still must be careful to yield to other drivers who have the right-of-way. A driver who does not yield can cause an accident and get ticketed for failure to yield.
Failure to Yield to Pedestrians
A pedestrian in a marked crosswalk has the right-of-way, so drivers must yield. If a driver does not yield to a pedestrian, the consequences are often catastrophic. Pedestrian accidents caused by failure to yield often cause fatal injuries or instant death.
Drivers who fail to yield can get ticketed for not yielding the right-of-way — and that's the least of what can happen. At the worst, someone (or multiple people) can get seriously injured or killed.
If a driver's failure to yield injured you or killed a loved one, you have rights. A failure to yield accident lawyer can help you file a claim or lawsuit to seek compensation. To get matched with the best attorney for your case, call (469) 998-4069 or contact us online to get a FREE consultation.
Pursuing Compensation for Failure to Yield
If failure to yield caused your accident, you will need to calculate the value of your damages. you will likely have two types of costs:
Economic damages
Non-economic damages
Economic damages include medical expenses, lost wages, physical therapy, rehabilitation, and property damage. You will need to keep documentation of these damages to provide to the insurance company with your claim. Having this documentation ready will help speed up the claims process and increase your chances of getting a fair settlement offer.
Non-economic damages may include physical pain and suffering, loss of enjoyment of life, mental anguish, disfigurement, and wrongful death. These damages are complicated to calculate, but your lawyer can help determine the value of your non-economic costs.
Talk to a Failure to Yield Accident Lawyer During a Free Consultation Today
Having an experienced lawyer on your side can help you:
File your claim within the statute of limitations (Texas Civil Practice and Remedies Code Section 16.003)
Prevent the insurance company from taking advantage of you
Negotiate for a fairer settlement if the insurance company sends you a lowball offer
Know the full value of your claim
Protect your rights throughout the entire process
If you need to sue the driver who failed to yield, your lawyer can help you prepare for trial.
You should not have to handle the legal side of things alone after a failure to yield accident. Our Dallas car accident law firm can get you started with a FREE consultation. To get started for FREE, call us at (469) 998-4069 or contact us online today.
Frequently Asked Questions