Richardson Bus Accident Lawyer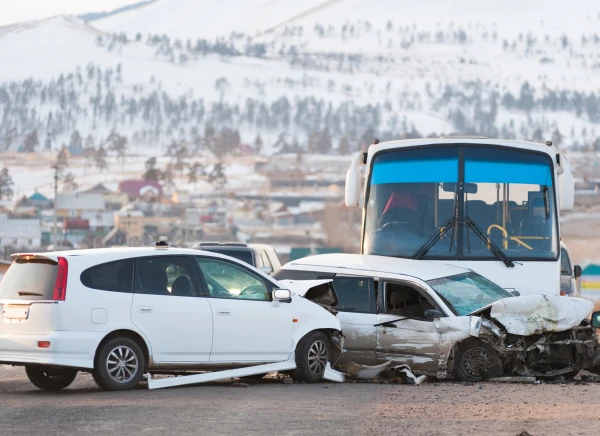 Buses are some of the largest vehicles we see on the road in Richardson, TX. Their size makes them very dangerous to other drivers in the event of an accident. Many bus accidents lead to serious injuries and damage to motor vehicles.
You need help fighting for fair compensation after a bus accident. Insurance companies can try to deny your claims if you have high medical bills or repair costs. Get professional help in your corner by contacting a Richardson bus accident lawyer today.
Let a Bus Accident Lawyer in Richardson Help You
Bus accidents are becoming more common on our roads. The Federal Motor Carrier Safety Administration (FMCSA) reported that buses and large trucks were involved in 97,000 injury crashes just in 2015.
If you are one of the many individuals injured in a bus accident, you will likely face a tough battle to get the compensation you need. The bus driver, the busing company, or even the city could be responsible for your injuries, but all of them can resist giving you fair compensation.
Busing companies typically work with insurance agents that will fight to deny any claims for compensation. Trying to deal with a high-powered insurance company on your own can end in disaster. A bus accident lawyer in Richardson can step in to help you right away if you are injured in a bus accident.
A Bus Accident Lawyer Can Investigate Your Case
Getting the compensation you need after a bus accident injury requires your lawyer to either:
Settle with the Insurance Company
Beat the Insurance Company in Court
In order to accomplish either of these options, your lawyer will need to prove:
The Bus Driver Caused the Accident
The Accident was Responsible for Your Injuries
Proving the fault of the bus driver can be difficult. You need a law firm that has the skills and resources to:
Hire Investigators
Question Eye-Witnesses
Gather Evidence
Reconstruct the Accident
Your lawyer will need to build a solid case to prove the driver was at fault. This can take time. Contacting a bus accident lawyer as soon as you can after an accident will give you the highest chance of getting the compensation that you need.
Your lawyer will also need to show that your injuries were caused by the accident. This can be easier if you keep thorough records of any medical care you receive after a bus accident.
You'll Get Protection from a Bus Accident Lawyer
Dealing with the legal hurdles standing in the way of your compensation can be difficult enough. You will also likely be recovering from injuries in the aftermath of a bus accident. During this challenging time, you may be approached by the insurance agents for the bus company.
Many insurance agents will try to offer you small settlements if you promise not to sue their clients. They can pretend to be your friend while offering you insufficient funds to cover your medical and repair bills.
You don't have to deal with these predatory practices on your own. A bus accident lawyer in Richardson can:
Take Over All Communication with Insurance Companies
Look Over Any Deal to Ensure it is Fair
Getting professional help in your corner can increase the odds that you won't be taken advantage of after a bus accident.
Choose the Right Bus Accident Lawyer in Richardson
Not all bus accident lawyers will offer you the same level of service and dedication. You deserve a legal team that will work hard on your case and support you every step of the way. You will likely have to work closely with your lawyer, so make sure you select a law firm you can trust.
You can improve your odds of winning your case by selected a legal team that has experience handling bus accident cases in Richardson. The court system can be confusing if you don't have solid experience on your side.
You can also look for a bus accident lawyer that uses reputable pricing strategies. Your lawyer shouldn't get paid until you do. Your medical and repair bills can be difficult enough to handle. Look for a law firm with a "no win, no fee" policy to ensure you're treated fairly.
Get Help Handling a Bus Accident Today
Dealing with the aftermath of a bus accident on your own can leave you with high medical bills and repair costs to your vehicle. You can count on a Richardson bus accident lawyer to give you the help and support you need during this difficult time.
Let us take on your case so you can focus on recovering. We have experience dealing with insurance companies and we know how to win cases for our clients. You can start getting help right away by contacting us for a FREE consultation.
Don't wait to get the compensation you need. Call us at (469) 998-4069 or fill out our online contact form now.
Frequently Asked Questions