Flower Mound Big Rig Accident Lawyer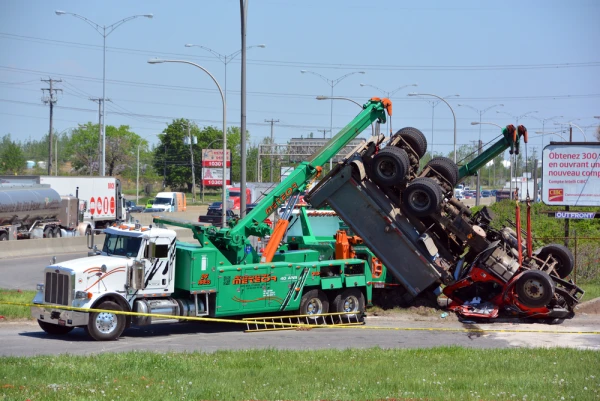 Big rigs are huge commercial transport trucks used to haul a variety of cargo. Also known as tractor-trailers, semis, or 18-wheelers, big rigs are a common sight on Texas highways as they carry shipments from all across the country. Big rigs transport retail goods, food products, industrial equipment, raw materials, and other items. Some big rigs are also used when people move.
Today, there are more big rigs on the road than ever before. Unfortunately, this means the risk of being in an accident with a big rig has also increased. Thousands of people are injured or killed in big rig accidents each year. According to the Insurance Institute for Highway Safety (IIHS), large trucks like big rigs claimed the lives of 4136 people in accidents in 2018 alone.
If you're involved in a big rig accident, you may suffer significant injuries. Crash survivors often need surgery and extensive medical treatments. It may take months or even years to fully recover. Sadly, some accident victims become temporarily or permanently disabled by their injuries. They may also struggle to pay their medical bills.
Were you in a big rig accident near Flower Mound, TX? If so, you're not alone. Our accident lawyers are here to help. Call (469) 998-4069 today to request a free, confidential consultation with a lawyer. We'll help you figure out a plan of action and determine your best legal options after a big rig crash.
Contributing Factors in Big Rig Accident Dangers
As with any type of car or truck accident, the best way to handle a big rig collision is to prevent them in the first place. Always wear a seatbelt, obey local traffic laws, and practice defensive driving. Avoid tailgating, speeding, and improper passing. If your car is equipped with safety features like blind spot warning signals, make sure you use them.
Unfortunately, even the safest driver on the road can't always avoid an accident. Many big rig accidents occur due to the truck driver's error, or external factors such as mechanical issues or bad weather. These accidents may happen despite your best efforts to stay safe. But by understanding the factors that contribute to a big rig accident, you can prepare yourself to handle the dangers.
Common risk factors and dangers in big rig accidents include, but are not limited to:
Vehicle Size and Weight
There's a reason they don't call them "small rigs." A big rig is one of the largest vehicles you'll encounter on the highways near Flower Mound. Big rigs weigh up to 80,000 pounds when carrying a full cargo. That's 20-30 times as heavy as a passenger car. As a result, big rigs can inflict serious damage in a crash.
Big rigs are also taller, wider, and longer than other vehicles. They can be as tall as 13.5 feet, as wide as 8 feet, and as long as 70 feet from cab to trailer. Due to these dimensions, big rigs are difficult to maneuver. Drivers can't turn or change lanes quickly like cars can. This results in many accidents when the big rig driver cannot avoid a hazard in the road and loses control of their vehicle.
Big Rig Blind Spots
Big rigs also have large blind spots. The driver's visibility is significantly less than the driver of a car or a small pickup truck. Large truck blind spots are often referred to as the "no zone." For the average big rig, the "no zones" are:
20 feet directly in front of the cab
30 feet directly behind the trailer
One lane to the driver's left
Two lanes to the driver's right
If you're in the driver's blind spot, you may be hit because the driver can't see you. This is why it's important to give big rigs plenty of space. Follow safe passing protocol. If there's a designated passing lane, use it. If not, always make sure you pass on the left and don't linger in the driver's blind spot. Never pass a big rig unless you can do it safely.
Long Stopping Distance
A speeding big rig can develop serious momentum that takes time to slow down. Additionally, big rigs use a unique braking system known as air brakes. As a result, big rigs need 20-40 percent longer to come to a complete stop than normal cars. It often takes a big rig the length of three football fields to stop.
Stopping distance increases if the road is slippery due to rain or ice, or if the truck's brakes haven't been properly maintained. Many accidents occur due to the big rig's stopping distance. The driver may encounter a stalled vehicle or another hazard on the road, such as a fallen object, and simply cannot stop the big rig in time to avoid a crash.
Fatigued Drivers
Did you know that fatigued driving is as dangerous as driving under the influence of drugs or alcohol? Studies show that fatigued drivers are three times more likely to be involved in an accident. Driving with less than 4 hours of sleep is equivalent to driving with a 0.08% blood alcohol level.
Big rig drivers often work long shifts and drive overnight. As a result, they are more likely to become fatigued while driving. When a big rig driver is fatigued, they experience reduced motor control, slower reaction times, and poor judgment. A tired trucker can cause an accident.
Mechanical Failure
Finally, many big rig accidents are caused by mechanical failure. Big rigs need regular safety inspections and repairs. If the trucking company hasn't been maintaining its fleet, there may be an accident due to failed brakes, engine problems, or steering issues.
When mechanical failure causes a big rig accident, the truck driver's employer may be legally responsible for the crash. That's why it's important to get the driver's employer information as well as their insurance and contact information.
Get Legal Help After a Big Rig Accident
For legal assistance after a big rig accident, call (469) 998-4069 for a free consultation with a Flower Mound, TX accident lawyer.
Frequently Asked Questions