Flower Mound Dump Truck Accident Lawyer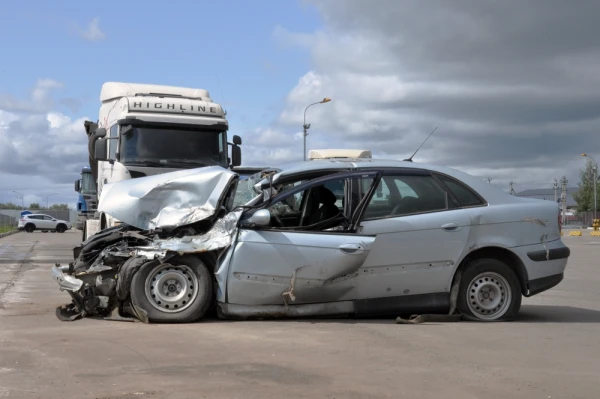 Were you in an accident involving a dump truck in Flower Mound, TX? If so, you may be struggling to get your life back on track. Like any accident, a collision involving a dump truck can be devastating. Dump truck accidents can lead to property damage, injuries, and even fatalities.
After a dump truck accident, many survivors face expensive medical bills. They may also be unable to work while they recover. Some dump truck accident injuries are permanently disabling. Crash victims may require long-term care.
If you're in a dump truck accident, you have rights. Contact our law offices in Flower Mound, TX to find out if you're eligible for compensation. You may be able to seek damages from the dump truck driver, their employer, or the owner of the property where the accident occurred.
Call (469) 998-4069 today for a free consultation to discuss your legal options. You can also schedule an appointment online. Your consultation is 100% free and confidential. If we take your case, we won't charge for our services unless we help you win.
Types of Dump Trucks
Dump trucks, also known as dumper trucks or tipper trucks, are large commercial vehicles used to haul raw materials, scrap, and commodities like coal. Dump trucks are usually found near construction sites, factories, or mining facilities.
Most dump trucks are equipped with an open cargo bed, which uses specially engineered equipment to lift and tilt. This allows the truck driver to quickly dump the cargo. Dump trucks often deposit dirt or loose gravel to fill pits at construction sites. They are also used to transport scrap metal and junk, then dump the waste into a landfill.
Dump trucks come in many sizes and cargo capacities. The largest dump trucks can carry up to 28,000 pounds (or 14 tons) while smaller dump trucks carry between 13,000 and 15,000 pounds (6.5-7.5 tons). In cities like Flower Mound, the following types of dump trucks are the most common:
Standard Dump Truck
Standard dump trucks consist of a truck chassis with a dumper body attached to its frame. Today, most standard dump trucks use modern hydraulic lift technology to raise their beds and dump their cargo. Most standard dump trucks have one front steering axle and 1-2 rear axles.
Semi-Trailer End Dump Truck
A semi-trailer end dump truck is a larger vehicle used for heavier hauls. This vehicle is like a hybrid between a dump truck and a semi-truck or tractor-trailer. Semi-trailer end dump trucks usually have 3 axles and use a hydraulic hoist.
Transfer Dump Truck
Transfer dump trucks consist of a standard dump truck with a secondary cargo trailer powered by an electric motor. These vehicles can be loaded with a wide range of raw materials and are often used to haul construction aggregate, such as asphalt. Because they use a second dumper, transfer dump trucks offer a bigger capacity than standard dump trucks. However, they are more expensive and dangerous to operate.
Side Dump Truck
The key difference between a standard dump truck and a side dump truck lies in the name. While standard dump trucks deposit their loads in the rear, a side dump truck empties its cargo to the side. Side dump trucks are useful in construction sites where a standard dump truck may not be able to maneuver safely.
Causes of Dump Truck Accidents
Most dump truck accidents happen near construction sites. Often, construction sites cause traffic congestion. The busy activities at a construction site can also result in confusion for many drivers. Some dump truck accidents happen because a driver gets distracted or overwhelmed and doesn't see the dump truck.
To avoid dump truck accidents, always stay alert when you drive near a construction site. Obey the speed limit. If there are any construction workers directing traffic, make sure you follow their instructions. Don't tailgate or change lanes without signaling.
However, there are many factors involved in dump truck accidents that are beyond your control. These include:
Blind Spots
Like all large trucks, dump trucks have significant blind spots compared to normal cars. Accidents often happen when a car, motorcycle, bicyclist, or pedestrian gets in the dump truck driver's blind spot. Always give these vehicles extra room and don't crowd them. Use designated passing lanes when available. If you need to pass a dump truck, always pass on the left. Remember, if you can't see the driver, the driver can't see you.
Stopping Distance
Most large trucks need 20-30 longer to stop than a passenger car. Dump trucks are no different. Due to the vehicle's weight, a dump truck driver cannot brake quickly to avoid a hazard. This causes many accidents.
Mechanical Failure
Dump trucks are heavy-duty industrial vehicles designed for rough jobs, which take a toll on the truck's engine and other mechanical parts. Dump trucks need to be regularly maintained and inspected. If the truck's owner hasn't kept up with repairs, an accident may occur due to mechanical failure.
Bad Weather
Finally, bad weather can cause a dump truck accident. Rain, snow, or hail can create a slippery road surface that causes the dump truck's tires to lose traction and slide out of control. Additionally, severe weather conditions can impair the driver's vision. They may cause a crash because they can't see the road.
Dump Truck Accident Injuries
After a dump truck accident, many victims suffer the following injuries:
Cuts, bruises, burns, and broken bones
Internal organ damage and internal bleeding
Spinal cord damage, including nerve damage and paralysis
Neck injuries, including whiplash
Head injuries, including concussions and neurological damage
Psychological injuries like PTSD
Recovering from a dump truck accident can be a long, painful experience. Don't do it alone. Dial (469) 998-4069 to discuss your case with a Flower Mound, TX truck accident lawyer. We'll help you understand all your options.
If you're eligible for compensation, we'll help you receive it. You won't pay a dime for our services unless we win.
Frequently Asked Questions