Flower Mound Improper Passing Truck Accident Lawyer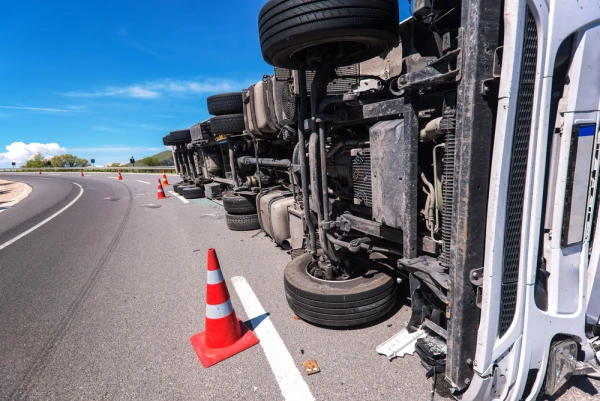 According to the Texas Department of Transportation (TxDOT), there were 3,610 fatal car and truck accidents in the Lone Star State in 2019. Many of these accidents occurred on busy streets and highways where drivers frequently pass one another. Improper passing is a leading cause of these accidents.
Improper passing occurs when a car or truck fails to follow proper passing procedures and causes an accident. These incidents also result in millions of dollars of property damage, as well as severe injuries. Victims who survive an improper passing crash involving a truck may require hospitalization, surgery, and long-term medical care.
If you were involved in an improper passing truck accident, you may have a lot of questions. Who is liable for an improper passing accident? Are you eligible for compensation? If so, how much? What's the best legal action to take after an improper passing accident?
Our lawyers are here to help answer all your questions about improper passing accidents involving trucks. Call (469) 998-4069 to schedule a free consultation with a Flower Mound, TX truck accident lawyer. Consultations are 100% free and 100% confidential. If we take your case, you won't be billed unless we help you win.
Types of Improper Passing Accidents
An improper passing truck accident can occur virtually anywhere. However, they are more common on busy streets and highways. These accidents are likely to occur during rush hour when drivers become impatient with slow-moving traffic.
Depending on the speed and angle of the truck crash, an improper passing accident can result in any of the following types of collisions:
Side-Impact Collisions
A side-impact collision, also known as a t-bone or broadside collision, happens when a truck or another vehicle hits the side of your car. The angle of the impact makes a perpendicular "T" shape. In a side-impact collision, the other vehicle may force you off the road or cause you to collide with other cars or objects like guardrails.
A side-impact collision can occur if another driver attempts to pass but fails to control their truck. They may miscalculate and hit your car, or collide with your vehicle because they're not paying attention. Side impact collisions can result in severe injuries.
Side-Swipe Collisions
A side-swipe collision is very common in improper passing accidents. Like a side-impact collision, these crashes involve the sides of your vehicle. However, side-swipe collisions are a little different. Rather than hitting you head-on, the car or truck may skid or swerve into you. The side of their vehicle strikes the side of your car.
A side-swipe collision involving a truck may be mild, moderate, or severe. These collisions may also cause you to lose control of your vehicle. You may be forced into a spin. Many side-impact collisions involve multiple vehicles.
Rollover Accidents
Rollover accidents are among the most deadly types of improper passing accidents involving trucks. A rollover accident happens when a truck crashes into your car and forces you off-balance. Your car may tilt and land on its side, or even flip over completely.
Unfortunately, most vehicles are not built to withstand an impact on their roof. If your car rolls over in an improper passing accident, the frame may buckle under the weight of the body. These accidents also lead to severe head and neck injuries.
Avoidance Collisions
Finally, many improper passing accidents result in a type of crash known as an "avoidance collision." An avoidance collision happens when a truck driver attempts to avoid a hazard in the road but loses control of their vehicle in the process. For example, many trucks may experience brake failure or steering problems if the driver makes sudden moves at a high speed.
With improper passing accidents, avoidance collisions are common. Imagine Truck A is a negligent driver and Car B is in their blind spot. If Truck A changes lanes without looking, they may not notice Car B until Car B slams on their horn. Although Truck A might be able to swerve back into their original lane, this maneuver may cause Truck A's driver to lose control. Then, they spin out and hit another vehicle.
Improper Passing Truck Accident Causes
The good news is that many improper passing accidents can be prevented. By checking your blind spot, using your turn signal, and obeying local traffic laws, you can ensure that you always pass safely. In Texas, many interstate highways use designated passing lanes to help car and truck drivers stay safe. Always use these lanes when available.
Additionally, be mindful of the distance between your car and other vehicles, especially large trucks. When you pass another car or truck, always pass on the left. Don't linger next to the vehicle, where you might be in the driver's blind spot.
Then, once you think you've cleared the truck, check your rearview mirror. If you can see both headlights, you have enough space to safely return to your original lane.
Many cars and trucks are also equipped with special safety technology to reduce improper passing accidents, including blind-spot warning signals. If your vehicle has these features, make sure they're enabled at all times. A blind-spot warning signal can alert you if there's a car, truck, or another object in one of your blind spots. This will also help you pass safely.
Understanding the causes of an improper passing accident involving a truck can also help you stay safe. Although no two truck accidents are identical, they often have the same causes, including:
Failing to check blind spots
Negligent driving
Reckless driving
Distracted driving
Driving under the influence
Fatigued driving
Mechanical failure
Improper Passing Truck Accident Injuries
If you've been in an improper passing accident involving a truck, you may suffer a wide range of injuries — from mild conditions like whiplash to permanent conditions like paralysis or traumatic brain injuries (TBIs). Many survivors also suffer from PTSD.
Even with insurance, your medical bills after a truck accident may be quite high. That's why it's important to talk to an accident lawyer. Our Flower Mound law office can help you understand your rights and explore your options after any truck accident.
Call (469) 998-4069 to schedule your free consultation.
Frequently Asked Questions