Flower Mound Bad Road Conditions Truck Accident Lawyer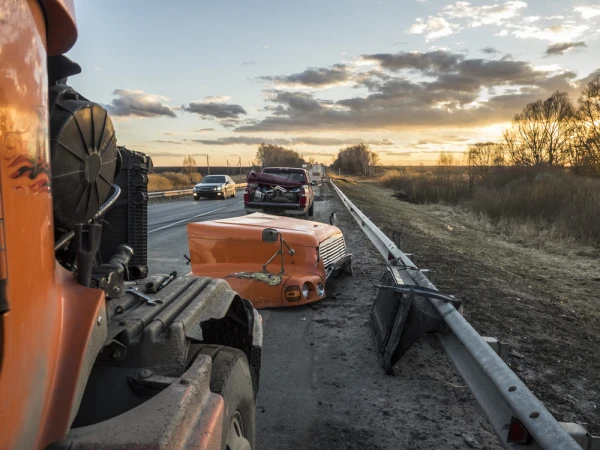 It's every driver's worst-case scenario. You're driving safely along the streets of Flower Mound, TX when, suddenly, a truck driver loses control of their vehicle due to bad road conditions. Their truck's tires lose traction, or their brakes fail, and they are unable to avoid hitting you. The collision can happen in the blink of an eye and change your life forever.
Bad road conditions cause truck accidents every day. Unfortunately, many of these accidents are unavoidable. Your vehicle may become damaged beyond repair, and you or your passengers may suffer injuries. In some cases, bad road conditions can lead to fatalities.
If bad road conditions cause you to be involved in a truck accident, you have rights. You may be eligible for compensation from the driver, their employer, the local government responsible for maintaining the roads, or all three. It's important to explore all your legal options after a bad road conditions truck accident. You may be able to receive a settlement to replace your car, pay hospital bills, and cover lost wages.
Call (469) 998-4069 today for a free consultation with a Flower Mound, TX truck accident lawyer. Our legal team will help you assess your options and determine the best course of action for you. There's nothing to lose. If we take your case, you won't pay for our services unless we help you win.
Types of Bad Road Conditions That Cause Truck Accidents
In general, bad road conditions fall into two categories:
Bad road conditions caused by nature, such as ice or flooding
Bad road conditions caused by poor infrastructure, such as potholes
Unfortunately, each category can cause severe truck accidents. Unsafe road conditions of all types contribute to thousands of accidents every day. Often, driver negligence also plays a role in these collisions. When a truck driver is speeding, distracted, or driving under the influence and they encounter bad road conditions, the results can be deadly.
In places like Flower Mound, TX, the most common bad road conditions that cause accidents include:
Potholes and Wheel Ruts
Potholes and wheel ruts are common problems in high-traffic areas, especially roads frequented by buses, large trucks, and other heavy vehicles. Potholes and wheel ruts occur over time as weight erodes the road surface.
They are also caused by changes in air temperature. As the moisture in the pavement freezes and thaws, it expands and contracts. This weakens the road's structural integrity. Over time, large chunks of the road are worn away by heavy vehicles.
Most potholes and wheel ruts are a minor inconvenience. However, if they get big enough, they can cause truck accidents. If a wheel hits a pothole or rut at the right angle, it can disrupt a truck's momentum. This can cause the truck driver to lose control and spin out, colliding with other vehicles.
Fallen Objects
Fallen objects also create unsafe driving conditions on the road. Fallen objects may include items that fall off the back of a truck, such as construction equipment or mattresses, as well as natural objects such as tree branches. Whatever the cause, fallen objects create bad road conditions that contribute to accidents.
When you're driving, you don't expect to encounter an object in the middle of the road. If there's a large object suddenly in your path, you may need to stop unexpectedly. This can lead to a rear-end collision if the truck driver behind you wasn't giving you enough space or isn't paying attention. Fallen objects can also cause truck accidents when drivers are forced to suddenly swerve around them.
Missing Signs or Broken Traffic Signals
Accidents also occur when there are missing signs or broken traffic signals. On busy streets, signs and signals are vital to ensuring the safe flow of traffic. They let car and truck drivers know who has the right of way, especially in an intersection where perpendicular traffic intersects. Without proper signage, many truck accidents may occur.
Signs may go missing due to vandalism or heavy storms. They may also be temporarily removed due to construction. Similarly, power outages or other problems may cause a traffic light to temporarily stop working. When a truck accident happens due to these bad road conditions, the city or county may be held liable.
Faded Road Paint
Many drivers take road paint for granted, but the markers painted on a street surface are vital for preventing truck accidents. Whether they're dividing lanes, indicating a bike lane, or reminding drivers of the speed limit, road paint helps reduce traffic accidents. Unfortunately, weather, sun damage, and general wear-and-tear cause this paint to fade over time.
If a city or county has allowed road paint to become illegible, it can lead to a truck accident. For example, a truck driver may drift into your lane and cause a collision. Faded road paint can also lead to crashes involving multiple vehicles, bicyclists, and pedestrians.
Uneven or Rough Pavement
One of the leading causes of bad road conditions accidents is uneven or rough pavement. Often found near construction sites, uneven or rough pavement can cause a truck driver to lose control of their vehicle. The poor quality of the road may impact the truck's ability to brake or steer safely. It may also reduce tire traction.
Often, uneven or rough pavement is marked by special signs. However, especially temporary construction sites, may fail to use proper signage. If you're involved in a truck accident due to uneven or rough pavement, you may be eligible for damages from the city, county, or the construction company.
Get Legal Help for Bad Road Conditions Truck Accidents
If bad road conditions cause you to become involved in a truck accident, there are many legal options available to you. Our Flower Mound, TX law firm has assisted many Texas drivers just like you. We'll review your case, help determine liability, and figure out how much compensation you may be owed in a settlement.
Best of all, there's nothing to lose. Consultations are 100% free and there's no obligation when you call (469) 998-4069 to schedule your appointment. You will only be billed if we take your truck accident case and help you win.
Frequently Asked Questions