Frisco Aggressive Driving Accident Lawyer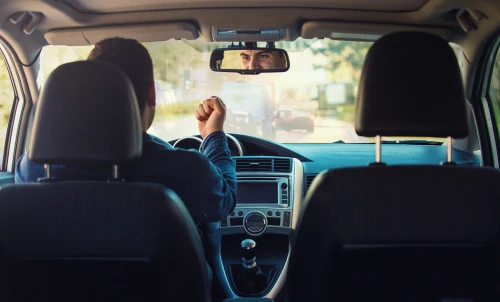 Unfortunately, road rage and aggressive driving are very real things in Frisco. Some drivers do not take the time to follow traffic rules or exercise the patience required to drive safely. If you were injured in an accident because another driver was being too aggressive, you should not have to pay for the costs. A Frisco aggressive driving accident lawyer can help today.
Our car accident lawyers have extensive experience helping those injured in accidents in the Dallas area. We have worked on a variety of cases, from minor injuries to fatal crashes. No case is too much for us. Let us give you a FREE consultation and discuss the details today. Call us at (469) 998-4069 to get started.
How Aggressive Driving Looks in Frisco
Aggressive driving is defined by the National Highway Traffic Safety Administration (NHTSA) as "the operation of a motor vehicle in a manner that endangers or is likely to endanger persons or property." Aggressive driver behaviors can show up in a number of ways, and none of them are safe or legally okay.
Here are some examples of aggressive driving that can lead to accidents in Frisco.
Tailgating Other Drivers
According to Texas Transporation Code section 545.062, drivers following another vehicle should maintain a distance that allows the driver to safely stop without crashing into the front vehicle or veering off of the road. Drivers should take traffic conditions, speed, and driving conditions into account.
Aggressive drivers will tailgate other drivers, often in an effort to pass as soon as possible or force another driver to speed up. This behavior can easily lead to a collision if a driver brakes suddenly or loses control of their vehicle.
Traveling Above the Speed Limit
A speeding driver is automatically driving aggressively and breaking the rules of the road. Speed limits exist for a reason, and not following them can become dangerous quickly.
Weaving In and Out of Traffic
Most of us have observed aggressive drivers weaving in and out of traffic lanes, often without using their blinkers to signal to other drivers. Even if an aggressive driver does use a signal, it's rarely provided in enough time for other drivers to react to it. This is incredibly dangerous.
Other Types of Aggressive Driving
The above are some of the most common examples of aggressive driving we see, but it can also take the form of:
Brake checking
Using a horn excessively
Not yielding the right of way
Using confrontational body language or yelling at other drivers
Preventing other vehicles from changing lanes or passing
Driving on the side or shoulder of the road
Ignoring traffic signals, such as running red lights
Racing with other drivers
When you know your accident was caused by an aggressive driver, it can be very frustrating. You know that if the driver had simply followed the rules, you wouldn't be in this situation. Thankfully, the law is on your side.
If you were not at fault for a car accident in Frisco, you have the legal right to seek compensation for your damages. The aggressive driver should be held responsible for their negligent actions, and a lawyer can help.
Our aggressive driving accident lawyers can help you build a strong case to show how the other driver was at fault. Call (469) 998-4069 to learn more and get a FREE consultation today.
Types of Damages in an Aggressive Driving Accident Case
To pursue financial recovery after an accident, you can file a claim with the at-fault driver's insurance company. You'll need to know the full extent of your damages, which are losses you've experienced as a result of the collision. Here are some damages you will likely have.
Medical Costs
There are two main types of damages in a car accident case:
Special, or economic, damages and
General, or non-economic, damages
Medical bills, prescription medication costs, and other expenses related to the treatment of your injuries are economic damages. They can be demonstrated through clear dollar amounts. However, you will also need to account for any future or ongoing medical treatment that you will need.
A Frisco aggressive driving accident lawyer can help you calculate what your total treatment costs will be. They can also help you compile medical bills and other evidence of your damages.
Lost Income
If you were working before the accident, you've probably had to miss work because of the accident and your injuries. You can claim this missed work as lost wages.
If you have injuries that impair your ability to work as you could before, you may also be eligible for loss of earning capacity.
Property Damage
You can also include the costs of repairing or replacing your vehicle in your car accident claim. Like medical costs and lost wages, these are economic damages that can be proven through receipts, quotes, and payments.
Emotional Damages
Unlike the damages we've covered above, emotional damages fall into the non-economic damages category. These damages can be:
Physical and emotional pain and suffering
Loss of enjoyment of life
Disfigurement or scarring or
Loss of consortium
Non-economic damages are not easy to prove. You will need help from an experienced aggressive driving accident lawyer who can determine the value of your pain and suffering and other related damages.
Shared Fault in a Frisco Aggressive Driving Accident
Sometimes, more then one party is at fault for an injury accident in Frisco. If you are concerned that you played a part in what caused your accident, do not assume you can't recover anything.
Texas law still allows you to recover damages as long as you are not more than 50% at fault for the car accident. Your total recovery will be reduced based on the percentage of fault assigned to you, but you will still be able to recover some damages.
If you have any doubts at all about your involvement in the crash, talk to an aggressive driving accident lawyer first. You may have more options than you realize.
Get a Free Consultation with a Frisco Aggressive Driving Accident Lawyer Today
Our car accident lawyers are here to help after you've been injured in an accident caused by an aggressive driver. Working with us is risk-free because we do not charge a fee unless we win you money in your case. To learn more and start discussing the details of your case during a FREE consultation, call (469) 998-4069 today.
Frequently Asked Questions