Irving Fatigue Accident Lawyer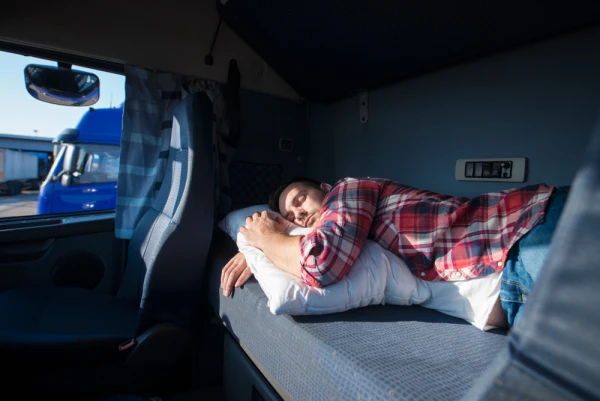 Fatigue accidents can be very serious. According to the National Safety Council (NSC), fatigue causes up to 328,000 car accidents each year. This includes over 71,000 injuries and 1,550 fatalities.
However, the real numbers may be even higher. Fatigue accidents can be difficult to prove. That's why it's helpful to have an accident lawyer on your side. If you've been involved in a car crash caused by a fatigued driver, our Irving, TX attorneys can assist you.
You may be owed compensation for personal injury as well as damage to your vehicle. Compensation from a fatigue accident can cover medical bills, loss of property, and lost wages. You may also be owed a settlement for your pain and suffering.
Contact our fatigue accident lawyers today. Consultations are completely free, and if we don't help you win your case, you won't pay for our services. Our law offices are dedicated to serving all drivers in Irving and neighboring Texas communities.
Call (469) 998-4069 today or fill out our online contact form to book your consultation.
Fatigue Accidents: A Real Nightmare
It's every driver's worst nightmare. You're driving carefully, obeying the speed limit, and minding your own business when suddenly another vehicle comes out of nowhere. The other driver causes a dangerous accident that was completely avoidable. Why? Because they fell asleep at the wheel.
The Centers for Disease Control and Prevention (CDC) estimates that 1 in 25 adults fall asleep while driving. Drowsy driving is responsible for all kinds of car accidents, from minor collisions to fatal impacts. In fact, experts consider fatigued driving to be just as dangerous as driving under the influence of drugs or alcohol.
Exhaustion causes physical and emotional stress. Even if they don't fall asleep at the wheel, fatigued drivers can still cause accidents. Fatigue decreases mental focus, slows your reaction time, and impairs your coordination.
Any driver can cause a fatigue accident if they haven't had enough rest. However, certain individuals may be at greater risk:
Long haul truck drivers — Professional truck drivers often have tight deadlines and need to drive long distances. These drivers may be more likely to push themselves and drive all night. Some drive for several days without a proper rest stop.
Delivery drivers — Delivery drivers may also experience fatigue from working too hard. Many delivery drivers wake up very early or work very late at night in order to complete their delivery quota for the day. Stress can also add to their fatigue.
People who work nights — People who work night shifts are more likely to experience fatigue while driving if their body hasn't adjusted to their work schedule. Also, these workers can be at risk for extreme daytime fatigue.
People taking a new medication — Certain medications can induce drowsiness. Drivers who have just started a new medication may experience fatigue as a side effect.
People with sleep disorders — People who experience insomnia, sleep apnea, and other sleeping disorders are also more likely to cause fatigue accidents. In some cases, these drivers may not realize how exhausted they are until it's too late.
Young adults — Many young adults don't get a full night's sleep. They may be socializing or studying until very late at night, then waking up early to attend class or work. Additionally, some young adults believe they can simply consume energy drinks instead of sleeping.
Fatigue Accidents Are Preventable
The good news is that it's relatively easy to prevent fatigue accidents.
First, all drivers should be well-rested before they get behind the wheel. For the average adult, that means six to eight hours of sleep at night. If you haven't had a full night's sleep, take a nap before you drive.
Also, if you ever feel tired while you're driving, pull over right away. Rest in your car until you feel energized again. As a last resort, fresh air, coffee, and a short walk can also help you wake up. Always prioritize safety.
Many modern vehicles also include safety features designed to reduce fatigue accidents. Special sensors can detect drowsiness and sudden lane departures and alert the driver with a loud warning. Consult your manufacturer's safety manual to find out if your car has this technology.
Professional drivers also have worker's rights. They are legally guaranteed a certain amount of rest. If you know a professional driver who isn't getting enough sleep because of their job, help them contact their union or HR representative.
Lastly, be sure to talk to your doctor about driving whenever you start a new medication. If possible, take a "driving break" for a few days until you determine how your body reacts. Do this for any new medication, even if there's no warning label about drowsiness. Different people may experience different side effects.
Compensation from Fatigue Accidents in Irving, TX
When another driver causes an accident due to fatigue, you are not liable. In fact, you may be eligible for compensation. Many people use their compensation to cover medical bills for injuries associated with fatigue accidents. These injuries may include, but are not limited to:
Head injuries, such as concussions and skull fractures
Neck injuries, such as whiplash
Cuts, bruises, and burns
Broken bones
Internal bleeding and damage to internal organs
Additionally, many people pursue compensation for mental distress. A fatigue accident can trigger PTSD, anxiety, depression, and other emotional problems.
Some accident victims require multiple surgeries and long-term rehabilitation to recover from a fatigue accident. They may also be unable to return to their normal job. If you've been in a fatigue accident in Irving, TX, don't let it ruin your life. Seek legal help today.
Our fatigue accident lawyers will fight to get you compensated. We're here for you. With a free consultation call, we'll help you determine how much compensation you may be owed. Then, we'll create a legal strategy to help you win. If we don't succeed, you won't pay for our services.
Call (469) 998-4069 now to schedule your free appointment. You can also book a consultation on our website. Remember, you have legal rights in a fatigue accident.
Frequently Asked Questions