Lancaster Fatigue Truck Accident Lawyer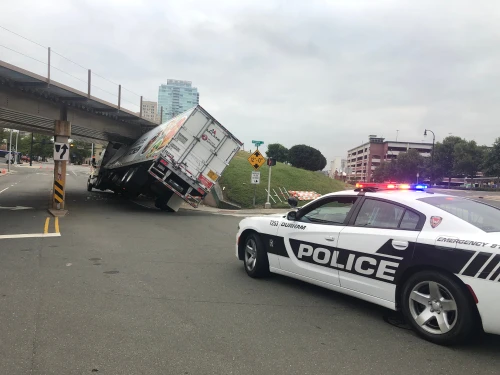 Were you involved in a fatigue accident in Lancaster, Texas? If so, you can take steps to get compensation for your losses by reaching out to our team for help. We know how to build a claim to help you secure compensation for your:
Medical expenses
Lost wages
Vehicle repairs
Pain and suffering
Find out how to get help right now by contacting a Lancaster fatigue accident lawyer. We'll provide you with straightforward legal assistance. Find out more by calling us at (469) 998-4069.
Get the Facts About Fatigue Accidents in the U.S.
Driver fatigue is often an under-appreciated hazard on the roads. Many of us recognize that it is dangerous to drive while impaired by alcohol or drugs. According to the experts, fatigue can impair drivers as much as driving under the influence of alcohol.
The Insurance Information Institute (III) reports on fatigue accidents around the country. According to the III, there were around 90,000 accidents involving fatigue in the year 2017. However, it's important to note that these numbers are not exact.
It is difficult to provide an exact number of fatigue accidents. This is because driver fatigue is often difficult or impossible to identify. There could be many more fatigue accidents around the country on a yearly basis.
Direct Causes for Fatigue Accidents in Lancaster
It's important to note that merely driving while fatigued is not enough to "cause" an accident. A tired driver has to take another action to directly cause an accident to be at-fault for the collision. Drivers who experience fatigue can cause accidents if they:
Fall asleep and drift into another vehicle
React too slowly to changing traffic conditions
Make a poor decision due to fatigue
For example, let's say that a driver is very tired because they did not sleep the previous evening. They are trying to get to work. They want to pass the driver in front of them but are having a hard time concentrating. They pull out to pass and end up running into another vehicle. Their improper passing would be the direct cause of the accident.
A Lancaster fatigue accident lawyer can work to determine the exact causes of your accident. We'll investigate what happened to result in a wreck. Call (469) 998-4069 so we can get to work for you right now.
Fatigue Accidents and Lancaster Commercial Drivers
Fatigue can impact any driver here in Lancaster. Many commercial drivers are affected by fatigue because they have to drive for long hours. These drivers can also face challenges getting enough sleep if they are long-haul truckers.
We know that truck accident injuries are often very severe. These accidents can leave you facing a number of major injuries, including broken bones and organ damage. You can count on us for help if a fatigued truck driver struck you in Lancaster.
We'll work to show that the truck driver caused your accident. Our team also focuses on showing that your injuries were all caused by the collision. This can help you secure compensation for all of your losses. You can get damages for medical bills and vehicle repair. We even focus on bringing you compensation for things like your pain and suffering.
We Understand Fatigue Accident Claims in Lancaster
You don't have to handle a fatigue accident on your own in Lancaster. You can reach out to get help by contacting:
The police
Emergency medical services
A truck accident lawyer
We're ready to deal with your legal needs after a collision. We work quickly to speak with witnesses before their memories fade. We also understand the statute of limitations in Texas. The statute of limitations controls how long you can wait before filing a claim with insurance agents.
You can count on us to deal with insurance representatives on your behalf. We know how to file a claim and we'll stand up for you during negotiations. Allow us to work to bring you a settlement for all of your losses. You can also work with us if you're interested in taking your claim to court. Let us answer your questions about a fatigue accident lawsuit in Lancaster.
A Lancaster Fatigue Accident Lawyer Can Assist You
Fatigue accidents can leave you facing many expenses and losses. Let us work to bring you compensation for all of your expenses. Just contact a fatigue accident lawyer in Lancaster to get legal help. We are ready to dig into your case with a risk-free consultation. Reaching us for help allows you to get to work on your claim.
Contact us by calling (469) 998-4069. You can also complete our online contact form.
Frequently Asked Questions