Lancaster Blind Spot Truck Accident Lawyer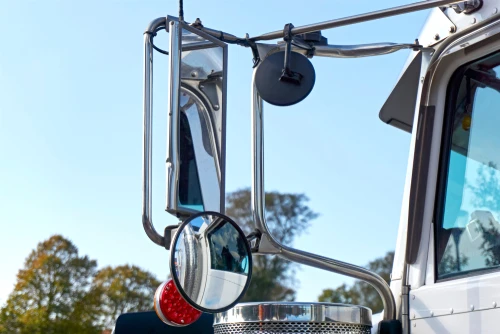 Were you involved in a blind spot accident in Lancaster, Texas? If so, we're standing by to help you handle your legal case. Allow us to step in to offer your assistance as you focus on your recovery. We'll work to build your claim while negotiating with insurance agents.
It's easy to get help from a Lancaster blind spot accident lawyer. We'll begin investigating the causes of your accident right away. Just contact us by calling (469) 998-4069. Let us provide you with answers to all of your legal questions.
Learn More About Blind Spot Accidents in the U.S.
Drivers need to check around their vehicles before backing up, changing lanes, or merging into traffic. Unfortunately, some drivers do not check for other vehicles before they make driving decisions. In some cases, they may also fail to check their blind spots.
Blind spots are areas where drivers cannot see the space around their vehicle. Most vehicles have blind spots. Some vehicles, like large commercial trucks, have multiple blind spots. According to the Federal Motor Carrier Safety Administration (FMCSA), semi-trucks and 18-wheelers often have blind spots:
To either side of their vehicle
In front of the forward bumper
Behind the rear bumper
These drivers use a number of mirrors to see vehicles around them. Generally, if you cannot see a trucker's mirrors then you should assume you are in a blind spot. While you are in a blind spot, the truck driver may not see you and could end up striking your vehicle.
What to Do After a Lancaster Blind Spot Accident
It's difficult to know exactly what to do after a blind spot collision in Lancaster. Our team is here to help you determine the steps to take after your wreck. Make sure that you stop your vehicle after a collision. Leaving the scene of an accident can result in hit and run charges. While you are stopped, make sure that you:
Contact the police and tell them about the accident
Get photos of your injuries and vehicle damage
Get contact information from the truck driver and eyewitnesses
It's also a good idea to seek medical care if you were hurt in the accident. Getting treatment right away can be very important, especially if you end up facing:
Head or brain injuries
Back, neck, or spinal cord injuries
Internal injuries or organ damage
Broken bones, cuts, or burns
Getting prompt medical care makes it easier to show that your injuries were caused by the accident. This can help you secure compensation for your losses. Find out more about how to handle a wreck with a blind spot accident lawyer in Lancaster. Just call (469) 998-4069. We're standing by to assist you.
Handle Insurance Agents After a Lancaster Truck Accident
You can work with an insurance company to secure compensation after a blind spot accident. However, insurance agents can try to get you to accept subpar settlements. They can even try to blame you for an accident.
Fortunately, you do not have to handle insurance representatives on your own. You can reach out to our team for assistance. We're ready to:
Gather evidence before filing a claim for you
Handle all communication with insurance agents
Review all settlements offered by the insurance company
We know the strategies used by insurance agents to deny drivers in your situation compensation. We're ready to take your side during truck accident claim negotiations, so reach out to us now. We're also prepared to help you file a lawsuit if insurance agents won't treat you fairly.
Your Compensation for Lancaster Blind Spot Accidents
There are multiple types of compensation available after a blind spot accident in Lancaster. Your lawyer can focus on helping you get damages to cover your healthcare expenses. We can also help if you want compensation for your vehicle repairs or wages lost at work.
In some situations, you can also secure compensation for your pain and suffering. As we mentioned, you can get compensation through a settlement or a lawsuit in court. We'll provide you with the personalized support you want after you are hurt in a blind spot accident.
Work with a Lancaster Blind Spot Accident Lawyer Today
Discuss your options for securing compensation after a blind spot accident in Lancaster by reaching out to us. It's simple to contact us for help after a collision. You can start getting legal help on your side if you call (469) 998-4069. You can also complete our online contact form. Let a Lancaster blind spot accident lawyer deal with all of your legal needs.
Find out how we could help you right now with a free consultation.
Frequently Asked Questions