Lancaster Delivery Van Accident Lawyer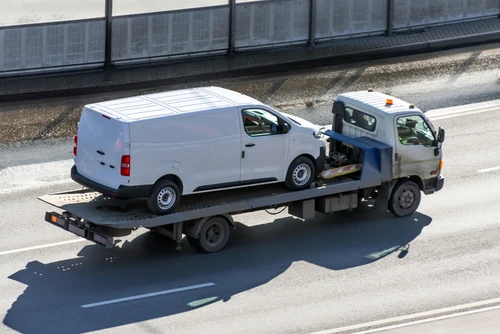 Allow us to help you if you were hit by a delivery van in Lancaster, Texas. We're standing by to offer you the assistance you want after this kind of collision. Our team can spring into action to show that someone else was at fault for your collision.
A Lancaster delivery van accident lawyer can focus on building a claim for you. We'll gather evidence and deal with insurance agents. Focus on securing a settlement or building a lawsuit by contacting us. Just call (469) 998-4069 and get legal help on your side.
Find Out More About Lancaster Delivery Van Accidents
Delivery vans bring products directly to a customer's home or business. There are many different companies that use delivery vans in our area. Some companies deliver products for third-party companies. For example, FedEx and UPS both deliver packages.
Other companies, like Amazon, have started offering direct delivery services. All of these vans are a common sight on our roads. Additionally, small local businesses also use delivery vans. For example, many restaurants deliver food to their customers.
Any kind of delivery van could end up causing an accident. There were over 15,000 serious injuries caused by motor vehicle collisions in Texas in 2019, according to the Texas Department of Transportation (TxDOT). A percentage of these accidents were caused by delivery vans.
Potential Causes of a Lancaster Delivery Truck Collision
Delivery van accidents have many possible causes here in Lancaster. These accidents are often caused by the delivery van drivers. Many of these drivers are inexperienced. They can end up causing an accident if they:
Lose control of their vehicle
Get distracted while trying to locate their destination
Drive while fatigued or impaired by alcohol
Delivery vans are more difficult to handle than passenger vehicles. They are very long and also higher than most other vehicles. This gives them a higher center of gravity, which can increase the odds of a roll-over accident. They also have blind spots, which can make changing lanes more dangerous.
Sometimes, delivery van accidents occur because the cargo in the van comes loose. The cargo can bounce around inside the truck, potentially overbalancing the van. It could also come free and escape out of the back of the van. This could also cause a collision.
Our delivery van accident lawyers in Lancaster are here to focus on the specific causes of your accident now. Focus on building your claim by calling (469) 998-4069. Allow us to answer your legal questions in the aftermath of a collision.
Losses for a Lancaster Delivery Van Accident
Delivery vans are often larger than passenger vehicles. This means they can cause larger amounts of damage in a collision. You can end up paying high costs for vehicle repairs. It's possible you may need to replace your vehicle if it gets totaled.
In addition to these losses, your medical bills can climb quickly after a delivery van accident. These accidents can leave you in need of:
Emergency medical treatment
A lengthy hospital stay
Rehabilitation and physical therapy
Depending upon the severity of your injuries, it's possible that you'll miss time at work. Your lost wages can make it more difficult to pay medical bills and vehicle repair expenses. Fortunately, we're here to help you secure compensation for your losses.
Allow us to get to work on your claim right away. We'll take steps to ensure you get damages for healthcare expenses and other losses.
Build Your Claim After a Collision with a Delivery Van
You can seek compensation after an accident with a delivery van in Lancaster. Members of our team are ready to help you file a claim with the insurance company. We'll focus on showing that someone else caused your accident. We also know how to show that the accident caused all of your injuries.
Count on us to help you with all legal hurdles after a collision. You can even turn to us if you want to file a lawsuit. Taking your claim to court can help you get damages if insurance companies refuse to treat you fairly.
Talk to a Lancaster Delivery Van Accident Lawyer Today
A delivery van accident in Lancaster can leave you with high expenses. Take steps to get compensation for all of your losses by contacting us. Just call (469) 998-4069. We also have an online contact form. Take charge of your future by reaching out to a delivery van accident lawyer in Lancaster right now.
We'll discuss your unique needs with a free consultation.
Frequently Asked Questions