Garland Blind Spot Accident Lawyer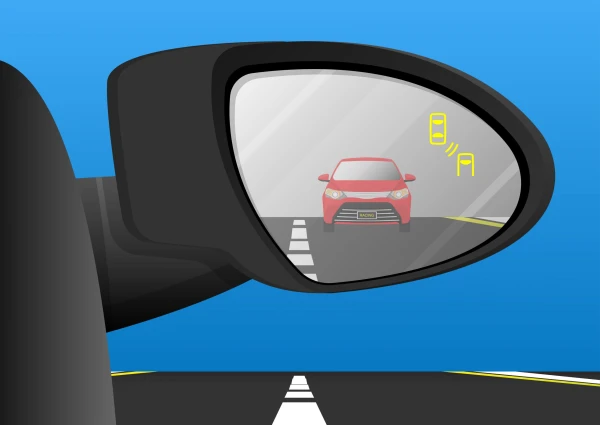 Large trucks in the Garland area have multiple blind spots. Truck drivers may be unable to see vehicles, pedestrians, or bicyclists who are in their blind spots. This could result in an accident. You may experience serious injuries or damage to your vehicle after an accident involving a large truck.
Fortunately, you may take steps to get compensation for your losses in this situation. Members of our team are standing by to help you build a truck accident claim. Find out how to seek compensation for your losses with a Garland blind spot accident lawyer. Just call us right now at (469) 998-4069.
Locations of Blind Spots on Commercial Vehicles
Blind spots are a problem for all drivers in Garland. Even small vehicles have blind spots that drivers must check before changing lanes or turning. However, large trucks may have more blind spots than cars, motorcycles, or even vans. According to the Federal Motor Carrier Safety Administration (FMCSA), commercial vehicles have blind spots:
In front of the cab of the vehicle
To either side of the vehicle
Behind the vehicle
You may have heard that truck drivers can only see you if you can see their mirrors. This piece of advice is often true. If you drive very close to the rear bumper of a truck, you are likely in the vehicle's blind spot. It's advisable that you do your best to stay out of a truck's blind spot to reduce the odds that you'll be in an accident.
Causes of Blind Spot Accidents in Garland
You may only get compensation after a blind spot accident in Garland in some situations. A truck accident lawyer may need to show that someone else caused the collision to bring you damages. These accidents may occur if a trucker does not spend enough time checking their blind spots before:
Merging onto a highway
Changing lanes to pass another vehicle
Turning at an intersection
Truck drivers may be distracted while operating their vehicles. These drivers are frequently fatigued because they must work long hours. Fatigue often makes it harder for drivers to focus on what they are doing. They could forget to check their blind spots, resulting in a collision.
Allow us to begin investigating the causes of your specific accident right now. Just reach out to a Garland blind spot accident lawyer for assistance. Call (469) 998-4069 and discuss the unique facts of your case.
Injuries Caused by Blind Spot Accidents in Garland
Blind spot accidents in Garland involving large trucks often result in serious injuries. Commercial vehicles, like 18-wheelers, may crush smaller vehicles in the event of a collision. You may discover that you need medical care for:
Broken bones, burns, and lacerations
Damage to internal organs
Injuries to your head or brain
Injuries to your neck or back
It's a good idea to seek treatment for your injuries quickly after a Garland blind spot accident. Sometimes, injuries are more serious than they first appear, especially if you sustained organ damage or a brain injury. Additionally, getting help quickly may help show that your accident caused your injuries.
Contact an ambulance if you have very serious injuries after a truck accident in Garland. You may also travel to a medical facility on your own in some cases.
Work to Get Damages After a Garland Blind Spot Accident
We're ready to begin building a claim for you immediately after a blind spot accident in Garland. You don't have to wait to get help. Allow us to investigate your case right now. We'll work to gather evidence to show that someone else caused your accident.
We may use the results of our investigation to file an insurance claim on your behalf. Many accident claims are resolved outside of court here in Garland. You may receive a settlement from the insurance company to cover your:
Medical expenses
Wages lost at work
Lost earning potential
Vehicle repairs
Pain, suffering, and mental anguish
However, you do have the option to file a lawsuit against the trucker who struck you, in some situations. Find out more by contacting us today.
A Garland Blind Spot Accident Lawyer May Help You
Take charge of your future after a blind spot accident in Garland by reaching out to a member of our team. It's easy to reach us for help. Just call (469) 998-4069 or fill out our online contact form. Take these steps to start working with a blind spot accident lawyer in Garland.
Discuss all aspects of your case right now with a free consultation. Find out more about how we can help you.
Frequently Asked Questions