Garland Texting While Driving Accident Lawyer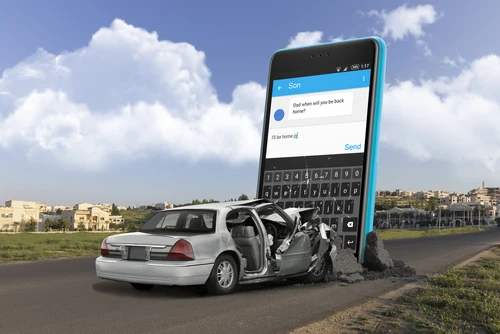 It seems everyone has a smartphone these days, and don't know when to put them down. Texting and driving is dangerous and leads to accidents — seriously injuring innocent people, and even causing fatal accidents. If you or a loved one has been injured by a distracted driver, you may want to consult with our Garland texting and driving lawyers. We know these types of cases inside and out, and we can help you get the compensation you deserve.
According to the Texas Department of Transportation (TXDOT) 2017 Crash Statistics, in Texas alone, 965 documented accidents where texting and driving was the cause of the accident. 24 of those texting and driving crashes were fatal, while 38 crashes led to serious injuries.
In addition, there were also more than 4000 other accidents involving cell phone use for talking or other use, such as choosing music to listen to or checking a map or GPS on the phone. Crashes involving cell phone use for texting and driving or other use are far more likely to happen in an urban area such as Garland and the Dallas-Fort Worth area than they are in a rural area. For texting and driving, the ratio is about 2 to 1.
Texting and Driving is Illegal in Texas
Texting and driving is against the law in Texas, but thousands of people still do it every day. The state legislature made it illegal in the fall of 2017, in response to the high risk of collisions associated with texting and driving. People can still use their phones hands-free, so people are still using talk to text apps, and that is perfectly legal.
Garland hasn't yet, but some cities in Texas have enacted stricter laws involving cell phone use, including several in the Dallas-Fort Worth area, including:
Arlington
Farmers Branch
Grand Prairie
Rowlett
Sunnyvale
So depending on exactly where your accident happened, the law regarding cell phone use may be different. Our Garland accident injury law firm makes it a point to know the law of every municipality in Texas, and how it applies to our client's cases.
What to Do After an Accident
You may be frightened and in pain after a car accident, but there are some things you and anyone with you need to do to protect you and your family. Even if you don't think you've been injured, it's a good idea to:
Call 911 to report the accident and any known injuries
Get medical treatment at the scene or at the hospital. Do not refuse treatment at the scene, as this is a way to document any injuries
Take photos and videos of the crash scene, and get contact information for any witnesses
Contact a lawyer
You may wonder why you should contact a lawyer if you don't think the accident was your fault. Even if the other driver is charged in the accident, you still need to seek legal advice, because handling the aftermath of a car accident on your own can be next to impossible. The insurance adjuster for the other driver may contact you right away, possibly while you are still in the hospital. They may offer a quick settlement (don't accept it without speaking to a lawyer first) or they may ask you a bunch of questions, and get you to admit you could be partially at fault for the accident. Our texting and driving car accident lawyers can stand up to the insurance companies for you. We know all of their tricks, and we can protect your interests.
What a Garland Texting and Driving Lawyer Can Do for You
We are on your side from the very beginning. We can help you file your insurance claim, and help you if the insurance company is trying to reduce your claim or deny it altogether. Our Garland texting and driving accident lawyers have the legal experience and resources to do many things that you cannot do as an individual. These include:
Reviewing the police report for discrepancies or missing information
Interviewing witnesses
Hiring investigators
Obtaining cell phone records for the other driver
Accident reconstruction
And more
If you were seriously injured, the other driver has a lawyer. The insurance companies have a team of lawyers. Hiring your own texting and driving accident lawyer helps level the playing field, and protects your interests.
Negotiating a Settlement Versus Going to Court
Most times, our texting and driving lawyers can negotiate a reasonable settlement with the insurance company, especially when we have done our own investigation and can present the facts of the matter. But sometimes we need to take your case to court. We are prepared either way.
We can file for and get you compensation for a number of damages, depending on the specifics of your case. These include:
Reimbursement for medical bills, and payment for future medical expenses
Payment to repair or replace your car
Reimbursement for lost wages and payment for future lost wages if you are disabled because of the accident
Pain and suffering
Mental anguish
Disfigurement
Punitive damages
If a loved one died as the result of a distracted driver, our condolences. We can work with you to hold the driver responsible with a wrongful death suit.
Team Up and Take Charge With Our Texting and Driving Lawyers
There's no need to go it alone. Getting a fair shake with the insurance companies can be difficult without legal assistance. Our Garland texting and driving lawyers have the experience you need to get the compensation you deserve. Call us today at 469-998-4069, or use our contact form to schedule a free case evaluation.
Frequently Asked Questions