Garland Bicycle Accident Lawyer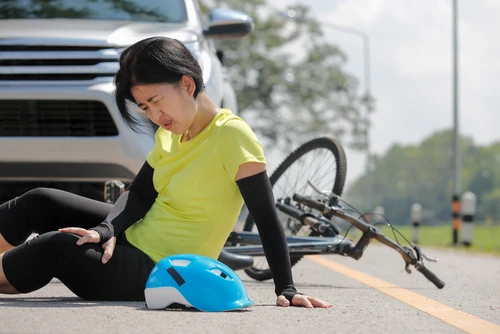 Garland has a lot of great places to ride your bike. From the Rowlett Creek Preserve to Duck Creek Greenbelt, there are a number of places to ride your bike without fear of traffic. But bicyclists are entitled to ride on the city streets and roadways just as much as anyone else. In fact, the city of Garland as well as other areas in North Texas actively encourage you to ride your bike to work, school or just for fun. They've even come up with a bicycle commuter's guide.
But no matter how safely you ride your bike and obey traffic laws, crashes do occur. If you or a loved one has been injured in a bicycle accident, our Garland bicycle accident lawyers can help you get the compensation you deserve. Many times, the insurance company for the driver that hit you will try and blame you for the accident, so they can avoid paying your claim, or give you a reduced payment.
Our personal injury law firm is on your side, and we will review the police report, speak with witnesses, review traffic camera footage, and even do our own accident investigation so we can best represent you in your case. We know that most times, the driver is at fault in a bicycle accident.
According to the Texas Department of Transportation 2017 Crash Report, 57 bicyclists died in traffic accidents, and another 334 suffered serious injuries. As more cyclists hit the road, the number of bicycle accidents is expected to increase. And keep in mind TXDOT only keeps track of bicycle accidents involving another vehicle. There are many causes of bicycle accidents where we may be able to get you compensation for your injuries.
Common Causes of Bicycle Accidents
Bicyclists themselves can cause accidents by failure to obey traffic rules, such as:
Riding against traffic
Failing to stop at stop signs and stop lights
Failing to signal or making improper lane changes or left turns
You can ride safely by obeying all traffic rules, wearing reflective clothing and using lights at night, and by all means, wearing a helmet. But even if you do your part, drivers may not share the road. And bicycle accidents can happen even if a vehicle is not involved. Common situations include:
A driver goes by too close and runs you off the road
A driver fails to yield and turns in front of you
A driver opens a car door in front of you
Another cyclist cuts you off
Debris in the road or poor road conditions caused a wipeout
A dog ran in front of you causing you to lose control
And more
Proving Fault
If you've been in a bicycle accident and you suffered injuries, make sure you or someone else calls the police, so that an official report is filed. It is also helpful if you or someone else can take pictures of the accident scene, your bike, the car that hit you, road conditions, etc.
Many times, the police report will assign fault, based on the crash scene investigation and interviewing witnesses. But sometimes it's the insurance company that assigns fault. In either case, we will work with you to prove you were not at fault in the accident. As long as you are not found to be more than 51% at fault in the accident, you can claim damages in an insurance claim, or if the insurance settlement offered is not a good one, by filing suit. Our Garland bicycle accident lawyers are skilled at negotiating settlements that cover your needs, but we are also prepared to take your case to court if we need to.
In the case of a hit and run, we may be able to help you get compensation from your own insurance company.
Damages You Can Claim
Bicycle accidents can lead to serious injuries and even death. Our bicycle accident lawyers have handled cases like yours before, and we will help make sure you claim all the damages to which you are entitled. Some of these can be covered in a regular insurance claim, while others are awarded by a jury.
Medical Costs
If you were hit by a car while riding your bike, your medical bills may be sky-high. You are entitled to compensation for all out of pocket costs, including:
Ambulance fees
Hospital bills
Doctor's bills
Physical therapy bills
Cost of prescription medications
Future medical bills as determined by medical experts
Property Damage
Property damage compensation includes:
The cost to repair or replace your bicycle
Costs to replace your bike helmet
Cost to replace any gear such as bicycle cleats, bike jerseys, bike computer, etc. that was damaged in the accident
Other Damages
Other damages can be awarded by a jury, depending on the circumstances of your accident and the severity of your injuries. They include:
Pain and suffering
Loss of companionship
Disfigurement
Disability
Wrongful Death
If a loved one died as a result of a bicycle accident, we can also file a wrongful death suit on your behalf. In Texas, only a spouse, parent or child can file a wrongful death suit. Our Garland law firm is experienced in wrongful death cases. While no amount of money can compensate for the loss of a loved one, a verdict against the party responsible can give you some closure, and help pay for current and future expenses.
Our Garland Bicycle Accident Lawyers Can Help if You've Been Hurt
Our skilled Garland bicycle accident lawyers are on your side. We help put you on an even footing with the insurance companies. Your initial consultation is FREE, and if we take your case, you don't pay us a penny unless we win you money. Call our personal injury law firm at 469-998-4069 today to set up a free case evaluation. You can also use our contact form and we'll get back to you quickly.
Frequently Asked Questions