Grand Prairie Bicycle Accident Lawyers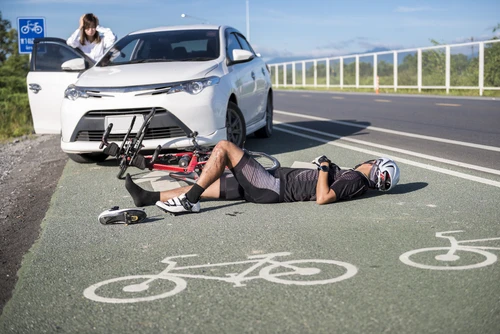 Whether you're out on a group ride with the Lone Star Cyclists, riding your bicycle to work, or riding around the neighborhood with your kids, the roads are never as safe for a bicyclist as they are for someone in a car, truck, or SUV. While drivers are protected by a steel enclosure, seat belts and air bags, as a bicyclist, you're protected by your skill, awareness of your surroundings, and your bicycle helmet.
It's hardly a fair match. In an accident, the driver always comes out ahead, and the bicyclist can face serious injuries, or even death. If you've been injured while riding your bike, our team of Grand Prairie bicycle accident lawyers can help you file your insurance claim(s), negotiate a settlement, or represent you in court if a settlement can't be reached.
Our accident injury law firm represents cyclists throughout the Grand Prairie area. As more and more bicyclists hit the roads in the Dallas-Fort Worth area, we're seeing an uptick in bicycle accidents. You don't have to face the insurance companies alone. We have a record of taking on the insurance companies and winning generous settlements for our clients, as well as jury awards.
Types of Bicycle Accidents
There are some pretty common causes for bicycle accidents, including cases where the cyclist is at fault, the driver is at fault, a combination of the two, or cases where a third party is at fault. You as a cyclist can avoid being the cause of an accident simply by following the rules of the road.
Scenarios include:
Cyclist is riding against traffic
Cyclist fails to stop for stop sign or stop light
Cyclist fails to signal a turn or changes lanes inappropriately
Cyclist doesn't use lights or reflective gear at night
Driver passes too close and runs the bicyclist off the road
Driver turns in front of the cyclist
Someone opens a car door in front of a cyclist
Debris in the road or road conditions cause the cyclist to lose control
A dog runs out in front of the cyclist
What to Do After a Bicycle Accident
As with any serious accident, you or someone else should call the police if you are injured in a bicycle accident. The officer can file a report, interview witnesses, get a statement from you and the other driver, etc. This information will be helpful when it comes time to file your insurance claim, or take your case to court.
If it's possible, ask someone to take pictures of the scene of your bicycle accident, including the roadway or intersection where it happened, your bike, the car involved, your injuries, and anything else you think might be pertinent.
Proving Fault in a Bicycle Accident
We have found that most bicyclists are very conscientious when it comes to following the rules of the road. Most times, the driver is at fault. Fault can be assigned by the police department or an insurance company.
If the police or the insurance company try to say you were at fault and you are adamant that you followed all the traffic rules, we can launch our own investigation of your accident to refute the idea that you are somehow at fault. This can include:
Reviewing the police report for inconsistencies, inaccuracies or missing relevant information
Interviewing witnesses
Reviewing traffic camera footage where available
Reconstructing the accident
And more
Texas is what is called a comparative fault state. If you are less than 51% at fault, you can claim damages either in an insurance claim, or in court. Our goal is to prove you were not at fault, or reduce the percentage that you were found at fault. Any compensation you receive can be reduced by the percentage at which you were at fault.
We have experience negotiating settlements with the driver's insurance company, as well as with homeowners whose dog caused an accident by running into the street, and third parties such as a road repair company.
Damages You Can Claim
You are entitled to claim multiple damages in a bicycle accident, including economic or monetary damages, non-economic damages, and in some cases, a jury can award you punitive damages.
Economic (Monetary) Damages
Economic, or compensatory damages help cover your financial losses. These include:
Current and future medical bills based on receipts and medical expert estimates
Property damage — including replacement of your bicycle and bike gear
Lost wages and future lost wages if you are disabled as a result of the accident
Non-Economic Damages
When we say non-economic damages, we're referring to damages paid for intangibles. These are things that aren't always covered in a regular insurance claim. Depending on your case, we may be able to negotiate an insurance settlement that compensates you, but we may have to take your case to court to recover these damages. Examples of non-economic damages include:
Pain and mental anguish
Loss of companionship
Disfigurement
Physical impairment
How much you are awarded depends on the severity of your injuries, if someone died in the accident (see Wrongful Death) and other factors.
Punitive Damages
Under Texas law, punitive damages are known as exemplary damages. These are separate from economic damages, and are aimed at punishing the person(s) responsible for your accident. Punitive damages are allowed in drunk driving accidents, or other accidents where we can clearly prove to the jury that there was malice or gross negligence. A jury can award punitive damages if it is unanimous in awarding economic damages.
Contact One of Our Grand Prairie Bicycle Accident Lawyers Today
If you or a loved one has been injured while riding your bike, our Grand Prairie bicycle accident lawyers can help. Working with us puts you on an even footing with the insurance companies. At your initial consultation, we'll ask you a lot of questions about your accident and the extent of your injuries in order to gather enough information to help you decide what to do next. And remember, you don't pay us unless we win you money. Call our bicycle accident law firm at 469-998-4069 today to set up a free case evaluation. You can also use our contact form and we'll get back to you quickly.
Frequently Asked Questions