Grand Prairie Uber and Lyft Accident Lawyers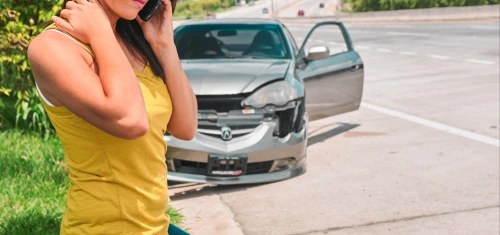 The addition of rideshare companies into the Dallas-Fort Worth area makes it easy to get from Grand Prairie to DFW without having to pay to leave your car at the airport. And how simple is it to tap the app on your phone and have an Uber or Lyft driver show up in minutes to take you home after a night out on the town?
But if your rideshare driver is in an accident, or a rideshare driver collides with your vehicle, do you know what to do, or who to file an insurance claim with?
We do. Our team of Grand Prairie Uber and Lyft rideshare accident lawyers knows the laws as they apply to rideshare drivers, and we can help you file your insurance claims and negotiate an insurance settlement that covers all of your needs. If you or a loved one has been injured in an accident with a rideshare driver, contact our Grand Prairie accident injury law firm today.
You may wonder why you need an attorney if you weren't at fault in the accident. These types of accidents can get complicated because there are at least two insurance companies involved. And you can bet those insurance companies have teams of lawyers who work every day to deny claims or to pay as little as possible. With one of our lawyers on your side, you level the playing field.
Common Causes of Uber and Lyft Accidents
Most Uber and Lyft drivers are just regular people, with no special training, working a side gig to earn extra money. They face a number of obstacles to safe driving, including:
Driving in unfamiliar areas
Getting distracted by passengers
Getting distracted by their ridesharing app
An incentive to speed so they can pick up their next passenger
We mentioned distraction. Distracted driving is probably one of the main causes of Uber and Lyft accidents, and can result in:
T-bone accidents
And more
Whether you were a passenger in a rideshare vehicle or a rideshare driver collided with you, if you were injured in the accident, we can help you get compensated for your injuries and any property damage done to your car. If you were a rideshare passenger, there is a scant possibility that you could be found at fault in the accident. If you were driving another vehicle, as long as you are found to be less than 51% at fault in the accident, you are entitled to claim damages.
Texas Rideshare Law
The good news is Texas now has a rideshare law that lays out what type of liability insurance the rideshare driver has to have, and what liability insurance the rideshare company, or Transportation Network company has to carry. The law also spells out which liability insurance comes into play in different scenarios.
The Rideshare Driver
Like any Texas driver, the rideshare driver is required to carry minimum liability insurance on any vehicle they drive. They may carry more than the minimum. Those minimum requirements are:
$30,000 minimum for each person injured in the accident
Up to a total of $60,000 per accident
$25,000 to pay for property damage per accident
The rideshare driver's personal auto insurance policy covers some of your damages if they are in an accident while the rideshare app is not on. For instance, they are done for the day and have turned the app off, but they rear end you.
The Rideshare Company (TNC)
The TNC liability insurance comes into play only when the rideshare app is on. There are two different requirements, based on if the rideshare driver has a passenger, or not.
According to the rideshare law, the TNC auto liability insurance must be 50/100/20 when the app is on but the driver doesn't have a passenger. This includes::
$50,000 for injury or death for each person involved in a single accident
Up to a total of $100,000 for injury or death of a person in an accident
$25,000 for property damage in a single accident
The rideshare company liability insurance requirements increase exponentially when the rideshare driver is in an accident while they have one or more passengers in the vehicle. It goes up to a total combined limit of $1 million for death, injury, and property damage for each accident.
What Our Grand Prairie Uber and Lyft Accident Lawyers Do
When our Grand Prairie Uber and Lyft accident lawyers take your case, we conduct our own investigation of the accident, to ensure we have all of the facts, and know which insurance company(ies) to go after in our pursuit of compensation for your injuries and loss.
Some of the things we will do include:
Review the accident report for errors and missing information
Interview the rideshare driver
Interview witnesses
Prepare you to give a sworn statement
Help you file claims with the insurance companies
Negotiate a fair settlement
Represent you in court if we need to sue for damages
And more
Whether we negotiate an insurance settlement or take your case to court, our goal is to get you a compensation package that covers a number of damages, depending on the specifics of your case. These can include:
Current and future medical costs
Lost wages and future loss of income as determined by HR experts
Payment to repair or replace your vehicle
Pain and suffering
Disability
Punitive damages
Filing a wrongful death suit
And more
When we represent you, we will communicate with you clearly every step of the way, so that you always know what the next step is, and what to expect.
Contact One of Our Grand Prairie Uber and Lyft Accident Lawyers
Our Grand Prairie Uber and Lyft accident lawyers have the experience you need to take on the insurance companies and win. If you or a loved one has been injured in a rideshare accident, call us today at 469-998-4069 to set up your FREE case evaluation. You can also use our contact form and we'll get back to you quickly.
Frequently Asked Questions