Garland Rear End Collisions Accident Lawyer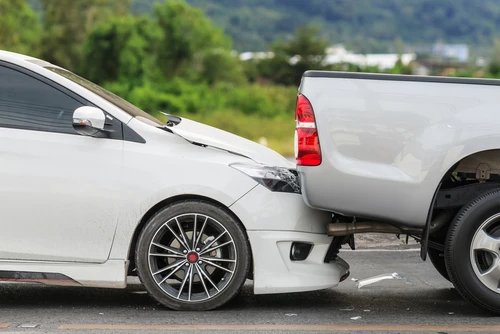 Drivers in the Garland area and the Dallas-Fort Worth area, in general, are at risk for rear-end accidents. That's because rear-end crashes are everyday occurrences in highly populated areas with heavy traffic like Dallas County. In fact, the National Highway Traffic Safety Administration (NHTSA) says rear-end accidents account for about a third of all motor vehicle accidents. With driver inattention and speeding two of the leading causes of crashes in Texas, it's no wonder that rear-end accidents are some of the most common accidents.
If you've been injured in a rear-end accident, consulting with our Garland rear-end accident lawyers may be one of the smartest moves you make. Our accident injury law firm has the experience you need to go up against the insurance companies on your behalf. We know their tricks, and will work to get you the compensation you are entitled to.
Is the Rear-End Driver Always at Fault?
Determining fault in a rear-end accident is not as simple as it seems. You might think the driver who slammed into the back of the vehicle in front of it would always be at fault — and most of the time, they are. But the other driver's insurance company is going to try to say you were partly at fault in the accident. That's because Texas is a modified comparative fault state. That means if the insurance company says you are partly at fault, they can reduce your claim or damages by the percentage at which you were found to be at fault.
Sometimes a rear end accident is the result of a chain reaction. Having a lawyer on your side can help sort through all of the reports to see what caused the start of the chain reaction. We can then go after the appropriate insurance company.
The Rear Driver is At Fault the Majority of the Time
But that rear driver is at fault a majority of the time in rear-end accidents. Common causes include:
Inattentive Driving
According to the Texas Department of Transportation Crash Facts for 2017, driver inattention is second only to failure to control speed when it comes to what caused an accident. And in rear-end accidents specifically, the NHTSA determined that driver inattention is responsible for a whopping 87% of rear-end collisions. Driver inattention or distracted driving can include things such as:
Cell phone conversation while driving
Selecting music on the phone or radio
Putting on makeup while driving
Shaving while driving
Turning around to talk to children in the back seat
Drowsy driving
And more
Speeding
Speeding is the second most common cause for rear-end accidents and frequently goes hand in hand with inattentive driving. The driver fails to control their speed to match conditions, such as rainy weather, or now slowing down in heavy traffic to leave enough room between vehicles.
Road Rage
Thankfully, road rage is relatively uncommon, but an irate driver can purposely rear-end you. In 2017, there were 1271 crashes in Texas that were a result of road rage.
Drunk Driving
Drunk driving can be a contributing factor in a rear-end collision as well. A drunk driver has impaired reaction times, and may not stop in time before hitting the car in front of them. They may not even see that there is a stopped vehicle or that they are too close to another vehicle until it is too late.
When the Front Driver is Partially at Fault in a Rear-End Accident
The driver in the front car can be found partially at fault in a rear-end accident if:
They pulled out of a parking lot onto a street, or merged onto the highway and misjudged the speed of oncoming traffic.
They changed lanes unsafely and had to slam on the brakes.
If your rear-end accident occurred after either of these instances, the other driver's insurance company may say that you were partly at fault in the accident. That allows them to reduce the amount they pay you for your insurance claim, or to deny your claim altogether. A rear-end accident lawyer can investigate the accident and help prove you were not at fault. As part of our investigation, we will:
Review the police report for inconsistencies or missing information
Review traffic camera footage where available
Interview witnesses
Obtain the phone records of the other driver to see if they were texting or on the phone at the time of the accident
And more
Insurance Settlement Versus Going to Court
In most cases, we can negotiate a settlement with the insurance company, after we have done a thorough investigation of your rear-end accident. But sometimes, we take will need to take your case to court to get the compensation you deserve. We will communicate with you every step of the way, so you will always know what is in your best interests.
Types of Compensation or Damages
You are entitled to several different types of compensation or damages, depending on the specifics of your accident and the extent of your injuries. These include:
Compensatory Damages
Compensatory damages pay you back for any current costs, as well as future costs associated with your accident. These can include:
Reimbursement for any bills associated with your medical care
Payment to repair or replace your vehicle
Lost wages as a result of the accident
Future medical bills or lost wages as estimated by medical and HR experts
Other Damages
Other damages may come into play if your rear-end accident caused major injuries. They include:
Pain and suffering
Disability
Disfigurement
Mental anguish
Punitive Damages
Punitive damages only come into play if your case goes before a jury and if we can persuade the jury that the driver who rear-ended you was grossly negligent. A classic example of gross negligence would be driving drunk. The drunk driver got behind the wheel, knowing that they were putting the safety and lives of others at risk by doing so.
Contact One of Our Garland Rear-End Accident Lawyers Today
Our experienced Garland rear-end accident lawyers are on your side from the very beginning One phone call gets you a free case consultation to help you decide what the next steps in your case should be. Call our accident injury law firm at 469-998-4069 today to set up a free case evaluation. You can also use our contact form and we'll get back to you quickly.
Frequently Asked Questions