Why Is Night Driving So Dangerous?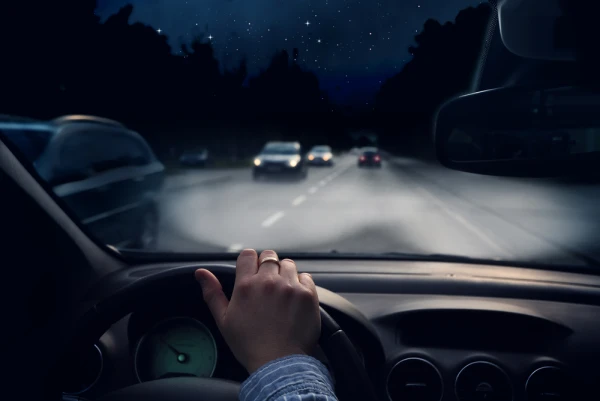 Night driving isn't always avoidable. But it's still more dangerous. According to the National Safety Council (NSC), 50% of traffic deaths occur at night.
Why is it so deadly to drive at night? Here are some of the main reasons and how you can avoid them.
Poorer Vision
Night vision is how well you can see in low-light situations. At nighttime, there is no natural light to see hazards. Headlights and street lights help. However, they are not substitutes for daytime lighting.
According to Harvard Health, night vision gets worse with age. Older drivers' eye lenses have less elasticity. They have more farsightedness, and it's harder to see at night. Other symptoms include blurry vision and trouble dealing with glare.
Seeing well at night is hard for all drivers, but especially older drivers. Plus, some drivers might have degenerative eye diseases that make night vision worse. Poor night vision can make it harder to see:
Other drivers.
Pedestrians.
Road signs.
Animals.
Road debris.
Other road hazards.
Drivers should be aware of night vision impairments. If they know night driving is too dangerous, they should wait until the daytime. Otherwise, the driver can cause a severe or fatal accident.
Evening Rush Hour
Weekday rush-hour happens between 4 p.m. and 7 p.m. During these times, the roads are busiest. In winter months, it is dark during most of this time.
Drivers are anxious to get home from work. Stress is often high during this time, too. Aggressive and enthusiastic drivers can easily cause accidents during rush hour.
Drowsy Drivers
The Centers for Disease Control and Prevention (CDC) reports that one in 25 adult drivers say they fell asleep while driving in the past 30 days. Fatigued driving causes many accident injuries and deaths. And the likelihood of drowsy driving accidents is even higher at night.
Drowsy driving might happen because of:
Lack of sleep.
Long work hours.
Shift work.
Commercial drivers.
Sleep disorders.
Long driving periods.
Shift workers are more likely to drive home during evening hours. Tired driving plus busier rush hour traffic causes more crashes. According to the NSC, driving on just two hours less sleep is the same as drinking three beers.
Drunk Drivers
Driver impairment is one of the leading causes of accidents. Drivers who consume alcohol, drugs, or certain prescription medications can cause crashes. And it's even worse at night.
On weekends, impaired drivers are more prevalent between midnight and 3 am. Even on weekday nights, drunk drivers are too common. To avoid risk, drivers should be especially careful while night driving. It's best to avoid driving at night altogether.
If another driver caused your nighttime accident, we can help. Our car accident lawyers can assist you in seeking compensation. To get a FREE consultation, call (469) 998-4069 or contact us online today.
Road Construction
Construction work zones are risky areas. Construction crews are often busiest during the night and evening. Poor night vision, less light, and reckless drivers can cause accidents.
Distracted Drivers
Distracted driving is the leading cause of car accidents. Anything that removes your attention from the road is dangerous. Distracted driving while night driving is especially fatal.
Fatigued, drunk, or bored drivers are more likely to drive distracted. Unfortunately, these drivers are more likely to be on the roads at night.
How to Avoid Night Driving Accidents
Ideally, no one would engage in night driving. But we know that's not realistic at all times. If you do need to drive at night, here are some ways to keep everyone safe.
Be Careful During Rush Hour
If you have to drive during rush hour, be cautious.
Stay in your lane. Keep a safe distance from drivers weaving in and out of lanes.
Slow down. Practice patience. Go the speed limit.
Set up your GPS map before leaving (if you need it).
Avoid texting, phone calls, and other distracted driving.
Stay alert for any hazards.
It's easy to go into autopilot while driving home from work. However, avoid spacing out. Drive defensively, and remain alert until you get to your destination.
Get Enough Sleep
Driving while fatigued is very dangerous. Getting enough sleep is one of the safest things you can do. Here are some ways you can stay well-rested on the road:
Get at least seven hours of sleep each night.
If you're tired, pull over and take a nap.
Don't drive at times when you're usually drowsy.
If you're driving long distances, stop for a break every two hours.
Avoid driving if you've been up for 16 hours or more.
If you have trouble sleeping, do what you can to address it. You might need to see a sleep specialist. Undiagnosed sleep disorders are a common cause of crashes.
Stay Alert
Night driving is especially dangerous for commercial drivers. Truck drivers must drive for extended hours. Often, their shifts go overnight.
Drivers who must be on the road at night should stay alert. Get enough rest when you can. Take breaks as your job requires them. Do what you can to stay awake and alert during your shifts.
Take Breaks
If you have to drive a long distance at night, take breaks. Pull over and take a nap if you start falling asleep. Even better, stop somewhere and sleep for the night or swap driving shifts with another person.
Don't try to be a hero. Take a break and rest if you get tired while driving. Otherwise, you're putting everyone on the road at risk.
How a Car Accident Lawyer Can Help
If another driver hits you while night driving, you have rights. You might be entitled to compensation for your costs. A car accident lawyer can help you by:
Gathering evidence from the accident.
Building a strong accident claim.
Negotiating with the insurance company.
Fighting for the settlement you deserve.
Talk to a Car Accident Lawyer for Free Today
Did a night driving accident injure you? We can connect you with the best attorney for your needs. Our lawyers know to build a strong case and win.
To get a FREE, no-risk consultation, call (469) 998-4069, or contact us online. We do not charge a fee unless we win you money. Plus, we'll come to you if you don't have transportation. Call to get started for FREE today.
Frequently Asked Questions