Plano Accident Caused by Fatigue Lawyer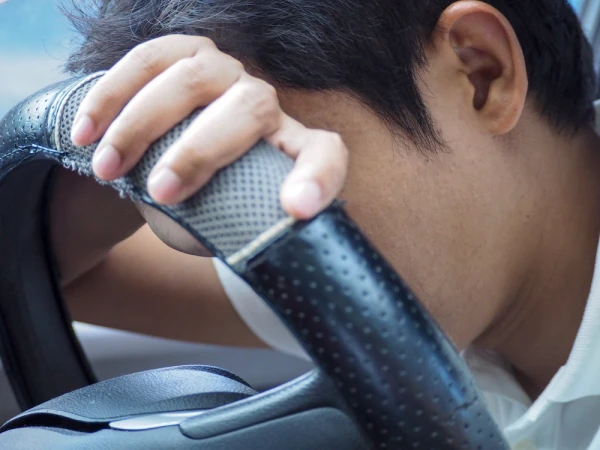 You might be eligible to receive compensation if you were involved in an accident caused by fatigue in Plano, Texas. Just reach out to a member of our team to get legal help on your side. Let us listen to your side of the story and focus on bringing you compensation for your losses.
A Plano accident caused by fatigue lawyer can get to work on your claim right now. We could work to bring you damages for your medical expenses and other losses. Find out how we could help by calling us at (469) 998-4069. We're ready to get to work for you now.
Driving While Fatigued in Plano Is Dangerous
Operating a vehicle while drowsy can result in serious accidents around the country. Fatigue impacts drivers in several different ways. In many cases, driving while drowsy can lead to:
Slower reaction times
Lower awareness of hazards
Loss of attention
The National Safety Council (NSC) records information about fatigued driving around the country. According to the NSC, drivers are three times as likely to have an accident if they drive while fatigued. This applies to all drivers on the road, including the drivers of large trucks.
Information About Fatigue and Truck Accidents
Many large trucks are involved in fatigue accidents every year. Truck drivers can become drowsy while driving for many different reasons. For example, these drivers might have to travel a long way to make a delivery. They may drive past the point where they become tired to keep their schedule.
Truck drivers can also spend nights on the road. They could sleep in the cab of their truck. Sleeping along the road can make it difficult to get deep sleep, which could result in fatigue the following day. You may end up struck by a truck driver who felt tired while driving.
However, driving while fatigued is not enough to cause an accident on its own. Truck drivers must also take other steps that directly result in a collision. You can get compensation if a trucker swerved across lanes and hit you while tired.
Let a fatigue accident lawyer in Plano investigate the causes of your accident right now. Reach out to us for legal help by calling (469) 998-4069. We're ready to assess all facets of your case right now.
Steps After a Fatigue Accident in Plano
You may feel unsure what to do after an accident in Plano involving a fatigued driver. There are some steps you should take in this situation. Generally, it's recommended that you:
Report your accident to the police.
Get treatment for your injuries.
Take pictures of the vehicle damage and your injuries.
Get contact information from eyewitnesses and the truck driver.
Contact a truck accident lawyer in Plano.
Taking these steps can help you begin working to get compensation. It's especially important that you get medical care if you are hurt in the accident. Insurance agents might try to claim that you were not hurt after a collision. Getting medical care quickly can create an official record of your injuries.
You should also focus on getting legal help before you speak with insurance agents. A Plano accident caused by fatigue lawyer can handle all legal discussions on your behalf. Find out how by contacting us for assistance right away.
Focus on Getting Damages After a Plano Fatigue Accident
Are you wondering how to get damages for your losses after a fatigue accident in Plano? You have several options to secure compensation for your:
Current and future medical expenses
Lost wages and earning potential
Vehicle repair costs
Pain, suffering, and mental anguish
A lawyer could help you file a claim with the truck driver's insurance company. Your lawyer can negotiate on your behalf to help you get a settlement. This could allow you to receive damages without going to court.
However, you have the option of filing a lawsuit after an accident. Note that you generally have two years to file a claim or a lawsuit. After this period of time, the statute of limitations in Texas will expire. Move quickly by contacting a lawyer now.
Talk to a Plano Accident Caused by Fatigue Lawyer Right Now
Members of our team are standing by to help you after a fatigue accident in Plano. You can reach us easily if you call (469) 998-4069. We also have an online contact form you can fill out. This will put you in touch with an accident caused by fatigue lawyer in Plano who can handle all your legal needs.
Find out more about your situation with a free consultation today.
Frequently Asked Questions