Plano Accidents in Intersection Lawyer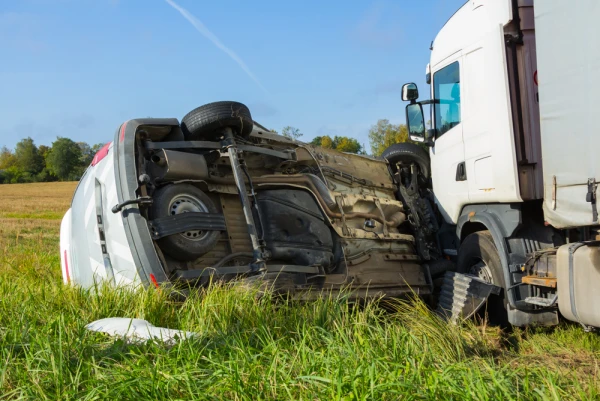 Were you struck in an intersection by a large truck in Plano, Texas? If so, you can work to get help on your side by contacting a member of our team. A Plano accidents in intersection lawyer can take charge of your case right now.
You can reach us if you call (469) 998-4069. Let us investigate the causes of your accident right away. We're ready to work to bring you compensation for your losses. Let us build a claim or take your case to court here in Plano.
Facts About Accidents in Intersections
Intersections can be hazardous places for drivers throughout Plano. There are many different types of intersections in our area. You could get hit by a large truck while out an intersection with:
A traffic signal or stoplight
A stop sign
No traffic control devices
Some intersections are four-way stops, while others are two-way stops. You can also find roundabouts on some roads. All of these intersections require care. According to the National Highway Traffic Safety Administration (NHTSA), you can experience an accident while:
Turning left
Turning right
Continuing straight
You can end up in a head-on or rear-end collision in Plano. Sometimes, T-bone accidents occur at intersections in Plano. These accidents are also called side-impact collisions. We're here to provide you with fast help after any accident in an intersection in Plano.
Reasons for Truck Accidents in Intersections in Plano
Determining the causes of an accident in an intersection is very important. You can only receive damages if someone else was at-fault for the collision. A lawyer can dig into the causes of the collision for you.
In many cases, truck drivers cause accidents in intersections if they approach too quickly. They may not be prepared to make a turn in Plano. They could strike your vehicle or even the curb as they try to make a turn. Truck drivers can also rear-end other drivers if they cannot slow down when they reach the intersection.
Sometimes, the accident occurs due to a problem with the truck. For example, the truck's brakes can fail if the trucking company fails to perform proper maintenance. Some trucks are manufactured with serious defects that lead to accidents in Plano.
Discuss the specific causes of your accident with a Plano accidents in intersection lawyer right now. Reaching out to us for assistance is simple. Call (469) 998-4069 to speak with a member of our team about your unique situation.
Damages Caused by a Plano Accident in an Intersection
Trucks are very large vehicles that can cause a lot of damage in an accident. They can crush your vehicle if you run into one another in an intersection. You might be left with high vehicle repair costs in this situation. Your vehicle could even get totaled.
You can also experience serious injuries after an accident in an intersection in Plano. You may want to seek medical care if you experience:
Broken bones, fractures, or burns
Head or brain injuries
Neck, back, or spine injuries
Internal injuries or organ damage
Your lawyer could help you get damages to cover your medical expenses after an accident with a large vehicle. We're standing by to assess all of your needs. We could even help you get compensation for your pain and suffering.
Build Your Case After a Truck Accident in Plano
A truck accident lawyer in Plano can take steps to help you get damages after an accident in an intersection. Your lawyer can focus on showing that someone else caused your accident. Your lawyer can gather evidence by:
Speaking with eyewitnesses
Reviewing the police report
Working with accident reconstruction specialists
Taking these steps can prepare a lawyer to negotiate with insurance agents on your behalf. A lawyer could work to bring you a settlement. Your settlement could cover all of your medical expenses and other losses.
Members of our team can also help you file a lawsuit here in Plano. A lawsuit could allow you to get compensation through the court system in Texas. However, this is not always the best choice after an accident involving a large truck.
Contact a Plano Accidents in Intersections Lawyer Now
Take charge of your future after an accident in an intersection in Plano. Start working to build a claim for your case today by contacting us. It's easy to reach us; just call (469) 998-4069. You can also complete our online contact form. Talk to an accidents in intersections lawyer in Plano today.
We're ready to review your situation with a free consultation.
Frequently Asked Questions