Fort Worth Intersection Truck Accident Lawyer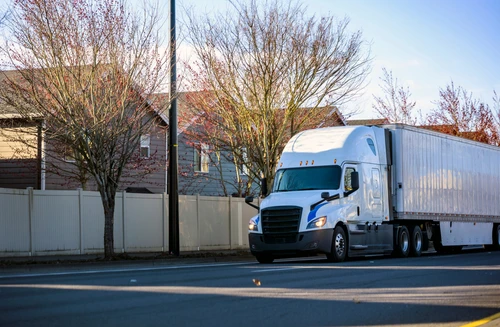 A 2017 study showed that 6 of the top 10 most dangerous intersections in Fort Worth are on I-35W. Thousands of commercial trucks travel I-35W each day, picking up and delivering their cargo. With all of the trucks, construction, and congested traffic, accidents are bound to happen. Truck accidents at intersections can be especially devastating. If you've been injured in a truck accident at an intersection, an experienced Fort Worth accidents in intersection lawyer can help.
We will fight for your rights and help you seek compensation in an accident that was not your fault. You don't pay us anything unless we get you compensation. That can be through an insurance settlement or a jury award. We have a track record of winning compensation for our clients. Just give us a call at (214) 740-4556 to see how we can help you.
Accidents at Intersections are Common
Traffic in the Fort Worth area is often fast, crowded, and risky, which makes accidents at intersections common. Add to that the number of heavy trucks in the area on our major roadways, and you have a recipe for disaster.
According to crash statistics from the National Highway Traffic Safety Administration (NHTSA), in Texas alone, between 2014 and 2018:
There were 3,239 fatal accidents at intersections.
154 of those, or nearly 5% of the total, were in Tarrant County.
There were 5,518 fatal crashes involving a commercial truck in Texas.
1,522 of those, or 28%, happened at intersections.
While most accidents at intersections involve passenger vehicles, truck accidents are on the rise. An accident with a heavy truck can mean more property damage and more serious injuries than an accident with a car.
These numbers show that drivers are making mistakes that lead to crashes at intersections. If a truck driver is at fault for an intersection accident, they are legally liable for the costs. The trucking company may also be partly responsible.
As the victim of an accident, you have the legal right to seek compensation for your damages. You can file a claim with the truck driver's insurance company — and a Fort Worth accidents in intersection lawyer can help you do that.
Why Truck Accidents Happen at Intersections in Fort Worth
Commercial truck drivers are almost always in a hurry. It's the nature of the business because, as they say, time is money. Common causes of truck accidents at intersections include:
Running a red light
Failure to yield
Speeding and unable to stop the truck in time
Making too wide of a turn
Distracted driving
Impaired driver
Mechanical failure
If you're injured in an intersection accident with a truck in Fort Worth, the medical bills are piling up. Don't delay any further. Contact a Fort Worth accidents in intersection lawyer. The sooner you start work with a personal injury lawyer, the sooner you can get compensation.
Seeking Compensation After a Truck Accident at an Intersection
Every driver who travels on any road in Fort Worth has a legal duty to drive safely and carefully. Truck drivers have additional responsibilities under the Motor Carrier Safety Act.
If a truck driver or any other driver hit your vehicle at an intersection, they may be considered negligent. As a result, you can file a personal injury claim with the truck driver's insurance company. You can also pursue compensation from the trucking company, based on the specifics of your accident.
In some cases, a third party may be partly responsible — such as a road construction company. If that is the case, we will pursue that avenue as well.
Compensation will help pay for:
Your medical bills
Lost wages
Property damage
Pain and suffering damages
Wrongful death
An experienced Fort Worth accident injury lawyer can help you prove the truck driver or the trucking company was negligent. They can help you gather evidence from the accident to show what happened and how the truck driver was at fault. They also have the capability to go after the trucking company as necessary.
Get Help from a Fort Worth Accidents in Intersection Accident Lawyer
For help after an accident with a truck in an intersection, call our Fort Worth accident injury lawyers now at (214) 740-4556. Your consultation call with our team is entirely free. We'll discuss the details of your truck accident and help determine who is at fault. We will then help you launch a legal case to get the compensation owed to you. If we don't win you compensation, you don't pay!
Frequently Asked Questions