Fort Worth Passenger Vehicle Accident Lawyer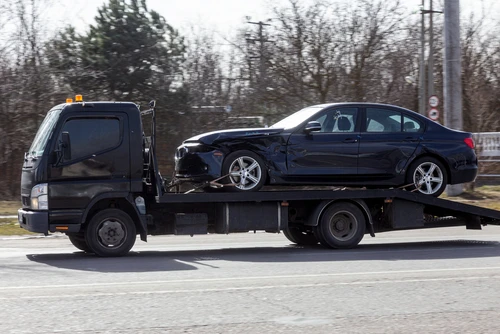 Getting injured in an auto accident in Fort Worth can impact your entire life. Not only do you have to deal with painful injuries, but you're also probably stressed about the medical costs, missed work time, and other expenses you now face. Plus, accidents can also significantly strain your emotional state.
Thankfully, you don't have to handle it all alone. Our Fort Worth passenger vehicle accident lawyers can help by taking on the legal side of things and fighting for compensation for your damages.
At the Dallas car accident law firm, we are passionate about helping accident victims all throughout the Dallas-Fort Worth area win the financial recovery they deserve. We are especially knowledgeable about passenger vehicle accidents, from minor collisions to fatal crashes. To get a FREE consultation to learn more and get matched with the best lawyer for you, call us at (469) 998-4069 or contact us online.
Common Damages from a Fort Worth Passenger Vehicle Accident
If you were not at fault for your accident, you have a legal right to seek compensation through a personal injury case. Your lawyer can help you file a claim with the at-fault driver's insurance to pursue a settlement for your damages.
Most cases are resolved at the insurance claim stage, but if the insurance company won't offer you enough, your lawyer can help you file a lawsuit and prepare to go to court. Before you file anything, though, you'll need to know the full extent of your personal injury damages. Your attorney will determine what your settlement should be worth based on all of your losses.
Here are the main types of damages that victims face after a passenger vehicle accident.
Economic Damages
Economic damages are also known as special damages. These specific costs can be clearly demonstrated through documentation and dollar amounts.
Economic damages include:
Doctor and hospital bills
Prescription medication costs
Property damage to your vehicle and
Lost wages
For these damages, you will need to provide direct proof. That includes copies of your medical bills and records, receipts, quotes, and former pay stubs or tax returns. Your lawyer can help you obtain these pieces of information that you need to include in your claim.
Non-Economic Damages
In contrast with economic damages, there are non-economic damages, also known as general damages. These damages refer to more subjective harms that do not have straightforward monetary values.
Examples of non-economic damages from a passenger vehicle accident may include:
Mental anguish
Loss of enjoyment of life
Physical and emotional pain and suffering
Loss of consortium and
Fear or embarrassment, such as from scarring or disfigurement
Non-economic damages are meant to compensate you for how the accident has affected your life. They are not easy to calculate, so we do not recommend trying to determine the value of non-economic damages on your own. Instead, work with an experienced lawyer who can figure out what these damages are worth.
Exemplary Damages
Economic and non-economic damages are very common in a passenger vehicle accident case. On the other hand, exemplary damages, also known as punitive damages, are rarer but available in some situations.
Rather than compensation for the victim, exemplary damages are meant to punish the at-fault party and/or deter future wrongdoing. Exemplary damages are only an option in cases where there was clear malice, neglect, or wantonness, such as in many drunk driving cases.
Texas Civil Practice and Remedies Code section 41.008 outlines how exemplary damages cannot exceed an amount higher than either:
Twice the amount of economic damages plus non-economic damages up to $750,000 or
$200,000
To know all of your compensation options for your damages, it's best to contact an experienced Fort Worth passenger vehicle accident lawyer as soon as you can. They can make sure you are seeking the highest settlement possible to cover all of your expenses.
Partial Fault in a Passenger Vehicle Accident
Some car accident victims worry that they may be at fault for part of the accident and thus not eligible for damages. However, Texas's proportionate responsibility law provides compensation options even in this situation.
If you were involved in an auto accident in Fort Worth, you can still recover compensation as long as you are not more than 50% at fault. That being said, your percentage of fault will determine the percentage by which your compensation is reduced. For example:
Say you were in a car accident and the total value of your damages was $100,000.
The court finds that you were five percent at fault for the accident and the other driver was 95% at fault.
The damages you can recover will be reduced by five percent, so they will total $95,000 and you will be responsible for paying $5,000 of your damages.
Your lawyer will work to get as little fault assigned to you as possible. They will gather evidence to show how the other driver was at fault. This evidence might include:
Pictures from the scene
Statements from witnesses
Cell phone records
Expert testimony
DUI test results
And more
If you are worried you might be partially to blame for your accident, don't wait to contact a trusted lawyer. They will know how to handle things and get to the bottom of where fault for the crash lies.
Benefits of Hiring a Passenger Vehicle Accident Lawyer in Fort Worth
Here are some of the top reasons to work with a passenger vehicle accident lawyer for help with your case:
They will handle the insurance company and ensure you don't get taken advantage of. Insurers are very skilled at getting accident victims to accept a settlement much lower than they deserve.
Your lawyer can make sure all of your damages are correctly calculated. Many accident victims greatly underestimate their injuries and total damages, which means leaving money on the table.
You won't have to worry about the legal side of things. Your attorney will handle the stressors of building a case and negotiating with the insurance company so you can focus on healing.
There is no fee unless you win money. Our Dallas car accident lawyers only work on contingency, which means we do not charge you unless we're able to win you compensation.
Plus, the consultation is 100% free, so there is nothing but good reasons to reach out and discuss the details.
Schedule Your FREE Consultation with a Fort Worth Passenger Vehicle Accident Lawyer Today
The attorneys at our Dallas car accident law firm know how difficult life can be after a passenger vehicle accident. That's why we are dedicated to getting you the fullest compensation possible.
Contact us today and we'll get started with your FREE, no-risk consultation and case evaluation. Call (469) 998-4069 or contact us online today.
Frequently Asked Questions