Allen Passenger Vehicle Accident Lawyer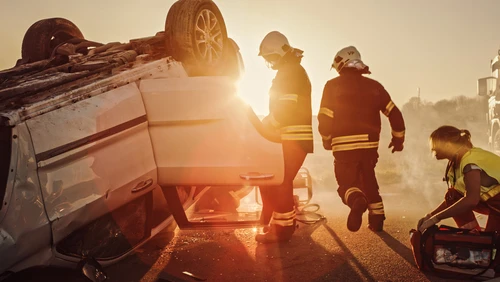 Many people and families are affected by car accidents every year in Allen. Texas law allows accident victims to recover money for their damages if they were not at fault for the crash. If you were injured as a driver or a passenger in an accident you did not cause, an Allen passenger vehicle accident lawyer can help.
Our car accident lawyers are here to help. We help our clients fight for the compensation they need and deserve after a painful and stressful accident. We have the experience required to build a strong case, stand up to the insurance companies, and fight for you and your family. Call
(469) 998-4069 today to get started with a FREE consultation.
Types of Passenger Vehicle Accidents in Allen
As it sounds, a passenger vehicle is an automobile that can transport passengers. According to the International Organization of Motor Vehicle Manufacturers (OICA), a passenger car is defined as a motor vehicle:
With at least four wheels
That is used for transporting passengers and
With no more than eight seats (including the driver's seat)
The most common types of passenger vehicle accidents include two-car accidents, single-car accidents, head-on collisions, rollovers, side-impact crashes, and rear-end collisions. No matter how an accident happens, though, the driver and their passengers can be left with serious injuries.
If you were injured in a passenger vehicle during an accident, you may be entitled to damages. An Allen passenger vehicle accident lawyer can look at the facts and determine your legal options. Call (469) 998-4069 to get matched with the best attorney for you and get a FREE consultation today.
How Fault Works in a Passenger Vehicle Accident in Allen
Texas is a comparative fault state. So, after a passenger vehicle accident in Allen, any driver who is more than 50% at fault is responsible for the damages they caused. On the other hand, if a victim is less than 50% at fault, they are entitled to seek compensation for their damages.
If a driver is 100% at fault for an accident, they will be responsible for paying for the damages through their insurance company. When more than one party shares blame, the jury will typically be asked to calculate your total damages from the accident and the percentage of fault each party holds. Then, you would be awarded damages reduced by your percentage of shared fault.
Passengers Are Rarely at Fault
Passengers in car accidents are hardly ever at fault. Even if a driver tries to say that a passenger contributed to an accident, there must be clear proof that the passenger was doing something to directly cause the crash. Most of the time, it's one or more of the drivers that caused the accident.
If you were a passenger in a car accident in Allen, it's a good idea to speak with a passenger vehicle accident lawyer very soon. Even though it's rare for passengers to be found at fault, the at-fault driver's insurance company will still look for ways to reduce the compensation they have to pay you.
A lawyer can help protect your rights and handle the insurance company for you from the beginning.
Damages That Can Be Recovered After a Passenger Vehicle Accident
If you were not at fault for your accident, you have the right to recover compensation for your damages. Those damages may include:
Medical costs, including doctor bills, hospital bills, prescription medications, physical therapy, and more
Lost wages from missed work time
Loss of earning capacity
Property damage to your vehicle
Non-economic damages, such as mental anguish and pain and suffering
An experienced passenger vehicle accident lawyer will know how to accurately calculate your total damages. They'll take into account factors that you might not have fully considered, such as future medical costs your accident might cause and injuries that prevent you from working as you could before.
If a loved one was killed in a passenger vehicle accident in Allen, you may be able to file a wrongful death claim to seek damages like medical costs, pain and suffering, and funeral and burial expenses. A lawyer can help you do this.
What to Do After a Passenger Vehicle Accident in Allen
After an accident in Texas, you must report it to the police if there were injuries, deaths, and/or damage to a vehicle that prevents it from being safely driven. This is outlined under Texas Transporation Code section 550.026.
After reporting the accident, stay at the scene and provide any assistance you can to others in the vehicle. If anyone has serious injuries, call for an ambulance. You can also exchange information with other drivers in the accident.
Texas does not have laws on reporting accidents to car insurance companies, but most insurance carriers do require you to report an accident very soon afterward. If you wait too long to report an accident to your insurance company, you may miss out on some coverage.
Don't Let the Other Driver's Insurance Company Take Advantage of You
While you should definitely report the accident to your own insurance company, be very wary of the at-fault driver's insurer. They may try to contact you soon after the accident and even offer you a settlement. The agent who talks to you might even seem really nice and concerned about you—but don't let it fool you.
Most of the time, the insurance company is trying to get you to accept an upfront settlement offer that is way below what you truly deserve for your damages. So, be careful not to accept any money or sign anything from the insurance company without speaking to a car accident lawyer first.
An experienced lawyer will know the tactics of insurance companies and how to handle them. Your lawyer can communicate with the insurer for you, so you don't need to worry about saying or doing something they'll try to use against you. Your lawyer will also work to negotiate a fair settlement and, if necessary, prepare your case for court.
Get a Free Consultation with an Allen Passenger Vehicle Accident Lawyer Today
If you were hurt in any type of passenger vehicle accident—as a driver or as a passenger—our car accident lawyers can help. Finding the right lawyer for you can seem like a daunting task, and you might not even know where to start. We'll make it easy by listening to your concerns and matching you with the best attorney for your situation.
Call us at (469) 998-4069 today and we'll also give you a FREE consultation. Call (469) 998-4069 now to get started.
Frequently Asked Questions