Allen Uninsured Rider Accident Lawyer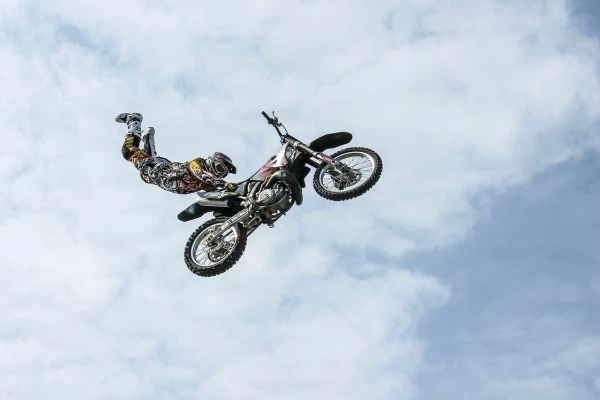 In Texas, all motorcycle riders are required to carry insurance. When motorcyclists aren't insured, the consequences can be severe. An uninsured rider may receive fines or have their license suspended. But what happens if you're in an accident involving an uninsured motorcyclist?
Dealing with an uninsured motorcycle accident can be complicated. In many accidents, the motorcycle rider can be gravely injured. If the rider is uninsured, they may attempt to pursue legal damages for medical bills and try to blame you for the accident.
Uninsured motorcycle accident costs can be very high. In addition to injuries and property damage, motorcycle collisions are often fatal. A fatal collision involving a motorcycle may cost $1.2 million dollars, while nonfatal accidents can range from $2,500 to $1.4 million in expenses depending on the rider's condition.
Don't let an uninsured motorcycle rider take advantage of you. If you're involved in a crash with a motorcycle and the rider doesn't have insurance, seek legal assistance right away. Our Allen, TX law office can help protect you.
Reach out by phone at (469) 998-4069 or go online to schedule a free consultation with an uninsured motorcycle accident lawyer. There is no charge to speak to an attorney and no obligation. You'll only pay for our services if we help you win your case.
Why Insurance Is Extra Important for Motorcycle Riders
Insurance laws exist for a reason. Although no one likes to pay for insurance, an insurance policy is very important for protecting your assets in an accident. If you get into a crash, insurance can help you get back on your feet. It can also protect you from financial damages if you are declared liable in an accident.
For motorcyclists, insurance is even more vital because of the high accident rate involved with bikes. According to the Insurance Information Institute (III), motorcyclists are 27 times more likely to die in a crash than people in cars. Over 5000 motorcycle riders were killed in fatal accidents in 2017 alone.
Unfortunately, motorcycle riders often have a risk-taking personality. Riders may not feel they need safety gear. In Texas, motorcyclists over age 21 are not required to wear helmets. As a result, motorcycle injuries can be severe. A rider can be crushed under a larger vehicle or thrown from their motorcycle into oncoming traffic.
A motorcyclist who neglects basic safety, like helmets, may also neglect to carry insurance. Often, motorcycle riders are insured for the following reasons:
They use their motorcycle as a secondary recreation vehicle and do not realize they need insurance.
They may believe their auto insurance policy also covers their motorcycle by default.
They may not be able to afford motorcycle insurance.
They may be riding their motorcycle without a license.
Whatever the reason, riding a motorcycle without insurance is against the law in Texas. If you know someone in your life who rides a motorcycle uninsured, urge them to purchase a policy as soon as possible.
Motorcycle Insurance Requirements in Texas
The motorcycle insurance requirements in Texas are simple. According to the Texas Department of Insurance (TDI), riders must carry a basic policy known as 30/60/25 coverage. This means that their policy must include the following minimums:
$30,000 in liability for each person injured in an accident.
$60,000 in liability per accident, total.
$25,000 in liability coverage for damage to property.
Any motorcycle or motorbike using public streets needs to be insured. This includes mopeds and scooters. However, dirt bikes, ATVs, or other vehicles used on private land do not need to carry motorcycle insurance.
Common Uninsured Motorcycle Accident Injuries
Anyone involved in an uninsured motorcycle accident can be injured. Injuries vary depending on the collision speed, impact angle, and other factors. They also vary depending on your position in the accident. People in cars usually experience much milder injuries than people on motorcycles.
When you're riding a motorcycle, there's nothing to protect you in an accident. Even with helmets and other safety gear, motorcyclists are more vulnerable to injuries in a crash. Common injuries in uninsured motorcycle accidents include, but are not limited to:
Broken bones
Cuts, burns, and bruises
Internal injuries, including internal bleeding
Back and spinal cord injuries
Neck injuries, including whiplash
Head injuries, including concussions, skull fractures, and traumatic brain injuries (TBIs)
Often, uninsured motorcycle riders require surgery for their injuries. They may experience coma, neurological problems, and full or partial paralysis. These injuries can cause serious disabilities. Accident victims may require many years of medical treatment and long-term care.
Motorcycle accidents are also very traumatic. Even a driver who isn't injured in the crash can suffer from mental health issues like PTSD, requiring extensive therapy or medication. Some people develop phobias, addictions, and other severe psychological problems after an uninsured motorcycle accident.
Whether your injuries are serious or mild, you may be eligible for compensation to help pay for your pain and suffering. It's important to consider all your legal options in an uninsured motorcycle accident. Our Allen, TX accident lawyers can help.
What to Do After an Accident with an Uninsured Motorcycle
An uninsured motorcycle accident can be a nightmare. Often, drivers hit a motorcyclist who is in their blind spot or recklessly weaving in and out of traffic. If you're involved in a motorcycle accident, it can feel like a sudden shock. You may not know how to react right away.
After an accident involving an uninsured motorcycle, take the following steps:
Pull over so you're not blocking traffic.
If it's safe, help the motorcycle rider get out of the road, too.
Call 911. If you suspect there are any injuries, ask for medical assistance right away.
Get the uninsured motorcycle rider's contact information.
Take photographs and videos of the accident scene. Be sure to include any damage to your vehicle, the motorcycle, and any skid marks or broken guardrails.
Collect testimonies from your passengers or other accident witnesses.
If the uninsured motorcycle rider attempts to flee the scene, try to take a photo or memorize their motorcycle's license plate, as well as any descriptive information.
For more help after an uninsured motorcycle accident, schedule a free consultation with an Allen, TX accident lawyer today.
Frequently Asked Questions