Plano Construction Truck Accident Lawyer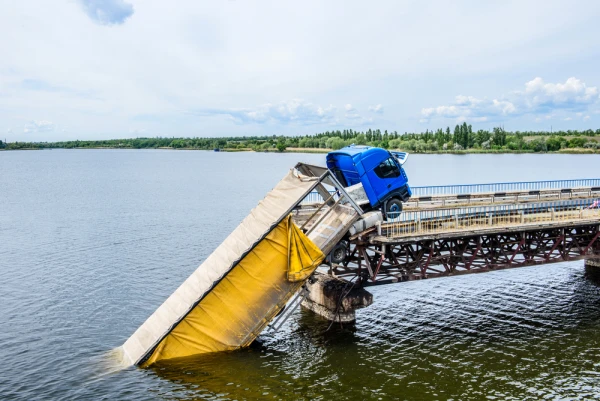 We're here to help if you were hit by a construction truck in Plano, TX. We knew that these large vehicles can cause tremendous damage in an accident. That's why our Plano construction truck accident lawyers are standing by to get to work on your claim.
Allow us to focus on your case after a construction truck collision. We will work to bring you compensation for your medical expenses and other losses. We're ready to handle your claim as soon as you call us at (469) 998-4069.
Construction Vehicles and Work Zone Accidents in Texas
You may see construction vehicles like large dump trucks, rollers, and backhoes anywhere on the roads throughout Plano. However, these vehicles are mostly located in construction sites or road work zones.
There were 26,000 accidents in work zones in Texas in the year 2019. This information came from the Texas Department of Transportation (TxDOT). These accidents led to 690 injuries and 167 fatalities.
You should know most of these fatalities involved people riding in vehicles, not construction workers. You should get help on your side if you were in an accident involving a construction vehicle in Plano. Members of our team are prepared to offer you the help you want right now.
Consider Fault for Plano Construction Truck Accidents
You can only get damages after a construction truck accident in Plano if a lawyer shows that someone else caused your accident. Many of these accidents are caused by construction truck drivers. These drivers may cause collisions if they:
Drive too fast for conditions.
Don't check their blind spots.
Operate their vehicle in a reckless way.
However, you should know that construction truck drivers are not always at fault for an accident. In some cases, these accidents are caused by:
The Construction Truck Company
Construction truck companies have a responsibility to make sure that they hire drivers who are properly trained. They must also ensure construction vehicles receive proper maintenance. Failure to perform these responsibilities could result in an accident in Plano.
The Construction Truck Manufacturer
Construction trucks are sometimes manufactured with major defects. These defects could lead to an accident in Plano. Your lawyer can help you seek compensation directly from the vehicle manufacturer in this situation.
Other Drivers
Other drivers in a construction zone may cause accidents as well. In some situations, you could even get blamed for a collision. Note that you can receive a percentage of compensation even if you are partially at fault for a construction truck accident in Plano. Find out how to get damages in this situation by calling us at (469) 998-4069.
Types of Compensation for Plano Construction Truck Wrecks
A lawyer will also need to show that your losses were caused directly by a construction truck accident to make sure that you get compensation. Your lawyer can investigate the facts of your case by questioning witnesses and going over your police report. Taking these steps may help a lawyer bring you damages for your:
Emergency medical treatment.
Time in a hospital.
Medical tests and procedures.
Physical therapy and rehabilitation.
Time off at work.
Vehicle repair costs.
Pain and suffering.
You should also keep receipts and documents detailing the medical care that you received after an accident. Your lawyer might be able to use this documentation to secure compensation for your losses.
Resolve Your Case After a Collision with a Construction Vehicle
You may take immediate steps to secure compensation after a construction vehicle accident in Plano. Reach out to us to learn more about all of your options. Many of these claims are handled outside of the court system. We can negotiate with insurance agents on your behalf to bring you a settlement.
We also know what it takes to handle lawsuits involving construction vehicle accidents. We can help you file a lawsuit in court here in Plano, which could bring you a verdict to cover your losses. Take charge of your future right now by reaching out to us.
Work with a Plano Construction Truck Accident Lawyer
Make sure you're ready to get compensation after a construction truck accident by contacting us. We're standing by to offer you comprehensive legal assistance. Reaching a construction truck accident lawyer in Plano is simple — just call (469) 998-4069 or complete our online contact form.
Find out exactly how we could handle your unique needs with a free consultation.
Frequently Asked Questions