Mesquite Tow Truck Accident Lawyer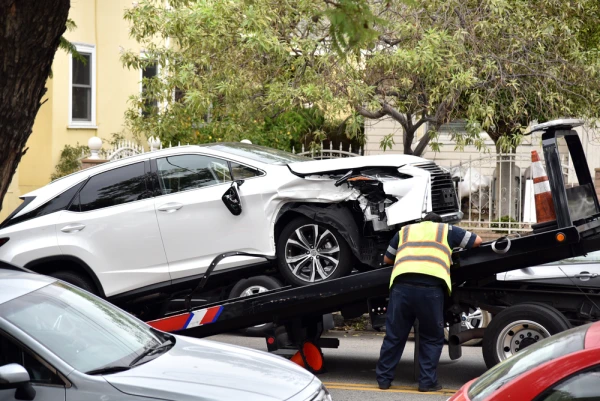 Work to get compensation if you were hit by a tow truck in Mesquite, TX. Focus on building a claim for your case by reaching out to a member of our team right now. It's easy to get in touch with a law firm in the Mesquite area by calling (469) 998-4069.
A member of our team can begin assessing your situation right away. We may investigate your accident and work to bring you a fair settlement. A Mesquite tow truck accident lawyer could also help you file a lawsuit in some cases. Find out more by contacting us.
Get the Facts About Tow Truck Accidents
Tow truck accidents can occur at any time in Mesquite. The Federal Motor Carrier Safety Administration (FMCSA) tracks the number of tow truck accidents that occur every year. These accidents are sometimes considered "vehicle towing another vehicle" collisions. In 2017, the FMCSA reported:
705 towaway crashes involving towing vehicles.
396 injury crashes involving towing vehicles.
21 fatal crashes involving towing vehicles.
Note that tow truck accidents may also take place when the tow truck is not hauling another vehicle. You could sustain damages whether or not a tow truck was hauling a vehicle at the time of the collision. Either way, you deserve compensation for your medical expenses and other losses.
Causes of Mesquite Tow Truck Accidents
It's important to ascertain the causes of a tow truck accident in Mesquite. You can only get compensation if someone else was responsible for your accident. A lawyer will investigate your case to determine if the accident was caused by:
The Tow Truck Driver
Sometimes, tow truck drivers cause accidents in Mesquite. This could occur if they don't check their blind spots when operating a large vehicle. They may also cause an accident if they do not properly secure a vehicle in-tow, allowing the vehicle to slip loose and to strike other cars.
The Tow Truck Company
Trucking companies directly cause some accidents in Mesquite. Companies cause accidents if they don't keep vehicles properly maintained. They may also hold liability for an accident that occurred while a driver was working or carrying out a job-related task.
The Tow Truck Manufacturer
Tow trucks are sometimes sold with a major defect. This defect could result in a collision in Mesquite. In this situation, the company that built the truck could hold responsibility for the accident. Find out how to build a claim by calling us at (469) 998-4069.
Take These Steps After a Tow Truck Accident in Mesquite
You may feel unsure what to do after you are struck by a tow truck in Mesquite. There are a number of steps you will want to take. If possible, make sure that you:
Report the accident to the police.
Get contact information from the tow truck driver and eyewitnesses.
Take pictures of your injuries and the scene of the accident.
If you were hurt in the collision, you should seek medical care — including emergency services to get an ambulance if your injuries are severe. You may also want to contact a Mesquite tow truck accident lawyer as quickly as possible. A lawyer can begin working on your claim right now.
Focus on Securing Compensation After an Accident in Mesquite
Your truck accident lawyer will work to build your claim after a collision. Your lawyer may take steps to settle your case with insurance agents. In fact, most truck accident claims in Mesquite are handled outside of court. A settlement could provide you with funds for your:
Healthcare expenses.
Wages lost at work.
Lost earning potential.
Vehicle repairs.
Pain, suffering, and mental anguish.
However, insurance companies sometimes refuse to agree to a fair settlement. You still have options to get compensation in this case. A lawyer could help you file a lawsuit in court. This may allow you to get damages through a verdict in your favor. Learn more about all of your legal options by contacting a law firm in the Mesquite area.
Speak to a Mesquite Tow Truck Accident Lawyer Today
Focus on building a claim after a tow truck accident in Mesquite. Work with a lawyer to consider all of your options to secure compensation. Schedule a free consultation to discuss your situation with a tow truck accident lawyer in Mesquite today.
Find out how we could help by calling us at (469) 998-4069. You can also fill out our online contact form if that's more convenient for you.
Frequently Asked Questions