Desoto Wrongful Death Lawyer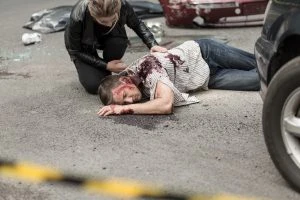 None of us want to imagine losing a loved one in a car accident. Unfortunately, wrongful death car accidents are painfully common in DeSoto, Texas, and around the country. Nothing can make this terrible loss right again but you do have some legal options if you have lost a family member in a car accident.
A DeSoto wrongful death car accident lawyer can take on your case right away. You deserve closure and help moving through this difficult portion of your life. Our legal team can help provide you with the support you need to move forward.
DeSoto's Regulations on Wrongful Death Suits
The state of Texas allows family members to bring wrongful death suits against individuals who caused the death of a loved one. You can only utilize a wrongful death suit if you have lost a parent, spouse, or child. Wrongful death suits do not apply to other family members or friends.
Wrongful death suits allow individuals to receive compensation for the loss of a loved one. You may be entitled to damages for:
Pain and Suffering
Lost Earnings
Lost Inheritance
Many individuals also receive exemplary damages if they win a wrongful death suit. Exemplary damages are used to punish the individual who caused the death of your loved one. These funds can help you move forward in your life after a family member is taken from you.
Note that wrongful death suits must be filed within 2 years of the loss of your loved one. The statute of limitations will expire after this period of time and you will no longer be able to receive compensation.
Ways a DeSoto Wrongful Death Car Accident Lawyer Can Help
The period of time after the loss of a loved one can be emotionally fraught and difficult to deal with. A wrongful death car accident lawyer can step in and give you the support you need. Your wrongful death lawyer can help you by:
Taking Over Communication
Many wrongful death suits require you to communicate with the individual responsible for the loss of your loved one and their insurance company. A lawyer can take over this communication, allowing you the time and space to grieve.
Your lawyer will also deal with any negotiations with the insurance company. You deserve fair treatment after the wrongful death of a loved one. A legal professional can fight to make sure you get a settlement offer that fits your loss.
Investigating Your Case
Getting a settlement or winning your case often depends on the strength of your investigation. Working with an experienced legal team increases the chances that your suit will be successful. An established law firm has the resources to:
Hire Professional Investigators
Interview All Eye-Witnesses
Your wrongful death lawyer may even reconstruct the accident in certain circumstances to make sure they have all the answers.
Fighting Every Step of the Way
Many wrongful death cases are settled outside of the court system. This requires experience and skill. You can count on a wrongful death car accident lawyer to stand up to insurance companies so you get fair compensation from a settlement.
Other wrongful death cases are handled by the court system. Going before a judge and jury can be nerve wracking. Having professional help on your side can smooth out many of the difficulties associated with the court system in DeSoto.
Make sure you have a trustworthy lawyer in your corner. Our law firm believes in providing clients with unwavering support every step of the way. We have experience fighting for clients who have lost loved ones due to:
Drunk and Impaired Drivers
Distracted and Fatigued Drivers
Reckless Drivers
Defects in a Vehicle
Construction Zone Accidents
We'll stick with you from the time you contact us until your case is resolved, no matter what situation you're facing.
Start Getting the Help You Need Now with a Wrongful Death Car Accident Lawyer
You don't have to deal with the hardship associated with a wrongful death case on your own. You can get support right now from a DeSoto wrongful death car accident lawyer. Our legal team is ready to take on your case. You can call us at (469) 998-4069 or fill out our online contact form to learn more about your options.
Find out how we can help with one of our FREE consultations.
Frequently Asked Questions