Keller Motorcycle Accident Lawyer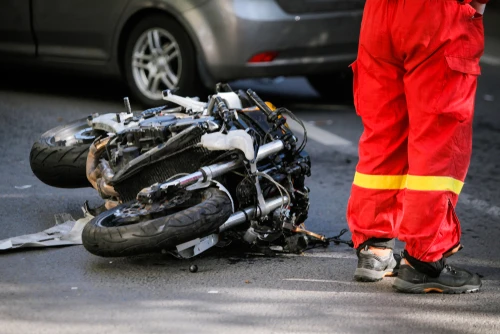 You can contact our team if you want legal help after a motorcycle accident in Keller, Texas. We are ready to take your side after a collision. We'll work to show that someone else caused your accident and that the accident was at-fault for your injuries.
You don't have to wait to get help if you reach out to a motorcycle accident lawyer in Keller right now. You can reach us if you call (469) 998-4069. Our team is ready to put you first. We'll take steps to help you get damages for your medical expenses, vehicle repairs, and lost wages.
Dangers Associated with Keller Motorcycle Accidents
Motorcycle accidents are often very dangerous, especially for motorcyclists. The Texas Department of Transportation (TxDOT) records the number of people hurt or killed in motorcycle accidents every year. In 2019, there were over 8,000 injuries and fatalities associated with motorcycle crashes in Texas.
Motorcycle accidents are so hazardous because motorcycles do not provide drivers with any protection. Additionally, some motorcyclists will refuse to wear a helmet, which exposes them to greater danger in the event of an accident.
We are ready to step in and help if you – or a family member – got hurt in a collision. We can even provide you with compassionate care if you lost a loved one to wrongful death in a crash. Just contact us at (469) 998-4069. Our Keller motorcycle accident attorneys are here to help you now.
Compensation for a Keller Motorcycle Accident
We know that you can face incredibly high expenses after a motorcycle accident in Keller. We're standing by to help you get the damages you want to cover all of your losses.
Depending on your situation, our team could help you secure compensation to cover your:
Healthcare expenses
Lost wages at work
Diminished earning potential
Vehicle repairs
Pain and suffering
We focus on determining the best way to help you get compensation after a motorcycle accident. We'll review all the facts of your case and then offer you legal guidance, starting right now. We can focus on developing a claim for you and we'll ensure that all paperwork regarding your claim is filed in time before the statute of limitations expires for your claim.
Our team could recommend that you settle your claim with the other driver's insurance company. We are also ready to help if you want to take your claim to court here in Texas. Note that going to court could lead to:
High court fees
A longer wait to get compensation
We're willing to discuss all of your options to secure compensation when you reach out to us. Find out how we can help you by calling our team now. We'll deal with all of the legal hurdles you face after a motorcycle accident.
Liability for a Keller Motorcycle Accident
It's important to establish fault if you were hurt in a motorcycle accident in Texas. You can take steps to get compensation for your losses if someone else caused your collision. Many drivers in Keller automatically try to blame motorcyclists for crashes. Insurance companies can argue those motorcycle riders:
Take risks
Drive aggressively
Do not wear adequate protection
However, we know that motorcyclists are not always at-fault after a collision. In fact, we are ready to investigate the cause of your accident. Our motorcycle accident attorneys can take steps to show that another driver caused your collision as we:
Question witnesses to the accident
Review the place where your accident took place
Go over your police report
Work with accident reconstruction technicians
Our team can focus on showing that you were not at-fault for an accident. This can help us establish a claim for you.
Kinds of Motorcycle Accidents in Keller
We understand that not all motorcycle accidents in Keller are the same. In fact, our team believes in providing personalized attention to you after a collision. You can contact us for assistance if you were hurt in a(n):
Rear-End Collision
Sometimes, other drivers in Keller rear-end motorcyclists. These drivers sometimes fail to see motorcycle riders. They may also fail to give themselves enough stopping distance when approaching a red light or stop sign. These crashes are often very serious.
Head-On Crashes
Sometimes, drivers will hit motorcyclists head-on. Some drivers will cross the center line without paying attention. This could bring them into the path of your motorcycle, resulting in a major collision in Keller.
Left-Turn Accidents
Many motorcycle accidents occur because a turning driver failed to notice a motorcycle. These drivers can turn directly into a motorcycle's path of travel. We are here to help you in this situation.
Override Accidents
Override accidents can occur when a motorcycle strikes a much larger vehicle. For example, we see these accidents when commercial vehicles and motorcycles are in a collision. The motorcycle could end up sliding beneath the truck, leading to major injuries. Note that these are only examples of motorcycle accidents. We're here to help you after any kind of collision in Keller.
Work with a Keller Motorcycle Accident Lawyer for Your Personal Injury Claim Now
Start getting legal help after a motorcycle accident in Keller by calling (469) 998-4069 or filling out our online contact form. We'll handle all of your legal needs starting right now. Allow us to focus on your needs and bringing you fair compensation. Our motorcycle accident lawyers in Keller will put you first.
Find out more about your options with a free consultation.
Frequently Asked Questions