Denton Bus Accident Lawyers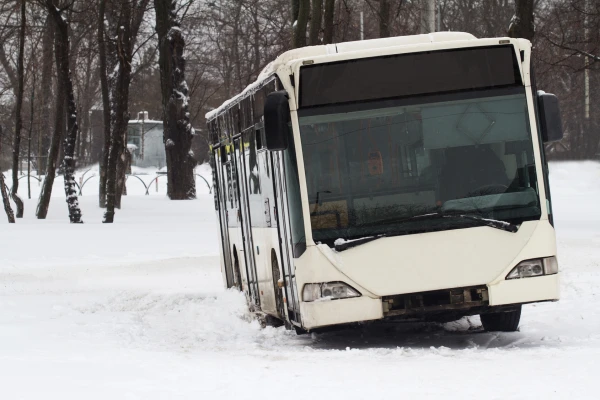 Everyday, buses cause serious traffic accidents around the country. These accidents can injure bus passengers and other drivers on the roads. Getting fair compensation after an accident means going up against the bus company and their insurance agents.
You need professional help on your side to have the highest chances for winning a bus accident case. Insurance agents can try to blame you for the accident, or claim that your injuries were unrelated. Ensuring they can't get away with these claims is often impossible on your own.
Our team of Denton bus accident lawyers can provide you with immediate advice in a free consultation about your situation. We'll go to work on your case right away and it's our policy to not accept any payment for legal fees until we've settled or won your case.
The Risk of Bus Accidents in Denton is High
The unfortunate prevalence of bus accidents in Denton has given our legal team plenty of experience fighting for clients in your situation. Nationwide, intercity, transit, and school buses are involved in thousands of injury crashes every year.
Many buses move on Denton roads, including buses ran by the Denton County Transportation Authority (DCTA) and SPAN Transit.
If you or a loved one were involved in a bus accident, you should take immediate action. It's important that you take steps to:
Get Medical Help if You Are Injured
Contact Emergency Services
Reach Out to a Bus Accident Lawyer
Any delay can make it more difficult to get compensation from the bus company after an accident.
Determining Liability in Bus Accident Cases
In order to win your case, your legal team will need to prove that someone else was at fault for the accident. This requires an in-depth investigation of the accident. Our team of bus accident lawyers may dig into police records and speak with witnesses to gather proof about what happened.
In general, we find that many bus accidents are caused by:
Bus Drivers
Bus drivers can cause accidents if they are distracted by their phones or passengers. Other drivers are at-fault because they are driving while impaired, often due to exhaustion or substance abuse. We have also seen cases where inexperienced drivers cause accidents.
Busing Companies
In some cases, the bus company holds the blame for the accident. Busing companies that do not perform proper maintenance can allow dangerous buses out on the roads, for example.
Note that the insurance agents working for the bus company will be trying to prove that their client was not to blame for the accident. This means they will likely try to imply you were at fault. A bus accident lawyer can protect you from these accusations so you are not treated unfairly.
Injuries and Compensation in Bus Accident Cases
Bus accidents are dangerous because buses are so large that they often demolish smaller vehicles. We've helped clients who suffered a wide range of injuries from these accidents, including:
Whiplash
Cuts and Lacerations
Fractured and Broken Bones
Trauma to the Spinal Cord or Head
We believe that you deserve full compensation if you were injured in a bus accident. You may also be entitled to additional damages for:
Lost Wages
Vehicle Repair
Pain and Suffering
You may also be entitled to compensation if you suffer long-term effects from the accident. We will work aggressively in make sure that you get the legal payment for your injuries and mental anguish after a bus accident in Denton.
Get Help Dealing with a Bus Accident in Denton Today
You only have two years to proceed with a bus accident suit after your accident. Texas set up this statute of limitations and harshly upholds it. This means that if you wait too long, you will lose your chance to get compensation for your injuries.
We can start helping you right now. Our team of Denton bus accident lawyers knows how important winning your case can be for your future. We don't want you to be saddled with medical bills for an accident that wasn't your fault. Call us at (469) 998-4069 or complete our online contact form to start going over your options right now.
We believe in being here when you need us. Contact us for a FREE consultation and learn more about how we can help.
Frequently Asked Questions