Denton Motorcycle Accident Lawyers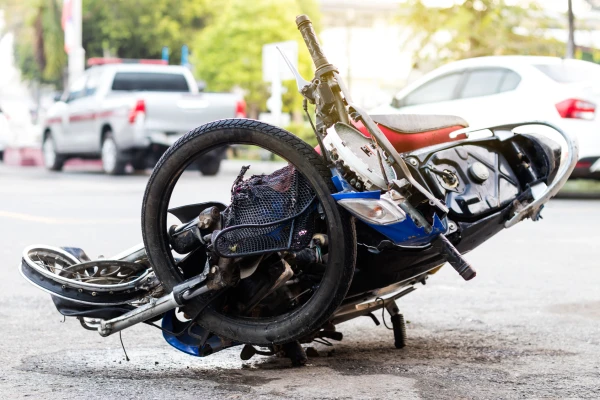 Motor vehicle accidents are always dangerous events. The involvement of a motorcycle increases the odds that a serious injury or even wrongful death will occur. Motorcycles are smaller and less secure than other motor vehicles, which means motorcyclists are at serious risk every time they take to the roads.
Motorcycle accidents can be even harder to deal with if the other drivers involved try to get out of paying compensation for your injuries. You don't have to go through a legal battle to get the damages you need alone. A Denton motorcycle accident lawyer can stand up to other drivers and insurance companies for you.
Our legal team has worked hard to develop an expert understanding of Texas's laws on motorcycle accidents. We believe in thoroughly investigating accidents for our clients and providing an aggressive assault on the driver that caused your motorcycle accident.
Motorcycle Accident and the Law in Texas
According to the laws in Texas, victims of motorcycle accidents are entitled to compensation. You can only receive this compensation if you are not primarily at-fault for the accident. Note that Texas uses modified comparative fault laws, which means that you can still get compensation even if you are partially responsible for an accident.
You may also be able to get compensation if you were not wearing a helmet at the time of your motorcycle accident. Texas allows motorcyclists to legally ride without a helmet in some situations.
Riding without a helmet may allow other drivers to claim that you were taking unnecessary risks. In some cases, this action has reduced the compensation an injured motorcyclist received. Our motorcycle lawyers can help you fight against these claims with the aim of ensuring you receive damages.
Reasons for Denton Motorcycle Accidents
Motorcycle accidents occur for a number of reasons. Most motorcycle accidents are the fault of other drivers who turn into motorcyclists or pull out in front of a motorcycle because they do not see the driver.
Other motorcycle accidents occur because other drivers are:
Breaking Traffic Laws
Driving Under the Influence
Engaging in Distracted Driving
Regardless of the cause for your motorcycle accident, you may be entitled to compensation for your injuries. We can help you get the damages you need to cover your medical bills and repair costs for your motorcycle.
Motorcycle Accidents and Injuries in Denton
The severity of motorcycle accident cannot be overstated. Motorcyclists often come to serious harm in an accident. You may end up suffering from road rash, lacerations, broken bones, and even traumatic brain injuries (TBIs). Unfortunately, in 2017 500 motorcyclists in Texas lost their lives due to accidents.
You will need time to recover after a motorcycle accident and you should receive immediate medical care. You should also contact a motorcycle accident lawyer while you heal.
There are several important reasons for getting immediate legal help. Firstly, insurance agents often approach accident victims while they are still healing to offer sub-par settlement offers. These agents try to push motorcyclists into accepting these offers and can harass you relentlessly. A motorcycle accident lawyer can take over communication and inspect any offers to make sure they're fair.
You also only have a limited amount of time to file a motorcycle accident suit. If you wait more than two years, you will no longer be able to seek compensation for your injuries. Building a successful suit takes time. You increase the odds of getting fair compensation by getting legal help right away.
Motorcycle Accidents and Possible Compensation in Denton
Our law team will fight tirelessly to get you the compensation you need. We believe in providing fast and efficient service with the aim of getting you:
We'll work diligently from the time you contact us to investigate the accident and determine exactly what you are owed. Depending on your situation, you may be entitled to damages for:
Medical Bills
Repair Costs
Current and Future Lost Wages
You may even be awarded payment for the pain and suffering you went through after the accident. Don't allow unfair debt to swallow you up. Get help from our motorcycle accident lawyers today so you can move forward with your life.
Let a Denton Motorcycle Accident Lawyer Fight for You
Motorcycle accidents can leave innocent victims with severe injuries and a feeling of helplessness. Our Denton motorcycle accident lawyers are here to provide you with legal advice during this challenging period of time. We'll fight for you in and out of the courtroom so you can get the compensation you need. Learn more about how we can help right now with a FREE consultation.
Get your life back on track by calling (469) 998-4069 or completing our online contact form.
Frequently Asked Questions