North Richland Hills Distracted Driving Accident Lawyer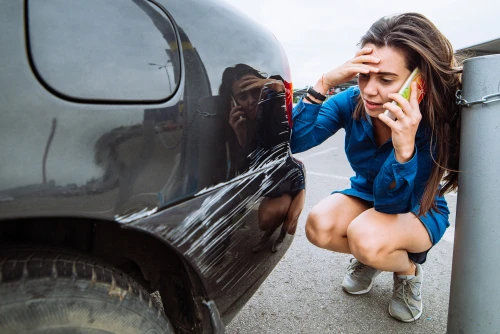 Distracted driving is a dangerous behavior on the roads around North Richland Hills, Texas. Distracted drivers cause numerous accidents in our area every year. They can strike your vehicle, leaving you with high medical expenses and vehicle repair costs.
Fortunately, our team is here to step in and help in this situation. Reach out to a North Richland Hills distracted driving accident lawyer right now to get help. Call (469) 998-4069. We are ready to help you settle your claim or file a lawsuit.
Get Information About Distracted Driving in the U.S.
Drivers must pay attention to the road while operating a vehicle. Failure to pay attention while driving leads to collisions, according to the Centers for Disease Control and Prevention (CDC). Around 400,000 people were hurt in distracted driving accidents just in the year 2018.
The CDC identifies three major kinds of distraction that can impact drivers. Drivers can cause accidents when dealing with:
Visual distraction, or looking away from the road
Manual distraction, or taking their hands off of the steering wheel
Cognitive distraction, or taking their thoughts off of what they are doing
We are here to help you immediately after any kind of distracted driving accident. We'll work to show that the distracted driver caused your collision. Reach out to us for the assistance you want by calling (469) 998-4069.
Direct Causes of Distracted Driving Accidents in Texas
It's important to note that distracted driving is only part of the reason for many accidents in North Richland Hills. Drivers also have to take a direct action to cause a collision. For example, a distracted driver might:
Swerve across lanes or pass improperly
Tailgate other drivers and cause a rear-end accident
Run a red light or a stop sign
Make an incorrect left turn into traffic
We're ready to assess the specific causes of your accident. We'll step in and speak with witnesses. We can review your police report and contact accident reconstruction teams. This allows our North Richland Hills distracted driving accident lawyers to gather evidence.
We'll use this evidence to show that someone else was primarily responsible for your collision. We also know that you may get compensation even if you were partially at-fault for a collision. Find out more by reaching out to us today.
Results of a North Richland Hills Distracted Driving Accident
Distracted drivers can cause many different kinds of accidents here in North Richland Hills. These drivers can cause head-on, rear-end, and side-impact accidents. Some drivers even cause rollover accidents in our area. Any of these accidents could leave you with injuries, including:
Head or brain injuries
Back, neck, or spinal cord injuries
Organ damage or internal injuries
You could also sustain broken bones, cuts, and lacerations. In addition to injuries, distracted driving accidents often lead to vehicle damage. The costs to recover from your injuries and repair your vehicle can grow quickly.
We are ready to step in and help you get compensation for your losses. We'll take time to show that your losses were all caused directly by your accident. Allow us to focus on resolving your claim starting right now.
Settling a North Richland Hills Distracting Driving Accident Claim
Many drivers in North Richland Hills end up settling their claims after an accident with a distracted driver. Settling your claim means coming to an agreement with insurance agents. We can negotiate with insurance agents on your behalf, working to bring you damages for your:
Healthcare expenses
Lost wages
Vehicle damage
A settlement can also cover your pain and suffering after a distracted driving accident in North Richland Hills. However, not all settlement offers are the same. In some cases, insurance agents try to offer you a subpar settlement.
We can review any settlement offer made by the insurance company on your behalf. This allows us to focus on ensuring you receive fair compensation for your losses. We may advise you to take your claim to court in some cases. Filing a lawsuit against the driver who hit you can allow you to get damages after a collision.
Work with a North Richland Hills Distracted Driving Accident Lawyer
Don't wait to get help if you were hit by a distracted driver. Immediately contact a North Richland Hills distracted driving accident lawyer to get the legal help you want. We are ready to take on your claim after you call us at (469) 998-4069. You can also complete our online contact form.
We'll discuss all of your legal options with a free consultation.
Frequently Asked Questions