North Richland Hills Spillage of Contents Truck Accident Lawyers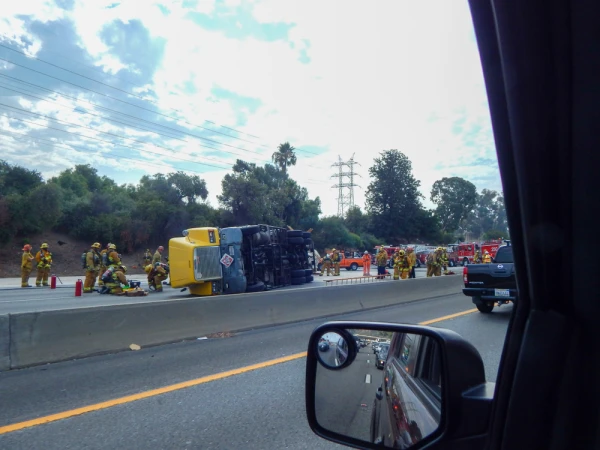 Hit by a truck in North Richland Hills that spilled its contents on the road? You could end up getting compensation for your losses. Just reach out to a member of our team. We're ready to provide you with comprehensive help. We can:
Investigate the causes of your accident
Work to ensure all your losses are noted
Take steps to settle your claim
File a lawsuit on your behalf
Don't wait to get assistance. Call (469) 998-4069 and we'll start working to bring you damages. Work with a North Richland Hills spillage of contents accident lawyer starting today.
Basic Information About Truck Accidents in the U.S.
Truck accidents occur with frequency around the country. In fact, the Federal Motor Carrier Safety Administration (FMCSA) reported that there were over 120,000 injury crashes involving large trucks in 2018 alone.
Not all truck accidents lead to a spillage of contents. These accidents only occur when something the vehicle is carrying spills across the road. Trucks can spill anything they are hauling. Some large trucks in our area carry:
Logs or planking
Boxes or crates
Gravel
Garbage
Fuels or other combustible liquids
Spillage of contents accidents involving fuel trucks are often especially severe. Fuel is a hazardous material (HM). Fuel can catch fire or even explode if it spills during an accident. Other HM accidents can involve chemicals. We're here to help you after a spillage of contents collision.
Options After a Spillage of Contents Accident in North Richland Hills
You don't have to try to handle a spillage of contents accident in North Richland Hills on your own. You can start getting help right away by:
Contacting the Police
It's a good idea to contact law enforcement after any injury accident in North Richland Hills. The police can then investigate the scene of your accident and file a report. You should not leave the scene of the accident before contacting the police.
Gathering Evidence
You have an opportunity to gather evidence right away after an accident with a large truck. Make sure that you take pictures of your injuries. You should also get contact information from the driver who hit you and any witnesses.
Seeking Medical Care
Were you hurt in a truck accident in North Richland Hills? You should get medical treatment right away. You can contact emergency services or go to the hospital. Getting medical care right away can help you get back your peace of mind after an accident.
Working with a Truck Accident Lawyer
Finally, make sure you get legal help on your side after a truck accident. A lawyer can focus on building a claim for you quickly. Lawyers can also deal with insurance agents so you can focus on healing. Get help today by calling (469) 998-4069. A North Richland Hills spillage of contents lawyer is standing by to help you.
Claims for Spillage of Contents Truck Accidents in North Richland Hills
We are ready to handle all of your legal needs after a spillage of contents collision in North Richland Hills. Our team knows how to establish that a truck driver caused your accident. We can work to demonstrate that the driver:
Drove too fast for conditions
Backed up or passed improperly
Did not check their blind spots
Drove while distracted or fatigued
Drove under the influence of alcohol or illegal drugs
We can also take steps to show that your accident led directly to your injuries. We know that spillage of contents accidents can leave you with major injuries. Our team can take steps to ensure that you get damages to cover your:
Current and future healthcare expenses
Wages lost at work and diminished earning potential
Vehicle repairs
Pain and suffering
You can count on us to work to settle your claim. Settling your claim means coming to an agreement with insurance agents here in North Richland Hills. This can help you avoid going to court, which can help you avoid high court fees. However, we are also ready to help you file a lawsuit in some situations. Contact us to learn more.
A North Richland Hills Spillage of Contents Accident Lawyer Can Help
Don't wait to get help after a spillage of contents collision. Start working to build your legal claim by contacting us now. We'll provide you with a free consultation. A spillage of contents truck accident lawyer in North Richland Hills can assess all of your needs right now.
Get proactive about securing compensation for your losses. Call (469) 998-4069. You can also complete our online contact form.
Frequently Asked Questions