Euless Fuel Truck Accident Lawyer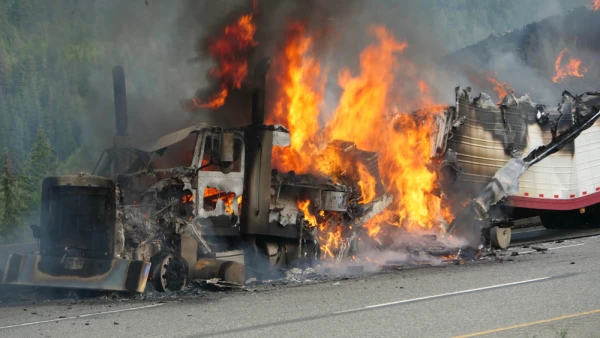 Fuel trucks carry a kind of hazardous material (HM). Fuel is considered to be hazardous because it is flammable and, in some cases, explosive. Due to the dangerous nature of fuel, these accidents are often very serious. They can lead to vehicle damage and injuries.
Fortunately, you can seek compensation if you were struck by a fuel truck here in Euless. You can start getting help on your side right away. Just call us at (469) 998-4069. Focus on getting compensation by contacting a fuel truck accident lawyer in Euless today.
Information About Accidents Involving Hazardous Materials
As we mentioned, fuel is an example of a hazardous material. Trucks carrying hazardous materials are not involved in a high percentage of accidents, according to the Federal Motor Carrier Safety Administration (FMCSA). However, when they are these materials can get released from their cargo compartments.
Fuel and other flammable liquids are released the majority of the time in these accidents. As a flammable liquid, fuel can easily lead to a fire. Fires can make accidents more dangerous as the flames can quickly cover a vehicle.
In severe cases, fuel can even lead to an explosion. This could occur if a spark gets into a vehicle's fuel tank. We are here to assess the specifics about your fuel truck accident in Euless. Contact us after this kind of dangerous collision.
Report Any Fuel Truck Accident in Euless
You should not try to keep a fuel truck accident in Euless to yourself. It's important to contact the police right away after an accident. This allows the police to come out to the scene of the accident. They can then assess what happened and file an official report. While you are waiting for the police, make sure that you take pictures of:
Your injuries
The damage to your vehicle
The scene of the accident
Any hazards that caused the accident
You should also speak with anyone who saw the accident and the fuel truck driver. Make sure that you get their contact information. This data can help your lawyer later. We know that you may need medical care quickly after a fuel truck accident in Euless. Contact an ambulance if anyone suffered serious injuries in the collision.
Find out more about the steps to take after a truck accident by contacting us. Our fuel truck accident lawyers in Euless are ready to offer you their experience and knowledge. Begin discussing your next steps by calling (469) 998-4069.
Fault for Fuel Truck Accidents in Euless
We mentioned that it's important to gather some evidence from the scene of your accident. Pictures and witness testimony can help show that someone else caused your accident. This is very important when it comes to securing compensation for your losses.
Texas allows drivers to seek compensation after a fuel truck accident. However, the amount of damages you get depends upon your level of responsibility for the accident. We'll work to show that someone else was at fault.
A number of fuel truck accidents are the result of operator error. This means that fuel truck drivers can make mistakes behind the wheel. They can drive recklessly or aggressively. This could result in an accident if a driver:
Swerves across traffic
Takes a turn too quickly
Backs up or passes improperly
Speeds or fails to yield the right of way
These are only examples of actions that could result in a fuel truck accident. We'll look into the specific causes of your accident now.
Fuel Truck Accidents and Compensation in Euless
Medical expenses can rise quickly after a fuel truck collision. Fortunately, you can seek compensation for these losses by working with a lawyer. Members of our team are also prepared to help you work to get damages for your:
Vehicle repairs
Wages lost at work
Diminished earning potential
Pain and suffering
We'll focus on settling your case in some situations. Settling a claim means accepting a deal from the insurance company. We know how to handle insurance representatives on your behalf. We're also prepared to help you take your claim to court. Consider all of your options by contacting us.
A Fuel Truck Accident Lawyer in Euless Can Work with You
Find out more about how to build a claim after a fuel truck collision. Get answers to your legal questions from a fuel truck accident lawyer in Euless. We are standing by to discuss your situation after you complete our online contact form. You can also call us at (469) 998-4069.
We'll provide you with a free consultation about your case.
Frequently Asked Questions