Two Officers Rescued from Trapped Vehicle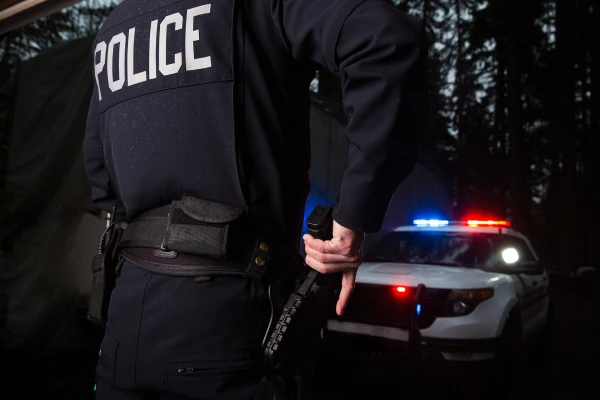 Two Dallas Police officers were entrapped in their cruiser after they crashed when answering a road rage call in which a man pulled a gun on another motorist at the intersection of I-20 and South Hulen.
According to a video and article posted on the DFW CBS Local website the accident happened at the West Loop 820 South at White Settlement Road on Sunday at approximately 3:00 p.m.
Authorities say that both officers were riding in the same police cruiser. They took the exit off the highway and crashed into a brick structure in the parking lot of a Wells Fargo Bank location at Northbound West Loop 820 South at White Settlement Road.
The officers were trapped inside their vehicle and had to be extracted by Fort Worth firefighters. Once freed from the wreckage of their police cruiser they were rushed to area hospitals.
The police department issued a statement indicating that both officers were awake and alert while receiving precautionary medical treatment after the crash.
Other officers responded to the call and were able to catch the road rage suspect was apprehended in a nearby neighborhood after a short pursuit on foot.
According to a Fort Worth Police spokesman, Brad Perez, "He ran into a location I believe to be his residence," said Perez said. He also indicted that there was a short standoff between police and the suspect. However, eventually he was taken into custody without further incident.
Unfortunately, cases of road rage are currently on the rise. An aggressive driver puts other motorists at risk when they take out their stress behind the wheel. And that risk extends to everyone who may be in the vicinity and not just the other driver that the aggressor is angry with. Acting on feelings of aggression while on the road is never appropriate. Thankfully the officers that were on the way to intervene in survived this crash that could have ended up tragically. Undoubtedly the suspect in this case will not only be facing criminal charges but may be facing civil consequences as a result of their rash actions.
If you or a loved one has been involved in any kind of an accident, having an attorney to give you sound advice is important. A lawyer can fight in your best interests as well as act on your behalf when dealing with insurance companies and other parties connected to your accident
Before you talk to an insurance claims adjuster or sign any statement after an accident, contact our law offices today. When you call, we will schedule a free consultation and legal analysis to thoroughly discuss your case. You may be entitled to compensation for your injuries to cover any damages, hospital bills, ongoing medical costs and physical therapy as well as any time you may have lost having to be off the job.
Let us be there for you.  Contact us today at the number on your screen to find out how we can help you get the compensation you deserve in the Texas courts.