Spider Blamed on Motorcycle Crash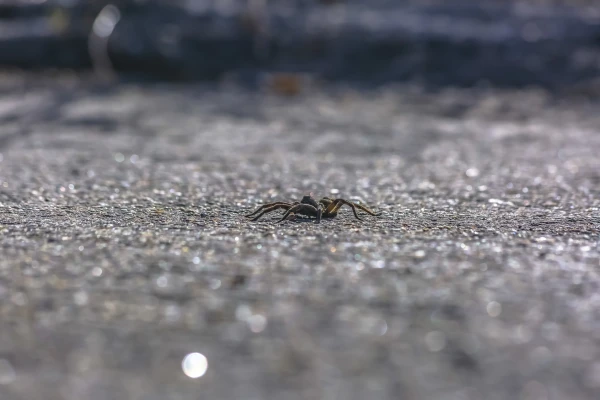 Wolf spider on the rough road in Utah. Close up of a robust and agile wolf spider on a rough road in Utah. Two of this spider's eight eyes are prominent giving it an excellent eyesight.
Two people were injured after a driver in Granbury swerved into a motorcyclist and his passenger. The motorist claims that it was a spider that caused him to lose control of his vehicle. Authorities, however, are not convinced.
The entire incident was captured on video when William 'Bill' Crum, 68, crashed his car into the motorcyclist, showing that Crum crossed the double line and into the motorcycle that were illegally passing him. The video, which was captured by another biker, has gone viral on the Internet.
On the footage, Crum can be heard saying, "I don't care," when he was confronted and said he felt no remorse because the motorcyclist was breaking the law.
Authorities have identified the injured motorcycle passenger as Debra Simpson. Simpson remains hospitalized with a broken wrist and deep lacerations suffered as the result of the crash. She has had multiple surgeries so far. Eric Sanders, the driver of the motorcycle and Simpson's boyfriend, also suffered injuries in the accident.
Crum was arrested and is now in the Hood County Jail. He is charged with two counts of aggravated assault and is being held on $75,000 bond.
This is not the first time Crum has been in trouble with the law. He was charged in the 90's with assault, reckless driving, unauthorized use of a motor vehicle, abusive calls to 911 and terrorist threats.
If convicted on the current charges against him, Crum could potentially face as much as 20 years in prison for each count.
No one is above the law. Even if that person has seemingly gotten away with the things they have done in the past, sooner or later the law has a tendency to catch up. Accidents can happen at any time. When someone deliberately goes out and tries to hurt another person, than they should rightly be held accountable for their actions.
If you or a loved one has been hurt in any kind of an accident, that's the time when you need expert legal representation. An attorney can help you get the compensation you and your loved ones deserve. Your attorney will be there to fight on your side in court. Having an attorney will ensure that you don't have to face the stress that comes after the accident alone.
Contact our firm, a Dallas car accident law firm, today for more information on how they can help you with your personal injury or accident case. Your attorney will evaluate your case and can tell you the best way to proceed and potentially receive compensation to cover any medical costs and other related expenses.
Contact us today to schedule a free, no obligation legal analysis and consultation.