Motorcyclist Rear-ends SUV while Speeding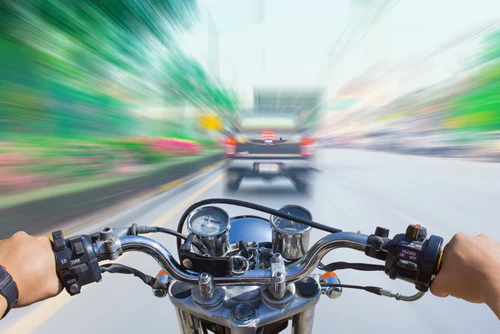 An early morning accident has left a motorcyclist critically injured after he rear-ended an SUV on I-30 in Mesquite.
According to police reports, the motorcyclist was travelling west on I-30 around 3 a.m. when his motorcycle struck the rear of a Chevy Equinox near the LBJ Freeway. The driver reports that she saw the motorcyclist's headlight in her rear view mirror; she then felt a thump and saw the motorcyclist had been thrown of his bike.
The man and the motorcycle landed in the grass median that separates traffic on I-30 and a ramp from LBJ. The motorcyclist was taken to an area hospital in critical condition. Neither the name or the hospital or the current condition of the cyclist was known at the time of the report.
The woman driving the SUV was not injured in the accident.
When you are riding a motorcycle, observing the rules of the road is very important. .As in this particular case, another motorist may simply not see a motorcycle until the moment of the accident. Taking a few extra precautions, whether you are in an automobile or on a motorcycle can save lives.
Some of the best ways to avoid the injuries of a tragic crash are:
If you are on a motorcycle, always wear a helmet. Lives are saved by the use of helmets while riding on a motorcycle. When choosing a helmet, look for the red dot or DOT sticker before you purchase or use it.
When riding a motorcycle or driving a car, check to see that the horn, headlights, tail lights, turn signals and all indicators are in proper working order.
On any vehicle, make sure that your tire pressure is at the proper psi listed in your vehicle owner's manual.
When on a motorcycle, never ride more than two people on a motorcycle at any given time. If you are in any other type of motor vehicle, make sure to use seat belts and secure children in approved car seats or booster seats.
When you are on the road, be aware of potential hazards such as other vehicles, hazards and debris in the roadway. Look out for flashing lights that may indicate danger or a possible slowdown or stop ahead.
When you are driving your motor vehicle or riding on your motorcycle, be extra careful around large or semi-trucks, that may have you in their blind spot and may be unable to see you. Get around them quickly and always signal your intentions.
Travel at the posted speed limit. Make sure that there is adequate following distance between yourself and other vehicles. Motorcycles often need more of a stopping distance than other types of motor vehicles do, so allow yourself at least a two-second stopping distance between your motorcycle and the vehicle in front of you and an even greater distance if you are travelling on an open road or under highway conditions.
If you or someone you love has been involved in and injured in an accident involving a motorcycle or other motor vehicle, give our offices a call. Serious injuries or even death can sometimes be caused as a result motor vehicle accidents. This is why having an experienced attorney is essential. Medical costs, damages and other legal matters can best be addressed through the advice of a competent legal professional. When you call our office, we will take the time to match you with an attorney who is best suited to help you. After listening to the specifics of your case, they will take the time to outline options and help you file any insurance or legal paperwork that is needed. Our lawyers have successfully represented and served many clients in the area for many years. Call our offices for a free initial consultation.